Looking For Books For A Certain Age Group? Check Out Our Sections Below!
Books Of The Middle Ages - Immerses yourself in the "Age of Faith" and be inspired by the acts of heroism, chivalry and honor with this list of books of the Middle Ages.
Best World War II Books - Satisfy your World War II spree by reading these top 10 best World War Two books which span countries, ages and classes.
Book Reviews For Teenage Boys - Browse through these titles to find books that will keep your boys reading all summer! Classic books range from Charlotte M. Yonge stories to Robert Louis Stevenson and Rudyard Kipling classics.
Book Suggestions For Tween Girls - This list helps in your efforts to raise wonderful young women with 5 book suggestions for tween girls that are virtue-rich yet grabs their attention.
Young Adult Book Reviews - Enjoy these good reads with a full knowledge of what they convey. Complete with detailed reasons why these mature novels make the young adult book reviews list!
Books By Charles Dickens - Shed light on the life and influence of one of the most captivating novelists. Complete with a bio, several book summaries and recommended films, this page most importantly answers the question, who was Charles Dickens?
Novels By Robert Louis Stevenson - Learn more about the author of the best book in Scotland on this page all about Robert Louis Stevenson complete with poem suggestions, book reviews, and movie reviews.
Books By Mark Twain - Grasp the importance of playing the role which you were born to perform. Books by Mark Twain have captured audiences of all ages and The Prince and the Pauper has been brought to life several times on screen. Read the full book summary and movie reviews here.
The Best Novels By Jane Austen - Understand the intricate background drawn from real-life in the stories of the great regency author, Jane Austen, and learn about the well-loved author with a biography of her life and brief description of her works.
Best Family Audiobooks - Some audiobooks are read really well. Others...not so much. Here is a list of some great audiobooks that are sure to captivate the imaginations of the entire family with engaging reading.
A Tale Of The Wars Of The Roses
by Charlotte M. Yonge
A Tale of the Wars of the Roses, also published as Grisly Grisell, is a Cinderella story that is steeped in virtue and valor.

The book opens in the year 1443 and closes in 1467. Through all these years the reader follows the life of Grisell. Throughout them she learns a great deal about life and the cruelty of fellow men.
Outlaws Of Ravenhurst-Movie For Sale Now!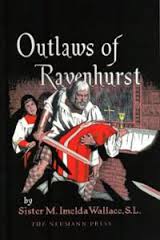 We loved Outlaws of Ravenhurst so much that we have made a full length movie of it! This exciting story is about a "farmer's son" returning to his true home in Scotland.
The Gordon walks into a new culture where he must choose between a royal seat beside the King of Scotland or a royal seat beside the King of Heaven.
Outlaws Of Ravenhurst, by Sister M. Imelda Wallace is the story about a boy returning to his true home in Scotland. Protestant Scotland tries to turn him from his Faith. But the Gordon is unmovable.
Outlaws of Ravenhurst is both inspiring and entertaining for children and adults.
Help this come alive by throwing a highland games party or a Burns supper.