Mary Bowen: Director At Industrious Family Films
Inspired by Navis Picture's The War of the Vandee, Mary Bowen knew that one day she would be a film-maker.
Mary is the director over here at Industrious Family Films. She was proud to premiere Outlaws of Ravenhurst in 2018 and Max & Carlota in 2020. 
With two movies under her belt, she is honing in her skills directing Industrious Family Film's current project, Grisly Grisell.
Industrious Family Films was founded with Saint Genesuis as it's patron and the intention of reclaiming the art of filmmaking one wholesome movie at a time.
Mary not only directs but also designs and constructs the sets. With Grisly Grisell, she is doing her best to make the sets the best they have ever been.
When she has to, Mary also acts. She starred as Lady Margaret in Outlaws of Ravenhurst and Empress Eugenie in Max & Carlota. 
When Mary was asked what her favorite part of moviemaking was, she responded, "I like it all. It's hard, tough and exhausting but there is something addictive. Deciding what my favorite part is is hard but I know what I look forward to and enjoy most is the editing. Seeing that the day was not as messy as it looked and that there was a lot of valuable footage is very rewarding. It fuels me for more." 
Faustina Bowen: Script Writer And Art Director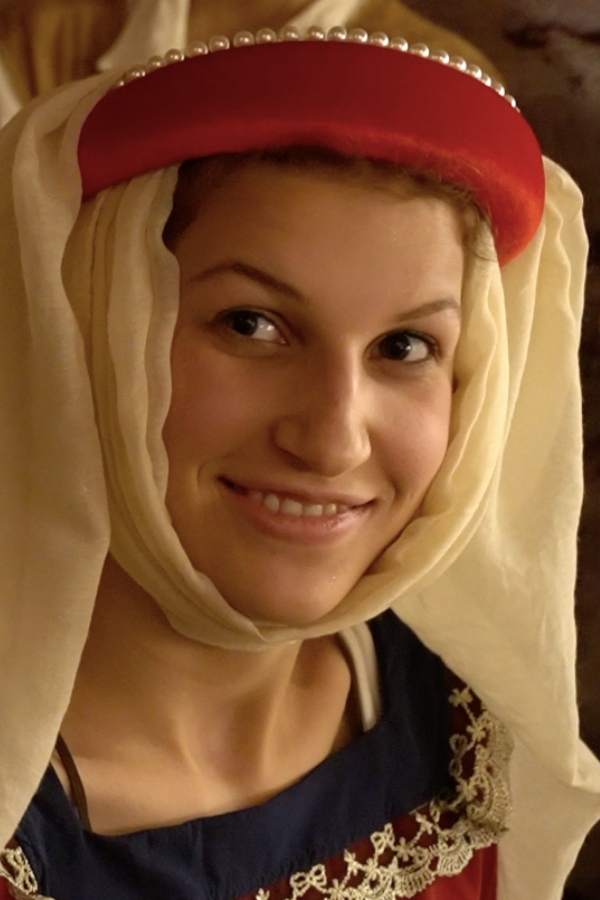 Faustina Bowen has been working on scripts for over 5 years. She enthusiastically follows Mary's lead and always rolls with the punches. She is a self taught script writer utilizing her imagination, gut instinct, and Final Draft software. 
Faustina wears many hats and is an indispensable part of Industrious Family Films' crew. She organizes and packs the costumes, dresses the actors, and helps with makeup.
She rehearses lines and works on their delivery with the actors, leads the dry runs before shooting, keeps track of the scripts, and knows the script by heart which makes her a major asset during editing as well. She even works as cameraman when Mary is acting.
As the major continuity person for Industrious Family Films it's fair to say that the show cannot go on without her.
Her greatest passion for moviemaking springs from her love of acting. She starred as Mammy Able in Outlaws of Ravenhurst, Carlota in Max & Carlota, and is currently acting Lady Whitburn in Grisly Grisell. 

When asked what her favorite part of moviemaking was, Faustina said, "I like the actual shoot days. It's a time where there's real camaraderie. At other times, I'm writing the script, and then Mary's editing and no one else is a part of that. When you are with other people, it makes you feel like you're not as alone and that there's a purpose. You get to see the other children having fun with a common purpose. 
I think that adds to the magic. Plus, getting to act is why I enjoy making movies!"
Michael Bowen: Equipment Manager, Cameraman And All-Around Nice Guy
Michael Bowen has been an actor as long as we've been filming. He eagerly joined Industrious Family Films as the Equipment Manager. 
Michael is the director of his own films which he loves to record with his younger brothers. These often include martyr stories and country music videos. 
As a Blue Knights leader, Michael has strong leadership skills and is very good at handling younger children. 
Together with his puppet friends, Michael has entertainment in his blood. He is always ready to have fun and get a good laugh from other people.
Whenever anyone settles down in front of his puppet stage, he is sure to get a good laugh out before leaving.
Michael's roles have brought him from Scotland to Mexico as he starred as Sir James in Outlaws of Ravenhurst and Maximilian von Hapsburg in Max & Carlota. Currently he is trying his hand at a knight in shining armor as Sir Leonard in Grisly Grisell.

Michael loves athletics and enjoys wrestling and swimming as well as other sports. 
Becket Bowen: Lighting Manager
Becket Bowen recently took on mastering the lighting for Industrious Family Films. He meets all challenges with a smile. 
Highly entertaining, he is always there to share a laugh and keep it going on as long as possible. He is always on the lookout for a good time. 
Becket had his great acting debut in 2017 as the main character, the Gordon, in Outlaws of Ravenhurst. He starred as Miguel Lopez in Max & Carlota and is now playing Samuel in Grisly Grisell. 
He continues to love acting and does a great job with any role he is given. As a lover of literature, Becket is always on the lookout for moviemaking material. He has dreams of being the Cid in El Cid if ever a chance presents itself.
Becket likes making chocolate snacks and enjoying many outdoor activities including target practicing with BB guns.