This movie, with its Russian wintery scenery and famous soundtrack which includes a song "Once Upon A December" earns its place among these Christmas movies.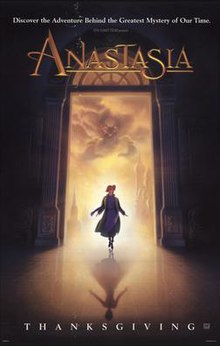 In the post-revolution St. Petersburg, a young con-artist and his assistant hold auditions for any young woman who is willing to pose as the lost Russian Princess Anastasia. But when they run into a young orphan named Anya they try to convince her that she could possibly be the lost princess.
She is willing to travel to Paris to meet the royal family but is unwilling to play into their con. Demetrius and Vladimir only want the reward which is offered to anyone who finds the princess and Anya only wants to find her family. The trio agree that in the end, they all get what they want. 
But, Demetrius does not bring into account that the saucy, headstrong orphan is actually quite attractive and he feels himself reluctantly falling in love with Anya. When he discovers a clue which lines up Anya's past and Anastasia's history, he must try to convince Anya further that she is the Lost Princess, while convincing himself that he needs to move on without her.
Anastasia is a fun cartoon that mixes true facts from history with fiction. It relates the true story of the Romanov family's demise and the role of the sinister figure Rasputin. It also is a sweet romance. 
This cartoon follows the classic story about St. Nicholas as a young man giving away his inheritance to the poor. St. Nicholas' first act of generosity is displayed when he purchases a young boy about his own age from a life of slavery. The two become friends as Adrian pursues Nicholas in all his future adventures.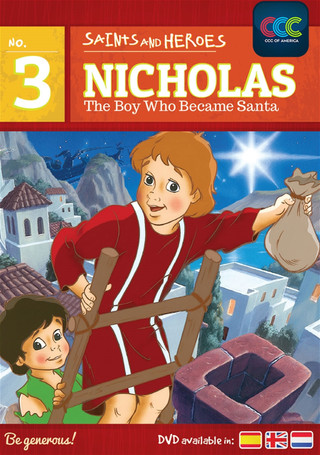 Buy Now!
When Adrian runs into a woodcutter who has no other way to escape his debts except by selling his daughters into a life of sin, Adrian immediately runs to Nicholas for help.
That night, Nicholas drops three bags of gold down the chimney of the woodcutter thus starting the Santa coming down the chimney tradition. Nicholas' example finally wins the conversion of Adrian, the woodcutter and his daughters as well as the slave master. 

When Nicholas becomes Bishop of Myra, a great persecution breaks out and he is captured and imprisoned. After Constantine takes over the empire and the government, Nicholas is set free and he returns to Myra to find a thriving Christian community.
Adrian tells him that it was his example of generosity which prompted the Christians to rebuild the Cathedral and continue living virtuous lives all through the persecution. 
This nostalgic film brings to life all the Mother Goose Nursery Rhymes in this fantastic display of talent! Dancing, singing and ventriloquy are only a few of the entertaining aspects of this cute story.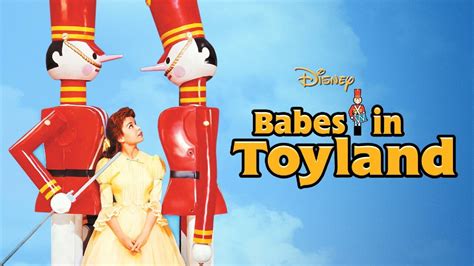 The plot circles around Mary Contrary and her fiancé, Tom Piper. Tom's engagement to Mary has sparked the jealousy of the villain of the story, Barnaby, who hires two goofy henchmen to kidnap and kill Tom, forcing Mary to marry Barnabey.
But when the incompetent henchmen don't pull through and Tom returns, Barnaby must find another way to get rid of him. This film is filled with all the characters that you remember from childhood nursery rhymes including Little Bo-Peep, Jack and Jill, Simple Simon The Pie-Man and Jack Be Nimble. 

Although there is no reference to God in the film, there is a strong theme of good verses evil. Barnaby is displayed as bad by use of color as he wears a Dracula-like black suit and uses his over dramatic evil laugh and nasally voice. 
This movie does not have any Christmas connection in the storyline but the Toyland aspect has sparked a memory which became popular at Christmas time. In a battle where Tom and Barnaby have been shrunk to toy size, the toys in the shop come alive and join sides of the hero and the villain. Wooden soldiers and other old fashioned toys join the fray in a stop animation battle. 
There is also a theme of Christmas in the unhappy toymaker who, after the children help him clean up the messy toyshop, has a change of heart and feels like making toys for children is not such a bad occupation after all.
The talented singing and dancing is quite memorable as well as the slapstick, innocent humor.
I would like to thank my Uncle Michael for helping me put together this Christmas movie review!