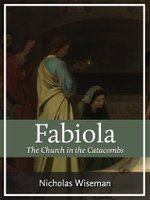 Fabiola, by Cardinal Nicholas Patrick Wiseman, sweeps the reader to the early persecutions of 302 A.D. with pagans thirsty for Christian blood. This 616 page book, published by Lepanto Press, copyright 1997, takes place in Rome when oppression is at its summit.
The character focus is on Fabiola, a young haughty Roman noblewoman. Martyrs shed their blood for the prosperity of the Church and for the conversion of sinners. Their examples are outstanding and though they do not know it, the conversion of the proud Fabiola will someday be the fruit of their sufferings.
The persecution of Rome, 302 A.D. is just getting off the ground with many rumors being spread about "these dangerous Christians."
Followers of Christ are thrown into prisons to await their cruel tortures and crueler deaths. The Christians live a risky life but all bravely face death for the sake of Christ and His Church.
The reader gets a glimpse of the pagan lifestyle, too. Amid the wealth and parties, Fabiola notices that worldly pleasures lack sufficient happiness.