Free Email Newsletter:
"The Industrious Family Gleaner"™

Discover a treasure trove of family fun ideas when you subscribe to The Industrious Family Gleaner. We are dedicated to promoting family togetherness through an industrious lifestyle: a strong work ethic and commitment to grow in holiness as a family.
Don't miss any of the new information that is added to IndustriousFamily.com. It's recapped in each issue and even includes some great input and comments from visitors. 

We'll be updating and growing this site with more and more ideas for family fun. Ideas that include indoor and outdoor games, fun in the summer, party ideas, crafts and homemade gifts, book and movie reviews, plus recipes for you and your family to enjoy.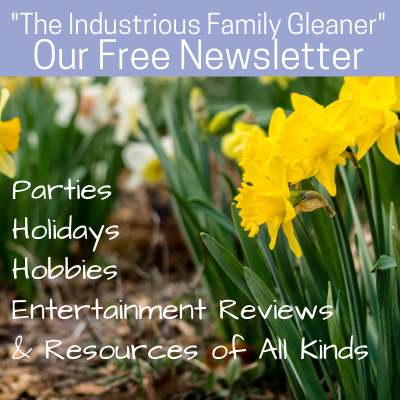 Please subscribe to our e-zine, The Industrious Family Gleaner by filling out the form below...


The Industrious Family Gleaner

Don't miss out on the newest party themes, upcoming Holiday traditions, interesting hobbies plus entertainment reviews & resources of all kinds!
"Ointment and perfumes rejoice the heart: and the good counsels of a friend are sweet to the soul." -Proverbs 27:9
Our Respect Of Your Privacy
We only ask for the information needed to send you newsletters: your first name and email address. If you want to, and in every newsletter we provide a link you can click to unsubscribe.
It goes without saying that we will never give your information to anyone else. Your information is safe with us. We promise to use it only to send our newsletter.
What You Won't Get From Us

Emails filling your box every day
'Hard sell' messages - if we recommend a product, it's because we know, use and love it. We always give our own beliefs, opinions and experiences and are in no way influenced regardless of the compensation we accept from affiliates like Amazon, Crayola and Barnes & Noble.
Spam. We will never compromise your privacy. Your email address and any other information you choose to give to us is as important to the IndustriousFamily Team as it is to you. 
Let us say it again: we never sell or give emails or any other information to anyone.