1. Watch The Turning Point Of The Roman Empire From Pagan To Christian In Constantine And The Cross
"In this sign, you shall conquer"
This is the movie that follows Constantine and his rise to power as well as his conflicting thoughts on Christianity. 
Constantine is the son of one of the caesars under Emperors Maximian and Dioclesian. When his father dies in battle, Constantine is left with a position and many unanswered questions. 
In his fight to ascend the throne, Constantine meets his mother and learns of her religion. It is then that he starts wondering what the Christians are all about and what they really believe. 
Rome is practically held under a siege from the bad people within it and Constantine knows that he must take Rome for the good of his people and the empire. Divine assistance is with him when he sees the cross in the sky and marches under a Christian banner on Rome.
2. Natural Virtue As Well As Tastefully Shown Base Depravity Are Wrapped In An Exciting Storyline In The Fall of the Roman Empire Starring Stephen Boyd And Christopher Plummer!
"When my father was dying, I spoke to the gods saying I'm not like my father and if I'm too crowned Caesar, I will change all he did. I offered them my life - and told them if it was not for the good of Rome that I be Caesar, then let me be killed. But, you see - I'm alive."
This movie was so much fun for me to watch the first time because of all the well-known faces that I knew from other movies seemed to have been all gathered together and put into this movie.
It was like watching old friends get together and do something that you never expected. Stephen Boyd, James Mason, Sophia Loren, and Christopher Plummer make this a very fun movie to watch. This is definitely one of our favorite movies about Roman history.

The plot follows Marcus Aurelius' decision to name Livius (Stephen Boyd), a friend that he has taken into his family, as his successor over of his own son, Commodus (Christopher Plummer). 
Tension begins when Marcus Aurelius is killed and the two young men are left with what they know to be his last wish but are not particularly bound to keep since it was never publicly announced by the dead emperor. 
Although Commodus is already practically lost to reason from over indulgence in all pleasures, Livius giving him the role of emperor makes him completely drunk on power and unabated pleasures. 
Thrown into the mix is the attempt of the Roman army, headed by Livius and his Greek philosopher friend Timonides (James Mason), to welcome the Germanic barbarian tribes into the empire. Commodus would like nothing better than to keep the Germanic tribes as his slaves and laborers. 
The situation becomes more and more strained as Commodus' hate of Livius continues to grow and now he will rest at nothing until Livius is dead.
This movie did a really good job of showing how bad things can get when corrupt and spoiled men come to power. It also portrays, in Livius and Timonides, the natural virtues nurtured in the Roman world. Both are patriotic to Rome although they see how she is suffering under the rule of Commodus.
Points to Consider: This movie is a romance, so there are a few passionate kisses. The woman who has an arranged marriage continues to love Livius, which is kind of weird but she never tries to have a relationship with him that is forbidden by her marriage.
Commodus indulges in all of his passions. That being said, there is a part when he is drunk and tries to force a woman to drink with him. When she won't, he gives her to Livius saying, "You can have this one. She thinks."
That, of course, has implications, but Livius dismisses the woman with no intention of taking up Commodus' offer.
---
Automatically Skip Unacceptable Scenes That You Don't Want To See Or Mute What You Don't Want To Hear With VidAngel
Why not try VidAngel where you can stream thousands of movies and shows? You pick what you want to see and hear with this month to month service.
VidAngel is an Industrious Family Films Affiliate
---
3. Experience The Roman Games Up Close With Gladiator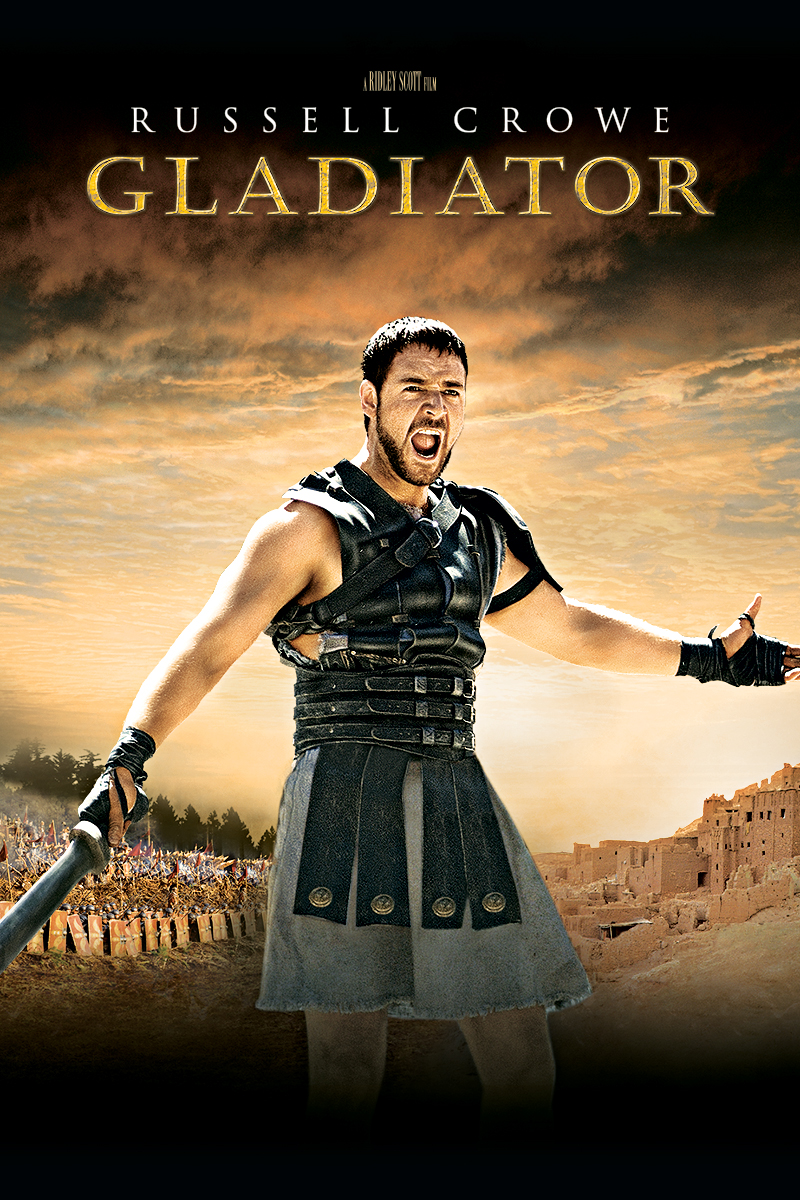 "The general who became a slave. The slave who became a gladiator. The gladiator who defied an emperor. Striking story! But now, the people want to know how the story ends. Only a famous death will do. And what could be more glorious than to challenge the Emperor himself in the great arena?"
Gladiator is a different telling of the same story in The Fall of the Roman Empire. Much like the movie from the 1960s, it begins with Marcus Aurelius telling one of his favorite soldiers, Maximus, that he will be the next emperor instead of Marcus' son, Commodus.
Commodus kills his father and tries to also do away with Maximus but Maximus escapes just to return home and get captured to be sold as a gladiator. 
This turn of events makes it so that Commodus' and Maximus' paths once again cross. Although Commodus is the emperor and Maximus is a slave, Maximus is still the only man who challenges the emperor's position. 
Maximus is popular among the people as a gifted fighter and he still has a vision for a better Rome, and Commodus needs to get rid of him. The end is to be decided in Rome's most popular gathering place: the arena.
Points to Consider: Commodus is crazy. Part of his mental illness is an obsession of finding love. When he gives up on ever getting love from his father, he turns his attention to his sister and insists that she loves him as a husband. There is a kind of immodest scene when he is trying to get her to "love him".
There is also a bit of immodesty between two men as well.
On another note, Commodus does suffocate his father, which is not graphic, just a gross thought.
---
Automatically Skip Unacceptable Scenes That You Don't Want To See Or Mute What You Don't Want To Hear With VidAngel
Why not try VidAngel where you can stream thousands of movies and shows? You pick what you want to see and hear with this month to month service.
VidAngel is an Industrious Family Films Affiliate
---