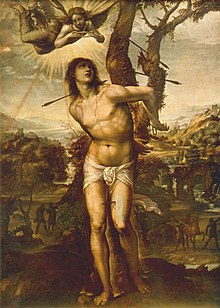 Patriotism is a virtue and patriots are those who love the good in their country and fight to preserve what good is left or to increase it. I know that I have mentioned this before, but St. Sebastian is one of the highest examples of what a true patriot is.
He is a soldier of Rome - one of the most immoral places in the empire. Yet he can honestly say that he will pour out his life for his county because the love that he feels for it is so strong. A saint's love for pagan Rome?

He does not demonstrate the love of country like a fanatic who feels a strong nationalism, but he shows patriotism in the perfect sense. 
St. Sebastian shed his blood for the Faith and for the conversion of Rome - now the heart of Christendom.
The purpose of the virtue of patriotism is to urge us to love, defend, and build upon the true, good and beautiful gifts that God has given our country. Attending and participating in 4th of July celebrations inspires a love for our country and instills in us a desire to defend and build upon the good that we have been given.