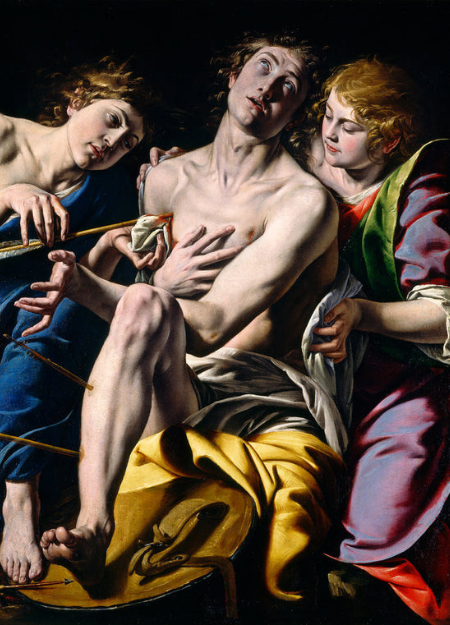 St. Sebastian is at first executed by being shot with arrows. The emperor's anger is so fierce at finding a Christian within his inner circle that he commands that Sebastian's death be a long lingering one.

This opens a chance for Fabiola to save him because he is found to be still alive after his execution. Thinking that she is greatly assisting the man she most admires, she is happy to pay all costs to see to his recovery.
Cardinal Wiseman shares what Sebastian felt when he had recovered from his first martyrdom. 
To have yearned after martyrdom, to have prayed for it, to have suffered all its pangs, to have died in it as far as human consciousness went, to have lost sight of this world, and now to awaken in it again, no martyr, but an ordinary wayfaring man on probation, who might yet lose salvation—was surely a greater trial than martyrdom itself.
St. Sebastian feels as if his martyrdom is stolen from him or that he was cheated out of it.
We know of course that he bravely faced the emperor later and was cudgeled to death, therefore winning himself a double-martyrdom—He bore with him a double palm and received a twofold crown. -Wiseman