In succession to the emperor in the West was the young ambitious Constantine. Constantine's father was the emperor in Rome. When he died Constantine was taken captive by the new emperor in the East. Because Constantine was no longer in the West the emperor who captured Constantine was now the sole ruler of the empire.
Constantine managed to escape while his captor was drunk. Constantine stopped at every out post for a new horse and then he hamstrung the rest. With this technique he had a good head start being 16 hours ahead of his pursuers.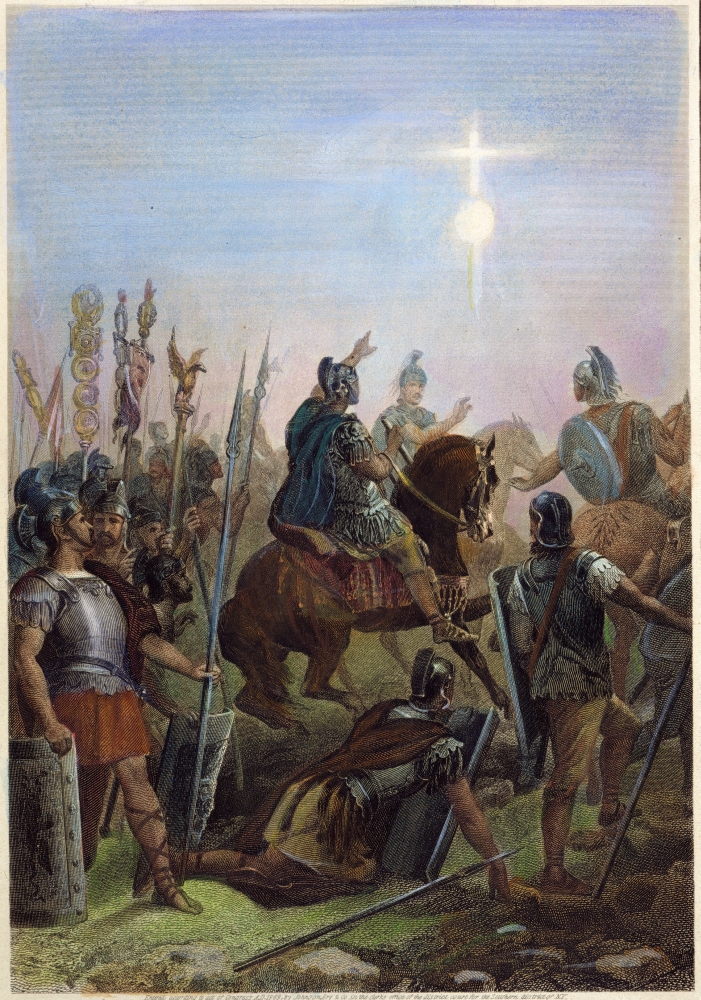 When Constantine got to Rome he decided to fight the false emperor, Maxentius. The night before the fight, Constantine saw in the sky a cross and he heard the words, "In this sign you shall conquer." He ordered all of his men to put a red cross on their shields.
He won the battle and became the emperor of Rome and later, of the entire empire. The new emperor, Constantine, released all of the Christians and stopped the persecutions. He is known as the "Father of Christendom". His mother was St. Helena and before he died he became a Christian. 

Through the fall of Rome, God allowed the Church to emerge out of the ashes by using Constantine who supported and created the more perfect government.
Like Diocletian, Constantine moved his capital to Constantinople making Rome more of a spiritual power. The Vatican and several of the minor churches were donations given by Constantine to the Church. Rome then became the center of an empire that far outreached the influence of the Roman Empire as the Church that was once persecuted preached to the four corners of the globe.
This article was written by Becket Bowen.
Johnson, Rev. George. The Story of the Church. Rockford: Tan Books and Publishers, 1980.
Carroll, Anne W. Christ the King Lord of History. Charlotte, NC: Tan Books and Publishers, 2012.

While doing research for FABIOLA, we watched a variety of films which covered the fall of the Roman Empire. Ranging from Fire Over Rome to Gladiator, we even have some cartoons reviews on this page!