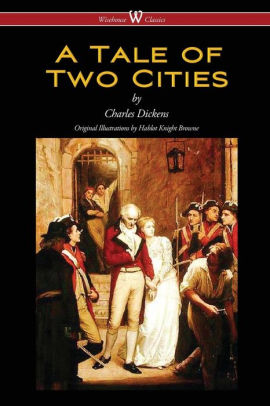 In the classic Charles Dickens' novel, A Tale Of Two Cities, bravery and loyalty win the day.
The main characters, Lucie, Charles Darnay and Dr. Manette all demonstrate bravery, hope and loyalty.
Even the other characters show these virtues, Mr. Lorry is both loyal and caring towards his friend, Dr. Manette. Sydney Carter, the weak and lazy lawyer, transforms into a brave and self-denying man in the end.
Lucie Darnay is a young French woman who is the daughter of Dr. Manette and the wife of Charles Darnay. 
She first appears in the story when she and Mr. Lorry are on the way to visit and free Dr. Manette. On having freed him, Lucie and her father sail away to England.
When Charles is tried in England, Lucie bravely stands up for him and does her best to defend him. Later he is freed, and they marry.

When Charles' identity is found out and he is taken prisoner in France, Lucie is hopeful that he will again be freed. When her fond hopes are shattered during Charles' trial, Lucie bravely shoulders the burden and tries her best to keep her duty as a daughter and mother. Lucie is sure to show bravery and hope in all situations.