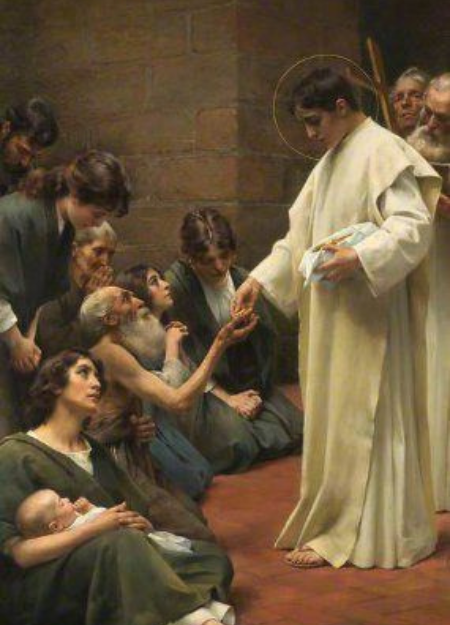 St. Laurence was one of the seven deacons on the Roman Church in the middle of the 3rd century. It is said that when Pope Sixtus was led to his death that St. Laurence followed him, weeping because he could not join his pontiff. Pope Sixtus told him not to weep because in three days he would also suffer for Christ.
After his capture three days later by the Roman prefect, St. Laurence was asked to hand over the riches of the Church. He agreed to do so if he were allowed to go and get them. At his return, the emperor was enraged that St. Laurence brought a crowd of beggars from the streets of Rome. 
When St. Laurence was asked what he meant by bringing such lowly persons into the palace, he responded, "See the treasures of the Church." The audacity of this saint was met with cruelty from his emperor. His death was to be a slow roasting on a grill.
St. Laurence replied with great bravery. When lying on his face on the grill, he joked with his executioners saying, "You can flip me over now, I am done enough on this side."
"Our Lord appears before us in the persons of the poor. Charity to them is a great sign of predestination. It is almost impossible, the holy Fathers assure us, for any one who is charitable to the poor for Christ's sake to perish."
-Reflection on St. Laurence from the Little Pictorial Lives of the Saints