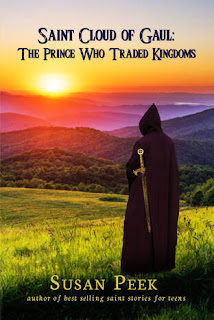 Purchase Saint Cloud of Gaul: The Prince Who Traded Kingdoms
Reviewed by Faustina Bowen
Industrious Family Films is so honored to be sponsored by the Catholic author, Susan Peek. Visit her site and add God's Forgotten Friends to your family library today! 
Saint Cloud of Gaul: The Prince Who Traded Kingdoms, by Susan Peek, tells the little known story of St. Cloud, grandson of King Clovis, and his submission to God, trading his royal crown for a hermit's robe. This book is published by Seven Swords Publications, copyright 2021. 
Gaul in the sixth century is anything but peaceful. I know because I've been there virtually through this book. After his two older brothers are murdered at the hand of his treacherous uncles, nine-year-old Cloud escapes and spends his life hiding around Rheims and Paris to evade his own murder. 
This is his story and his heroic sacrifice of his kingdom for the good of his people and his own spiritual well-being.
The story of the rich man from St. Matthew's Gospel inspires Cloud. He wishes to give to Christ what the rich man denied. After the death of his brothers, Cloud is taken to Bishop Remigius of Rheims. 
This holy man tells him, "God loves each soul so perfectly, so intimately, that He sometimes flips the entire world upside down, just to prove that love." Cloud doubts that any good could come from the murder of his brothers and the life of a fugitive that lies before him.
Years later, Cloud sees the many sins of his kingly uncles and princely cousins and realizes that God spared him and his brothers from the temptations to the impurity and violence of royal life. He thanks God for saving him and is rewarded in the end with what he longs for most with his entire being: the call to the holy priesthood.
The writing elements of this book are out-of-this-world. As the reader, your emotions fluctuate with the feelings of the characters. Your chest gets tight when you think Cloud is about to be discovered by his evil uncles. 
You feel his safety and peace when he prays for protection as well as his surprise as his life takes many a turn. This book would make an excellent gift for your teenagers, no matter the occasion. A Susan Peek motto states: "The saints weren't boring and neither should their stories be." This book definitely fulfills her mission. And her mission is they reason that her novels are the best Catholic books to read!