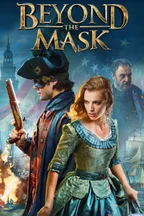 "Can a man whose made his life one of lies earn trust again?"
William Reynolds (Andrew Cheney) has spent most of his adult life working as a mercenary under Charles Kemp (Johnathan Rhys-Davies) for the East India Trading Company. But he's done. He is ready to take a good portion and retire far from the danger involved in his present job.
His employer, on the other hand, is not so ready to let him go. He sees Will's "talent" for the work and wants to take advantage of it as long as possible. When he meets with Will's determination to retire, he hires another mercenary to assassinate him. After the assassination is reported to be accomplished, Charles Kemp puts the blame of all the crimes of the East India Trading Company on the name of Will Reynolds.
But William escapes. A clergyman is instead killed and Will takes his place to become parson of a small town church. There he meets an innocent and good young woman and finds himself quickly falling in love with her. He knows his own name is held in abhorrence by all upstanding Englishmen and keeps up a pretense of being the murdered clergyman. Through a twist of fate, Charles Kemp discovers that he is still alive and Will is forced to flee England.
He goes to America, where the promise of a new life and Benjamin Franklin take him in and Will thinks that he can bury his entire past. Once again, he uses another man's name to hide his true identity. Still trouble catches up with him and Charles Kemp is once again on his trail. 
Will knows that the girl he loves is never to be won if he is still the man he was in England. In order to remedy his past life, Will now does all in his power to protect and defend the victims of Charles Kemp's new schemes. To escape identification, he wears a mask as he preforms his daring acts. 
Through his new life, he hopes that he can become a man worthy of the girl he loves. But can he escape the blame of his past life and still have a life worth living with her?