The cowboy has become America's Roland. Even though the youthfulness of the New World provides four centuries which separate the Old World heroes from the cowboy, the admirable qualities in a not-so-perfect man continue to intrigue us. The legacy of this horse-riding, cow-punching, fast-drawing personality is greatly due to the first and best Western book ever written, Owen Wister's The Virginian.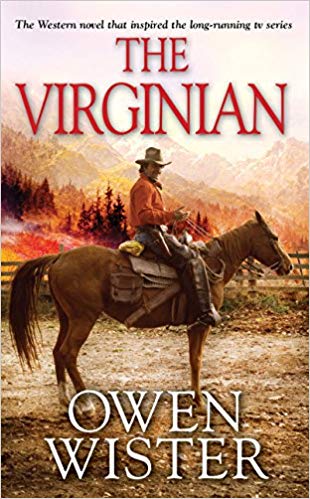 "The Virginian is nothing more than a portrait of the American Hero in all his natural grandeur," Robert Parker remarks in the introduction of the Signet Classics', copyright 2010 edition, "He is not good because he lives in the West. But the West is where he is able to make his heroism manifest."
It is the manifestation of natural virtues that has lingered longest and deepest in the American imagination and this memory owes its existence to The Virginian.
Wister has chosen Wyoming to be the Virginian's turf. The reader enters this cattle land of desolate deserts and rocky mountains between the years of 1874 to 1890. The wind blows about an air of gentle adventure and an under current of romance.
Three main people's paths cross between the plains and the sky. They include the nameless hero; the cowboy who matures in manhood and fosters natural virtues under the generic name of the Virginian. The hero's prize to be won is the new school teacher from the East, Molly Wood, while the character Trampas serves as the hero's adversary and nemesis.