The Veggie Trays
Using carrots (or oranges) and broccoli, create a veggie tray carrot. Place the broccoli at the top of the tray as the stem and fill the bottom in with your oranges in the shape of a carrot.
You can also serve a vegetable tray and mark it with a little sign with "Peter's Veggie Garden" written on it. Include a little picture of when Peter runs into Mr. McGregor. This well known picture and veggie garden will help your guests get in the groove for your party. 

Carrot Cheese Ball
To make a carrot cheese ball all you need is:

16 ounces of cream cheese at room temperature
1/2 cup almond slivers
1 cup shredded cheddar cheese, 
A handful of cilantro, and
Crackers
Place the cream cheese on a large platter and form it into a carrot. Mix the almond slivers and cheddar cheese together and press this mixture into the cream cheese.  Place the cilantro as the carrot stem, spread the crackers around your "carrot", and serve to your little rabbits.
Decorating The Cake
A chocolate cake that is decorated as a garden is the ideal cake for this party. Dot the cake with little dots of orange, green and red frosting. 
These will serve as vegetables. Fence off the different parts of the garden with pretzels, and, Viola!, you have created the perfect Peter Rabbit cake.
With your carrot mimics and your cake, your Peter Rabbit foods are complete. 
Peter Rabbit Birthday Party Feeling

Next comes my favorite part of any party preparations: decorating! When decorating for your party use browns, blues and whites for your:
Balloons
Tablecloths 
Plates
Streamers
Go light on the brown because if you use mostly blue and white the party will have a very soft feeling. Too much brown will destroy this effect and make it feel too dark. 
If you have a chalk board, you can write "Some Bunny is One" or whatever age the birthday child is turning. 
Making Scarecrows
Another great little touch is little scarecrows with little blue jackets with yellow buttons (the coat that Peter lost in Mr. McGregor's garden!) Make them using:
Blue felt
Yellow buttons
Hot glue
Small sticks 
Sponges
Cut your blue felt into little jackets and hot glue the buttons on. Hot glue this little jacket to the sticks and stab it into the sponge. Be sure to make a few so that they can be sprinkled all throughout the party room. 
Other Decorations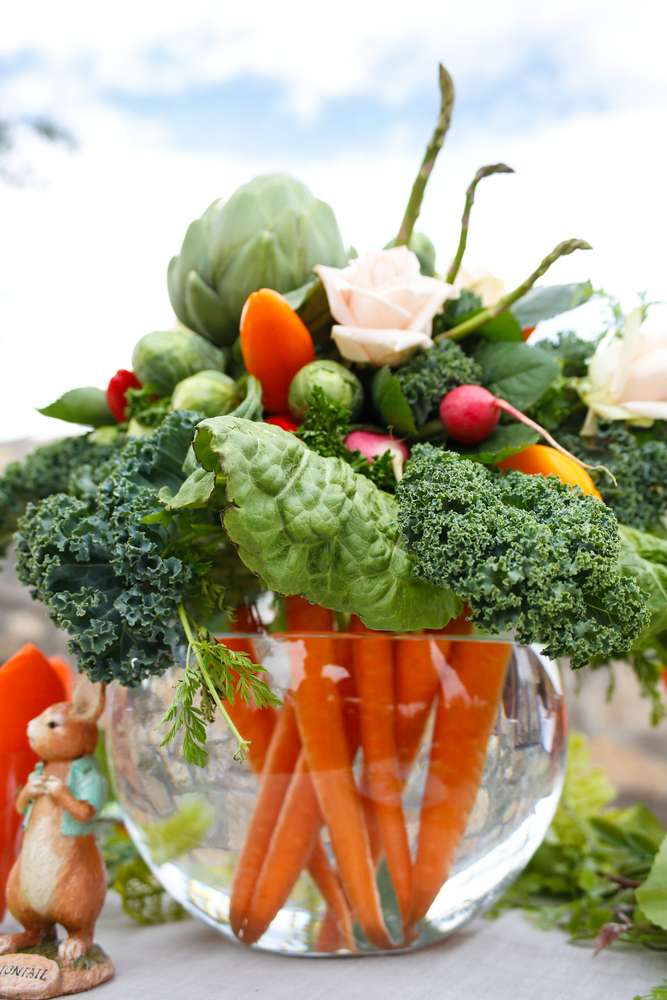 Photo credit: https://www.catchmyparty.com/parties/peter-rabbit-party-2
If you have an old Beatrix Potter book, cut out the pictures and tape them up around the room. You can also use these for a birthday banner.
Since we were getting a new Beatrix Potter Collection for our little birthday boy, it worked well to use the old, well-loved one to decorate with. 
And finally, use flowers to compliment your decorations. Either use just flowers or use various vegetables for the flowers like the one pictured. Don't forget to affix a burlap or light blue bow!
For tips on how to make your arrangements look professional, read our How To Arrange Flowers page. 
Peter Rabbit Party Fun
As an activity, print out Peter Rabbit coloring pictures and have the children color them before getting the food out. This was a good activity because this was an activity that, while still being fun, was mellow and quiet. 
The Bunny Hop is also very fun and adds to your theme as it is a "Bunny" Hop! Turn your music on and start dancing!
Thank you for reading my Peter Rabbit party page. We threw a party like this for Chabenal's first birthday. It was very fun from the preplanning with decorations and making the food to the actual party's activities and enjoying the food!
-Teen A
---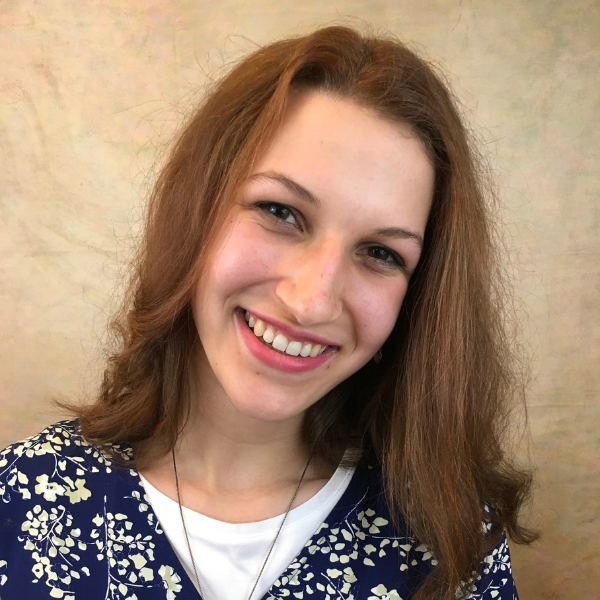 Faustina Bowen is a founding member of industriousfamily.com. She is the second of ten children. This homeschool graduate likes writing scripts for movies, helping mothers with their babies and learning new instruments. She contributes to society at large by making wholesome movies and writing amazing articles and entertainment reviews.
---
Shop Peter Rabbit Gifts