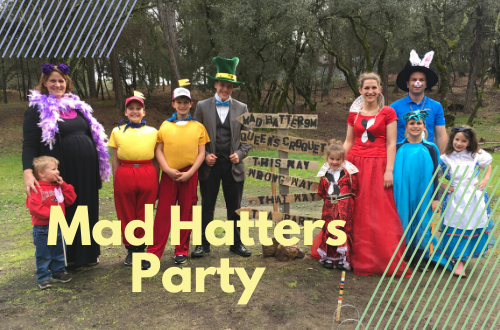 Encourage your guests to dress as characters from Alice in Wonderland. These props and accessories are a great buy for your non-performing or creatively handicapped guests.
Your party focus will be the game of croquet. As there are only six players for croquet, it may be necessary to have other activities for those who are not playing.
A card bean bag toss or corn hole is a great side game. To make your own you will need:

2 pieces of plywood
Red paint
White paint
Beanbags
Paint a piece of plywood like a three of spades and the other like a three of hearts. Cut the holes in the middle of the spades and hearts. Don't forget to make some sort of legs to keep them slanted!
A Mad Hatters tea party theme makes a very relaxed party as there is just tea and not really a true meal served during the party.
The tea and cookie table should be set near the croquet court so that the guests are free to eat and sip their tea in between turns or while they are watching.
Unwrap gifts and sing happy birthday after everyone has played a game of croquet.