Serve The Usual Cowboy Chow At Your Horseback Riding Party. That's Right: Beans And Sourdough
Party Menu
Of course, you can't go wrong with simply serving beans and sourdough, but a beef brisket with cole slaw is a great addition or alternative! We enjoy cappuccino cupcakes with whipped cream on top as a dessert. Yum!

Keep the food with a cowboy feel and serve a beef brisket, baked beans and cole slaw.
Since this party is mainly focused on the horseback riding, don't focus too much on making the food perfect.
Of course, it is always fun to try to keep a theme with the food, but that should not be your main focus.
For dessert, cappuccino cupcakes are delicious with whipped cream. It also makes little mess and less sticky kids. Win, win!
Decorate Your Horseback Riding Party With Everything Horse Related. Don't Forget A Birthday Banner!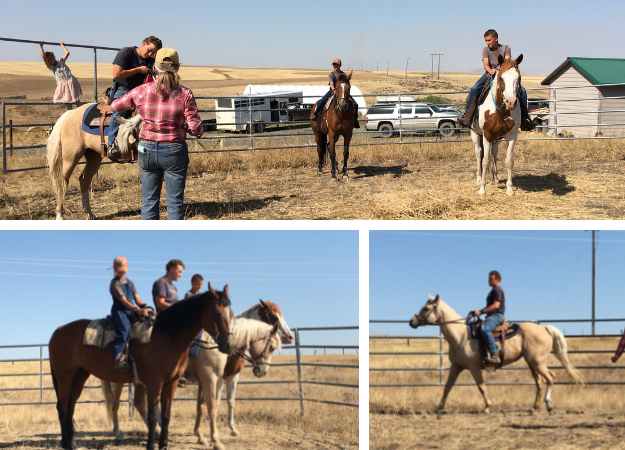 Decorate your party with browns, oranges, reds, and whites. Also, anything horsey is great! Make a bunting with horse fabrics and these colors to hang in the eating area. Horse stuffed animals can be placed on the eating tables.
Make a "Happy Birthday" banner with little horse silhouettes on each end. This is easily made with construction paper and curling ribbon. Just cut out 15 squares of either brown or red construction paper. Hole punch the two top corners.
Shopping List
Horse stuffed animals
Appropriate fabric (check thrift stores for horse sheets or the other fabric colors, it will save you so much money)
Brown or red construction paper
Red curling ribbon
Beef brisket
Coleslaw
Cupcake ingredients

Write out "Happy Birthday", one letter each on 13 squares of plain white printer paper cut to be a little smaller than the construction paper. Draw a horse silhouette on two more white paper squares or print off horse silhouette clip art if you are not much of a hand at drawing. Glue the white paper to the construction paper.

Thread the curling ribbon through the holes in the construction paper. Tie this banner up in the eating area.
Remember, once again, that the focus is on the horseback riding. This means that the decorations really don't have to be too elaborate. Just a little something that keeps with the theme is perfect.