Beer Theme Party Food

Menu
Beer
Sparkling water
Pretzels 
Crackers and cheese
Nuts
Charcuterie Board
Chocolate cupcakes
For this kind of a party, provide snacks instead of an all-out meal.
When considering  what to serve for your snacks, remember that starchy foods are always best with beer. Things like soft pretzels, crackers, cheese and pickles, nuts and cold meats are perfect pairings that also help cleanse the palette. If you have a
Farm Fresh To You. Delivered to Your Doorstep - Organic Fruits & Veggies
to your order! If you don't have an account you should! Sign up by following the link.
Provide sparkling water to serve between the tastings and to help keep your guests hydrated and get them ready to have the next tasting. 
Once the tasting is over, you can offer full glasses of beer to keep your party rolling! Serve chocolate cupcakes on the side as your party dessert. 
Note: If you are opting for a lower budget party you can save a lot when considering your menu! 

Beer Theme Party Feeling

Shopping List
Growlers
Pens
Black and gold streamers
Black and gold balloons 
Party favor baggies
Six different kinds of beer
Sparkling water
Pretzels 
Crackers and cheese
Nuts
Cold meat
Chocolate cupcakes
Decorate your party with subtle colors. Black and white polka dots are perfect, not over the top but still fun.
Serve your snacks on white trays. If it is a birthday or anniversary, be sure to have balloons! Gold highlights the beer color, so have at least a little gold along with plenty of black and white streamers and balloons. 
Note: The growlers are not an essential element and again, if you are budget conscious go for paper bags covering the bottles to keep the beers disguised. You can still make these look super cute with a little twine.
Beer Theme Party Fun
With these scorecards, your guests will try each of the beers you've provided and determine their taste, aroma and give them an overall rating.
A good number of beers is four but we recommend not having more than six. This will allow your guests to really savor each beer and taste the differences.  
Once your guests have turned in their cards, be sure to announce the winning beer and maybe even provide some details about its origin and taste. 
If you are a home brewer make sure you include your own brews!
---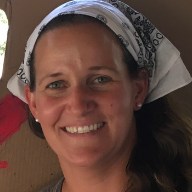 Kathleen Bowen is a founding member of IndustriousFamily.com. She is a busy homeschooling mother of ten children with seven currently in school. She acts as producer for Industrious Family Films. She is living her dream of off-the-grid yurt living, enjoys gardening, flowers and creating table arrangements.

---