Hunting Theme Birthday Party Food
To make your party seem very manly, serve several different dishes of meat. Meatballs, hotdogs, beef, and linguicia are all good meats to serve. If you have or can find elk or venison, that is absolutely perfect!
Don't forget the cake! Decorate your cake using all white frosting and placing little animal figurines on it so that it will look like animals in snow. 
Another spin on the cake is setting up a Bass Pro Shops hunting set. The figurines are a perfect size (you might want to skip the jeep, though!). 
Hunting Theme Birthday Party Feeling
With greens, browns, yellows, oranges, and blacks dominating your party's decorations, decorate using these colors for your:
Balloons
Tablecloths 
Plates
Streamers
Camo napkins also bring the right feel to the party. You can also make a birthday banner for your birthday child.
Making Your Banner
To make your banner you will need:
At least 7 pieces of green construction paper
1 piece of black construction paper
1 piece of brown construction paper
Hole puncher
White string
Glue
Use green paper to cut HAPPY BIRTHDAY (BIRTHDAY CHILD'S NAME) letters. With a hole puncher, punch a hole on the top corners of each letter. Thread the string through the holes. Put the birthday child's name on a separate string from the "Happy Birthday" words. 
Cut two large ovals out of the brown paper. (Tip: to make the ovals even, fold the paper in half and then cut them out.)
Fold the paper in half and cut out deer heads. Glue the heads on to the ovals. When hanging up the banner, place these little heads on either side of the words. 
Tada! A hunting birthday banner!
Hunting Themed Birthday Party Fun
One really fun game to play at this party is pin the target to the deer. Just play like pin the tail to the donkey using a deer and a target instead to make it fit with your theme. Person who gets the target closest to the heart wins!
Another fun hunting theme game is a Nerf gun target practice. This game requires a little more of a setup. Read below for directions both on how to make the target and how to play.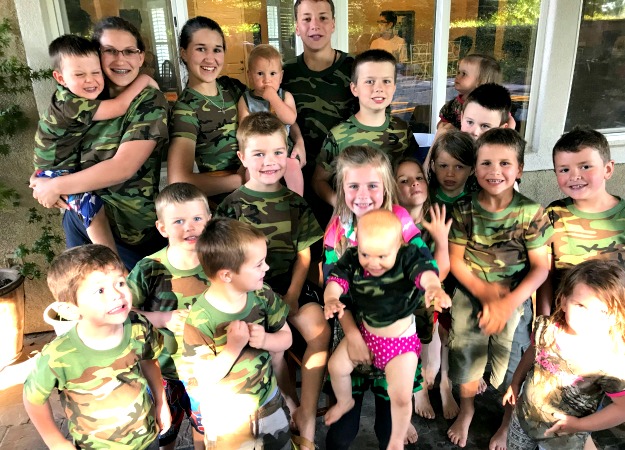 The Nerf Gun Target Practice
A Nerf gun target practice is a great game for this party because everyone has Nerf guns so it is not going to be too huge of a fiasco to get the guns along with the other supplies for this game.
You might want to start making the target a couple days before the party, because it takes a while to make. 
The Set Up
To make your target, you will need:
A package of orange solo cups
A large piece of plywood
Spray paint: yellow, green, brown, and black
Nails
Hammer
White paper
Glue
Using the various colored spray paints, paint the plywood camouflage. Once the paint is dry, nail the orange cups to the plywood. Make sure they are in a reasonable pattern so that they will not be too difficult to mark. Mark all the cups with different scores on your white paper and glue them next to  the cups.
How To Play
To play you will need:
Nerf guns
Plenty of Nerf bullets (100 pack)
Give each player an equal amount of Nerf bullets and have them take turns at shooting at the target. Don't forget to keep score and have a prize ready for the winner!