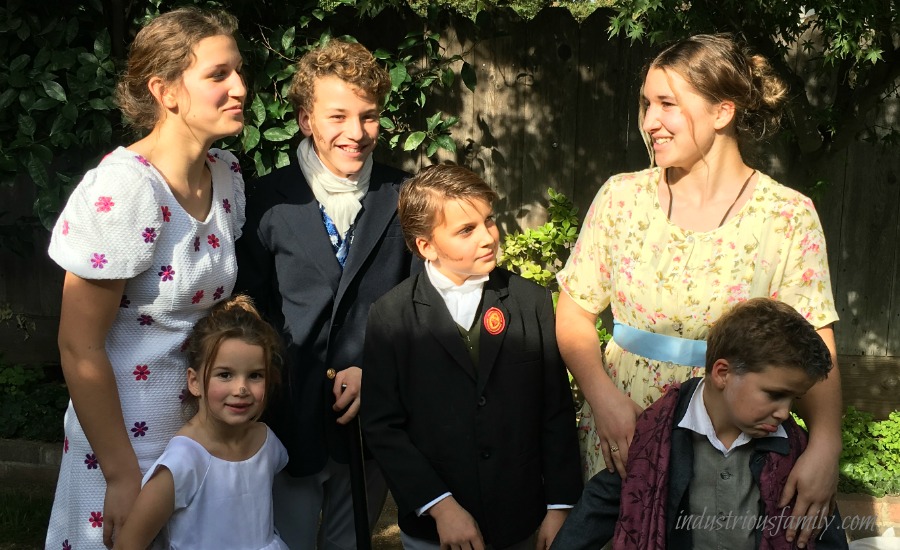 A Jane Austen birthday party is a fun theme for older girls. With the regency era gowns and up dos, this is not just a costume party...it's an event!
Jane Austen novels are found on nearly all young women's book shelves. The movies are a joy to watch, and young ladies love analyzing the characters and thinking about whom they are most like.
As girls mature and begin to experience society outside their own homes, the stories take on more meaning and become even more enjoyable as no one can capture the intimate relationships between neighbors and human nature in general the way Jane Austen can.
Our favorite Jane Austen movies are the BBC version of Pride and Prejudice. There is way too much cleavage but Colin Firth is the best Mr. Darcy ever and the movie is almost word for word to the book.
BBC's 2009 version of Emma is our favorite Emma. It is such a lovely movie. The clothes and music are amazing!
We also enjoy Sense and Sensibility staring Emma Thompson and Hugh Grant. Emma Thompson wrote the screenplay and she did an amazing job.
Before throwing your party or you are invited to a Jane Austen birthday party you may want to watch these three movies to get you in the mood and get your costume ideas flowing.
This party is especially fun because it is a costume party! Have your guests wear dresses similar to their favorite characters. We've enjoyed dressing as Eleanor from Sense And Sensibility; Emma and Harriett Smith from Emma; and Elizabeth Bennet, Mrs. Bennet, and Lady Catherine Debourgh from Pride and Prejudice.
The boys are always good sports and got in on the fun dressing as Mr. Darcy, Mr. Knightly, and Mr. Woodhouse, Emma's father.
Dad loves woodworking and viewed making canes for the boys as a fun way he could contribute to the party. There was only one occasion of fencing with the canes, which looking back, is also period appropriate.