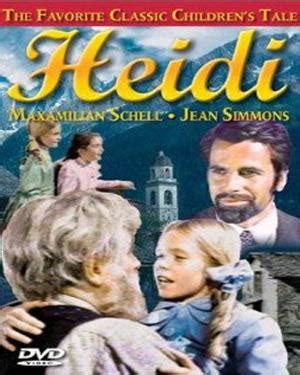 Watch Now!
The orphan Heidi is taken to the Alps to live with her reclusive Grandfather. Heidi must learn how to cope with the cold and rough elderly man. But she grows on her grandfather and the two develop a unique bond. Heidi's life is one of frolicking in the sunshine and playing with goats on the mountainside.

But, Heidi's uncle sees a perfect opportunity for Heidi by adopting her, thus opening the door to a better life for Heidi as well as acquiring a companion for his sour, spoiled and handicapped daughter, Clara. Clara's doctors have mentioned that she has the ability to walk but that she is scared to try.
Thinking he is releasing the old man of a burden, Uncle Richard climbs the Alps to take Heidi to Frankfort with him. Though Heidi and Clara do become friends and Heidi's character and personality brighten the invalid's life, Heidi is homesick and begs to return to the Alps.
Back at the Alps, Heidi is convinced that the mountain air would do Clara good and convinces her uncle to let Clara spend two weeks in Switzerland. During her stay, Grandfather explains to Clara that there is a fear in every man to try. He convinces Clara that as soon as she gains the courage to try, a miracle with happen. It is grandfather's strong leadership that leads Clara to have more confidence in herself enough to walk on her own two feet.
The twist in this movie that does not follow the book is that the governess is not the mean lady that she is made out to be in the novel, but rather that she is a kind and good woman who practically becomes Heidi's and Clara's second mother. Clara shares with Heidi that the governess is in love with her widowed father. This, of course, turns the traditional Heidi story into a Sound of Music-ish romance. I personally think it was for the better good of the film.