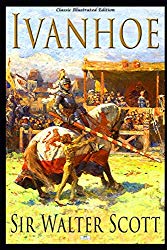 Returning home from the Crusade and representing the return of the faithful followers of King Richard is Wilfred of Ivanhoe, the disinherited son of a Saxon thane. His father calls him disobedient; his childhood love, Rowena, is to be married off to his kinsman; his king is a captive in Austria; he returns home after a failed crusade—Ivanhoe seems to experience a weakness of circumstance, though not of character. 
Under all these hardships, Ivanhoe consistently shows a chivalrous and noble character. He is not the dashing rough knight that many imagine Middle Age heroes to be, rather he is the simple, boyish hometown hero.
On the other hand, it is the nemesis, Sir Brian de Bois-Guilbert, who's fame has proceeded him. Ivanhoe and de Bois-Guilbert finally come head to head when Brian mingles another's innocence with his villainy.