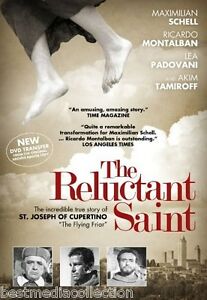 "Do you think I kept you in school all these years for this piece of paper? Do you think it didn't break my heart to see you, a grown man, among school boys? But at least I knew where you were!"
The Reluctant Saint is the lighthearted retelling of the story of St. Joseph of Cupertino. Giuseppe is certainly not the brightest person in his class. As his mother says, he is "a grown man among schoolboys". His father has an easy solution, though: have a special diploma given releasing Giuseppe from school.
But now Giuseppe's mother must find something else for him to do all day. He loses job after job on account of his stupidity. When Giuseppe's monk uncle comes to visit his mother, she has a new plan to have the monastery to take care of her foolish son.
Giuseppe still finds trouble, but the bishop of the diocese befriends him and even has him ordained. Giuseppe has a simple but strong faith in God and a special devotion to His Holy Mother. This faith, along with his humility, makes Giuseppe grow in devotion and holiness, so much so that he actually rises from the floor in a state of ecstasy during the consecration of his Masses.
This power raises questions in the monastery. Some of the monks are sure it is from God, others insist that it is given by the devil. An exorcism will tell the truth: Is it divine or demonic?
Above all, this movie shows that pride comes before the fall. It proves that God will "put down the mighty from their seat, and hath exalted the humble." (Luke 1:52)