"Get The Most Out Of Seasons And Holidays With Family Fun Activities!"

Seasons and holidays are the perfect times to plan family fun. Below is an overview of both liturgical and secular holiday celebrations and ways to celebrate which include how to decorate and more. Click the links to read more about particular holidays.
Wielding Fun During Winter's Seasons And Holidays

The calendar year starts in January and the Church year starts with Advent. It is fitting, therefore to start our Seasons and Holidays Section with Advent and Christmas.
Advent
Advent is a time of joyful expectation observed during the weeks leading up to Christmas. Help your family prepare for Christmas with prayer, penance, and meaningful traditions like the Advent wreath and Jesse tree. Preparing your hearts for Christmas is fun! Click here to discover Advent activities...

Kick Off The Winter Activities With St. Nick
Okay, it's not quite winter yet, but the weather usually feels like it.
Take advantage of the feast of St. Nicholas to emphasize the sacrificial nature of Advent.
Have a visit from St. Nicholas or in the very least a note from St. Nicholas that conveys the message that:
He came from heaven.
He is their special patron and is praying for them.
He would like to know what they are doing to prepare their hearts for Christmas.
In our home, the children leave their boots out on the eve of St. Nicholas' Day. In the morning they are filled with toys and candy.
After dinner, St. Nicholas makes a visit in person to our home. One of our favorite stories is the Winged Watchman so we make sure Peter Bass accompanies St. Nicholas.
The holy patron of children always tells the children that he has come from heaven, and that is their special patron who's praying for them.
He questions each child about what they are doing to prepare their hearts for Christmas. He gives them some chocolate and departs leaving the children with holy thoughts.
Develop An Interior Life With The Immaculate Conception
The feast of the Immaculate Conception is another feast when there is an opportunity to form children's interior life. On this day we celebrate Mary being conceived, by a special grace of God, without original sin. Our Lord's human nature came from Mary who was preserved from all stain of sin.
Things to do:
Consecrate or renew a consecration of each member of the family to the Immaculate Heart.
Talk about original sin and the effects of baptism.
Teach your children to pray that their baptismal innocence will remain until the day they die.
Christmas
Presenting the infant Jesus to the family crib before bed on Christmas eve, singing carols on Christmas day, surrounding the crib with poinsettias in honor of the first martyr, drinking blessed wine on St. John's day, a visit from the Magi, these activities and more make Christmas a memorable season. Click here to learn how to adopt these Christmas traditions for your own...
Bringing In The New Year
It is customary to stay up until midnight to bring in the New Year. On New Year's Eve day, try to visit a church and thank God for the graces throughout the year past.
Plan evening activities that will run late into the night. A late dinner, dessert and snacks; board games or card games. At midnight:
Toast to the New Year with champagne,
Light off fireworks
Recite the Te Deum and
Sing "Holy God We Praise Thy Name" and "Auld Lang Syne".
It is also customary to make a New Year's resolution. Consider a virtue you will work on developing during the new year. Review this Advent checklist if you need help thinking of a resolution.
New Year Day's, January 1, should be like a second Christmas. It is a holy day of obligation and holy Mass should be attended.
The food and decorations should be as festive as Christmas. You may even want to keep a few Christmas presents unopened to open this day. In this way there are still more thrills as the gifts are opened.
The Church celebrates the Circumcision of Our Lord this day as well as the feast of Mary, Mother of God. The celebrations from the evening before should carry on into this day. Meditations on the meaning of the title: Mother of God and the event of Our Lord's circumcision (the first time Our Lord shed His blood for us) should be included in the family Rosary.
A plenary indulgence can be acquired by reciting the Veni, Creator Spiritus.
Start The Year Off With An Epiphany Blessing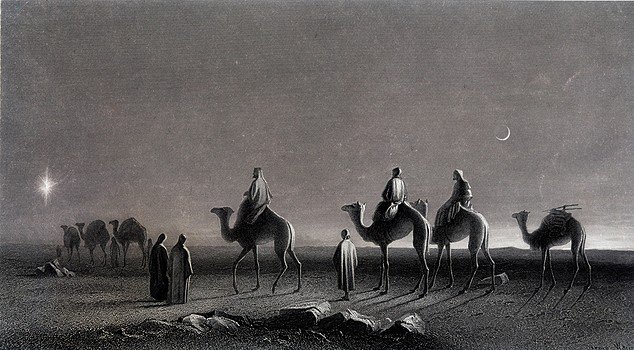 Priests bless water and chalk on the evening before Epiphany which is used to bless homes in the days following Epiphany. The chalk is used to mark  20 + C + M + B + 16  over the exterior doorways in the home so that all who come and go will receive God's blessing. The father of the family writes the inscription which serves as a witness to the Faith and a protection against evil.
The inscription is rich in symbolism:
The letters C, M, and B have to meanings. First they are the initials of Three Magi: Caspar, Melchior and Balthasar.
Secondly they are an abbreviation for the Latin phrase: Christus mansionem benedicat. "May Christ bless the house.
The crosses represent the protection of the Precious Blood of Christ and the holiness of the Three Magi.
The number of years that have passed since the Magi had made their journey is written on the outsides of the inscription.
It is always exciting to have the priest come to the house. It is good to remind the children that while the priest is blessing the home, they should pray quietly, and that they can talk to the priest before and after the blessing.
If no priest is available to bless your home:
Read the Prologue of St. John's Gospel, followed by the Our Father, and the Collect of the Epiphany; then write the inscription for this year above your front door with blessed chalk.
The lintel of the main door of the house is marked by a the father.
While praying the following prayer:
The Three Wise Men, Caspar C (write the letter), Melchior M and Balthazar B followed the star of God's Son Who became man, Two Thousand 20 and Sixteen years ago 16. May Christ bless our home ++ (inscribe the first two crosses), and remain with us through the new year ++ (then the last two crosses)."
Almighty God, incline your ear. Bless us and all who are gathered here. Send your holy angel who will defend us and fill with grace all who dwell here. Amen."
The father then sprinkles the interior of the home with the blessed Epiphany Water.
Celebrate Robert Burns Day With Poetry And Song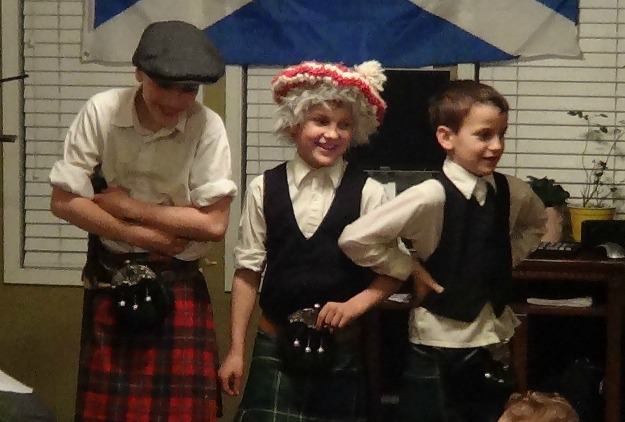 For the last two years we have been apart of a Robert Burns supper. It has been really fun and enriching to practice songs and poems for this dinner. Learn how to throw your own here...
Valentine's Day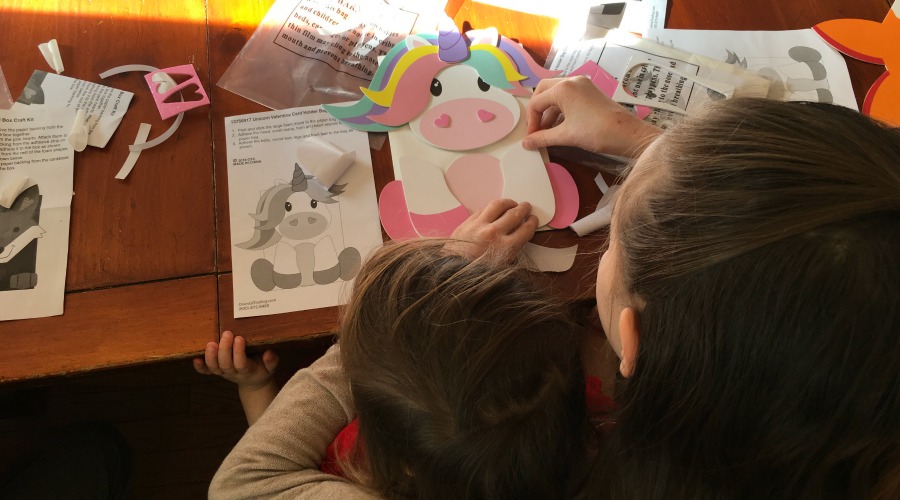 Click here for ideas for Valentine crafts to do with your children. Simple, fun, and easy card holder kits along with handmade cards make St. Valentines Day a memorable holiday filled with family fun.
Enjoy making Valentine crafts, cards and goodies. The best part is peeking into your card holders to see all the goodies you received. It's wonderful sitting around with your family opening cards and thanking one another for the sweet messages and tasty treats.
Lent
We observe Lent by fasting and penance. A family fun activity is playing a game called "Secret Agent". Each Sunday during Lent, we each draw a family member's name out of a hat. All through the week we do good deeds for that person.
We do their chores one day, we make a spiritual bouquet for them.We ask priests to offer a Mass for them.
We even give them goodies and try to be more patient with them or take them places with us.
On the following Sunday we try to guess who our "secret agent" was. The children really enjoy this game. It is good for them too because they must work at doing nice things for one of their brothers and sisters or mom and dad.
Giving up something for Lent is an important. We firmly believe in this practice. Saying no to little things is so very helpful in being able to say no to big sins later in life. It's nice to do things like say more prayers or do good works but the real benefit is in the traditional idea of giving something up for Lent.
So yeah! Give up chocolate for Lent!
St. Patrick's and St. Joseph's Day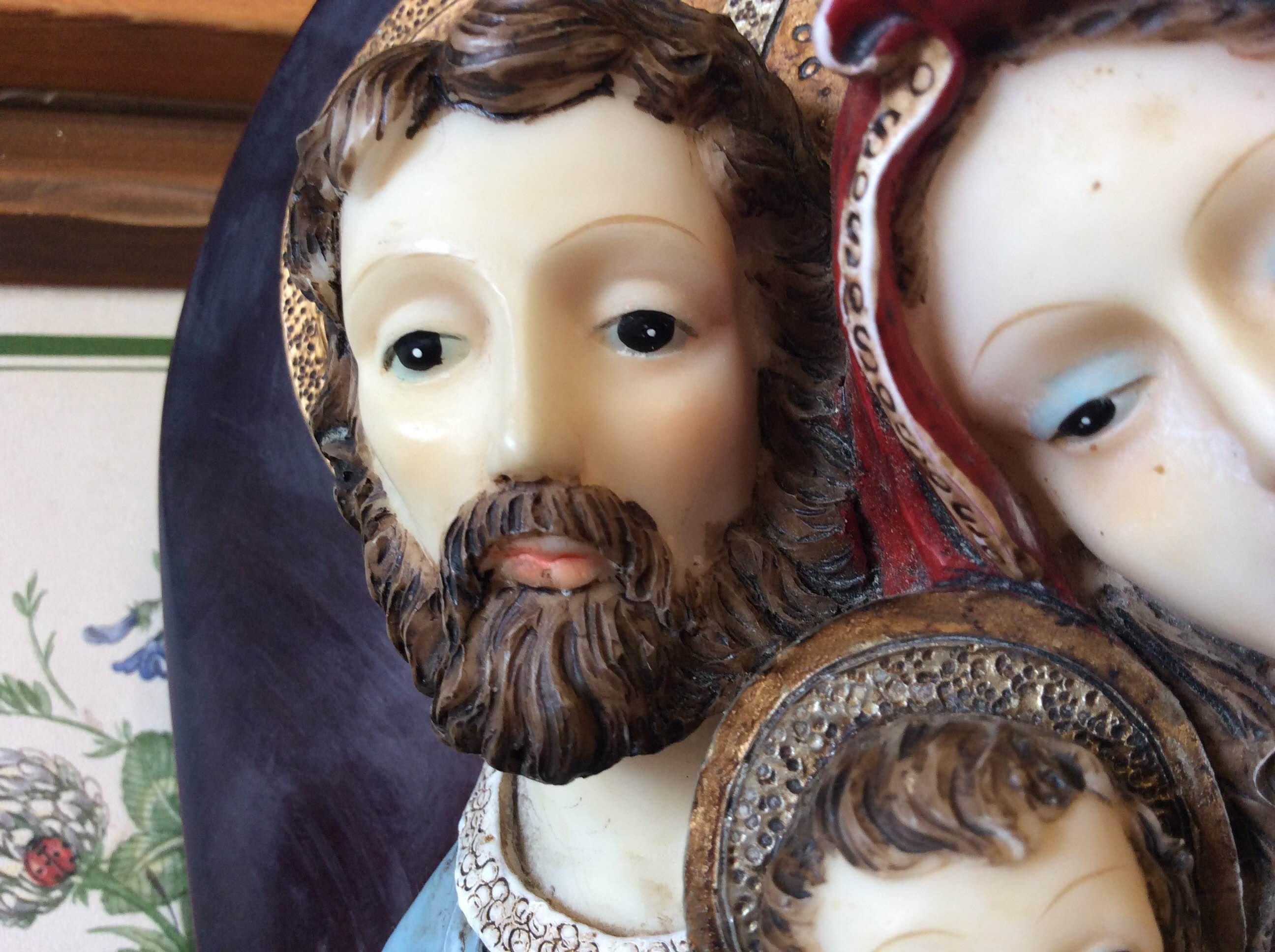 Of course we wear our green on St. Patrick's Day and try and enjoy a festive meal or at least a treat, but what we really like to do is combine St. Patrick's Day and St. Joseph's Day and have a St. Joseph's Day table.
We do this by having a Italian meal sometime between St. Patrick's and St. Joseph's day.
These can be very elaborate or a simple gathering with a family and friends. Sharing and enjoying one another's company is the idea. Another way to truly carry out the tradition of feeding the hungry is to invite a family or someone you wouldn't usually socialize with. This meal may spark a life long friendship!
To add an Irish flair to the St. Joseph's table prepare some Irish entertainment. A sing-a-long, or some performances would be perfect!
Celebrating Spring's Seasons And Holidays

May Crowning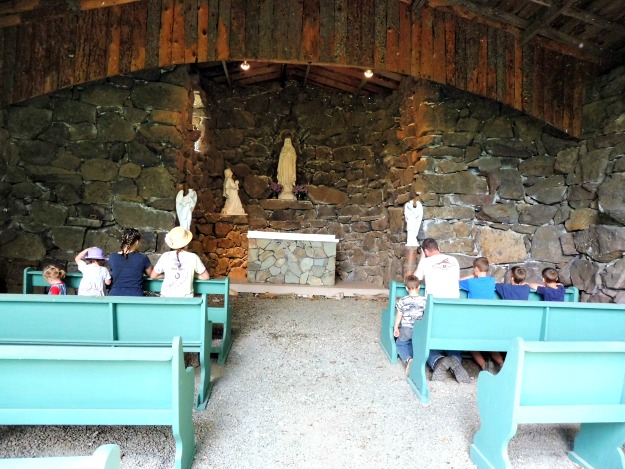 Other devotions such as the Rosary and hymns are fitting.
We crown a statue of Mary and practice Marian hymns during the month dedicated to Mary, May.
Our neighbors over at the Monastery have a beautiful grotto and statues of Our Lady Of Lourdes and St. Bernadette. In the past we have made a beautiful crown of prairie winkle and lilacs. We also like to add some bouquets of lilacs to place at her feet.
Other times we have crowned our little garden statue of Mary and have once before crowned a small family statue. A big statue is the best though!
Have your oldest son process up with the crown on a pillow. We use my ring-bearer pillow from my wedding. Have everyone sing Mary we Crown Thee with Blossoms Today.
Then have your oldest daughter take the crown and place it on Mary's head.
Afterwards you can pray the Glorious Mysteries of the Rosary and sing more Marian hymns like Immaculate Mary and Ave Maria.

More to come on Lent and Easter with Easter activities and Easter decor...

Savoring Summer's Seasons And Holidays

Celebrating St. John The Baptist's Nativity-June 24th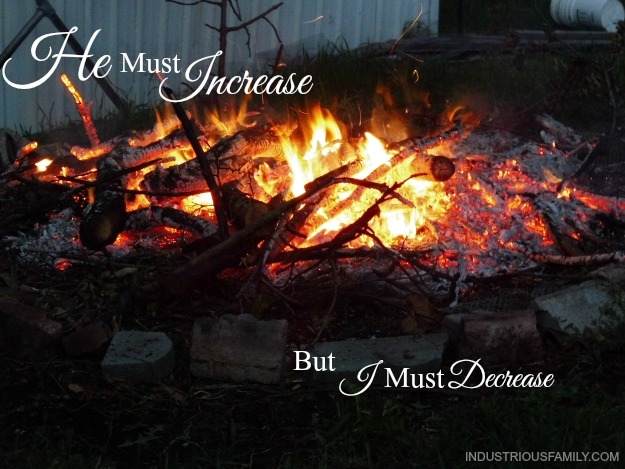 It is a tradition to burn broken furniture and sacramentals on this day. If a priest is available, he can bless the fields and go through them with a torch from the fire.
Some interesting points about St. John the Baptist's Nativity:
The only nativities the church celebrates are that of Our Lord, Our Lady and St. John the Baptist. Our Lord and Lady were born without original sin while St. John the Baptist was cleansed of original sin during the Visitation when the Blessed Virgin Mary greets her cousin St. Elisabeth. (Luke 1:43-44)

St. John's Nativity is celebrated 6 months before Christmas during the summer solstice. St. John says:
He must increase, but I must decrease.
From this time forward, in the Western Hemisphere the sun gives less light each day.
In December after the winter solstice the Sun's light grows more and more each day. John decreases with the sun and Our Lord arrives on the darkest night and the light increases.

Saving sacramentals that need destroyed as well as furniture and a brush pile is a great way to celebrate this solemnity with your family at home. If you are lucky enough to have a priest attend your gathering, he can bless your fields or garden this same day.
Celebrate Your Grandmas On St. Anne's Feast Day-June 27th

Do something special for your grandmothers this day. St. Anne is the grandmother of our Lord and this is a nice time to honor Grandma in a special way. This day that lands in between Mother's Day and Father's Day.
Buy her a card, have her up for dinner or simply give her a call. She'll love it.

More to coming about summer camps and other opportunities for summer family fun...
Unforgettable Fall Season And Holidays

Halloween For Kids

This year celebrate the true meaning of Halloween by throwing an All Hallows Eve party. Halloween for kids can be unattractive to many families, and rightly so.
A wholesome and beneficial alternative to Halloween is throwing a party party which focuses on the feast of All Saints Day. We have found that it is way more fun than trick or treating and all that scary stuff.
You and your guests are sure to have a blast!
Here's how to go about throwing an All Hallow's Eve Party...

The fall holds lots of great opportunities for family fun such as Hayrides, Cornmaze, Pumpkin patch and Thanksgiving fun. Check back for more on these topics...

---
---
Home
› Seasons and Holidays
---
Subscribe To The Industrious Family Gleaner!

We Respect Your Privacy.