This year, celebrate the true meaning of Halloween by throwing an All Hallows Eve party. Halloween for kids can be unattractive to many families, and rightly so. A wholesome and beneficial alternative to Halloween is throwing a party that focuses on the feast of All Saints' Day. We have found that it is way more fun than trick-or-treating and all that scary stuff. You and your guests are sure to have a blast!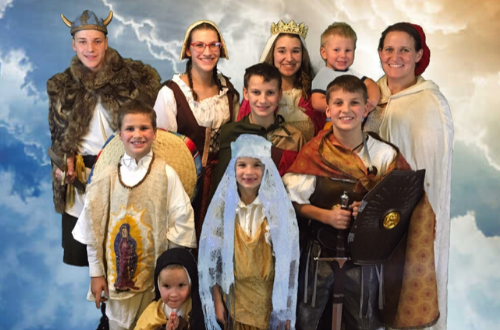 A big pot of soup is perfect for this party. It's festive to include Halloweenish appetizers such as "ghost bananas" and "pumpkin oranges".
Ask half of the guests to bring an appetizer and half to bring a dessert, that way you can make a big pot of soup, provide table wear and forget the rest. When throwing children parties keep the food simple. They don't eat very much during parties anyway.
You may want to provide soul cakes. They are a traditional roll that serve as a reminder to pray for poor souls during the month of November.
When children first started trick-or-treating, they would be given, instead of candy, a soul cake. Rather than saying "Trick-or-treat" as the door was opened they would say the soul cake rhyme:
A soul cake, a soul cake, a prayer for a soul cake.
The children would be given a soul cake along with a list of the family's departed family and friends. The children would then agree to pray for these souls during the month of November.
You can make these traditional rolls by following the recipe below. They are a sweet roll and are very tasty especially when served with butter and jam--peach jam compliments them very well.
Soul Cakes 
yields: 18-24 cakes, according to size

6 cups flour
1/2 cup butter
1/2 cup+1tsp. sugar
1 package of yeast
1/2 cup lukewarm water
2 cups milk
2 tsp. salt
4 tsp. cinnamon
1/8 tsp. nutmeg
1 egg white
Cream butter and 1/2 cup of sugar. Dissolve yeast in the water and the remaining sugar. Set aside. Scald milk and add to the creamed mixture. When cooled add yeast mixture and stir until thoroughly blended. Sift together flour, salt and spices. Add gradually to other ingredients, kneading until a soft dough. Set sponge to rise in warm place in greased, covered bowl. When doubled in bulk, shape into small round or oval buns. Brush tops with slightly beaten egg white. Bake at 400* for 15 minutes. Then reduce the heat to 350* and bake until delicately browned and thoroughly done.
Recipe credit: www.catholicculture.com