"Halloween For Kids Is Wholesome With This Fun All Hallows Eve Party!"
Home

›
Fun Family Party Themes
› All Hallows Eve Party
This year, celebrate the true meaning of Halloween by throwing an All Hallows Eve party. Halloween for kids can be unattractive to many families, and rightly so. A wholesome and beneficial alternative to Halloween is throwing a party party which focuses on the feast of All Saints Day. We have found that it is way more fun than trick or treating and all that scary stuff. You and your guests are sure to have a blast!
All Hallows Eve Party Food:

Although any meal will work at an All Hallows Eve party, it's fun to try to keep it Halloweenish. You can achieve this by making ghost bananas and pumpkin oranges. Have your guests bring their favorite side dish, that way everyone likes what's being served and the more guests there are, the more food there is!

Soul cakes are also an essential food to help remind the guests that we must be praying for the Poor Souls in Purgatory during the month of November.
Making The "Ghosts"

To make your banana ghosts you will need:
A few bananas
Some mini and regular chocolate chips
Peel each banana and cut them in half. Put two little chocolate chips side-by-side for the eyes and one big one in the middle as the mouth.
And...Voila! you have just made a eatable ghost.

Making The "Pumpkins"
To make your pumpkin oranges you will need:
Cutie oranges

Fresh green beans

Peel each orange. Cut the green beans into little, 1/2-inch chunks. Put the green bean chunks into the tops of the oranges.

Doesn't it look like a little mini pumpkin?
Both these recipes are really easy and fit very well into the Halloween season. Plus they are healthy to offset any candy that will be eaten that evening.

Some History On The Soul Cakes

When children first started trick-or-treating, they would be given, instead of candy, a soul cake. Instead of "Trick-or-treat" as the door was opened they would say:
"A soul cake, a soul cake, a prayer for a soul cake."
The children would be given a soul cake along with a list of the family's departed family and friends. The children would then have to pray for these souls during the month of November.
You can make these little historic rolls by following the recipe at the right. They are a sweet roll and are very tasty especially when served with butter and jam-peach jam was our favorite.

All Hallows Eve Party Feeling:

Because this is not a very common party, enclose many details in your invitation. You can print out ours and fill in the blanks, or use it as an outline.

The best decorations for an All Hallows Eve party include:
Saintly garb,

A real or improvised graveyard

A person to act out a Poor Soul, and

A hell room
These decorations are most necessary and the party is not complete without them!

Preparing Your Graveyard

When constructing your own graveyard, you will need a few things to make it look real. The things necessary are:
Some gravestones
Some leaves
Set the gravestones out and put a pile of leaves at the end of each gravestone. Make each pile the length of an adult. This will give the effect that the buried have not been dead long.

Assembling Your Gravestones

You can easily make your own gravestones. All you need is:
At least four cardboard boxes which are about the same size,
Some large rocks, the same amount as there are boxes,
Four grave labels. One that says, "Departed Clergy". One that says, "Departed Family". One that says, "Departed Friends". And a fourth that says, "Forgotten Dead". Or, just print them out here.
Butcher paper

Put a rock in each of the cardboard boxes, arranging it so that it stands up straight. Then wrap the boxes completely in butcher paper. Tape your label on the front of the box.
Now you have a "gravestone" to place in your graveyard ahead of each pile of leaves. It really turns out great! If you have time make more graves.

How To Dress As A Poor Soul

What the Poor Soul should wear:
A long dark robe

Black

, white, and

blue

face paint
Paint the poor Souls using the face paint. Paint the entire face white and then black and blue around his eyes. Also paint his cheeks so they look thin and sunken in.
This skit is better when it is memorized as it will seem more like a visit than a recital. Here is an appropriate skit that could be recited by him. We use the script suggested by the folks over at Catholicculture.org. You can print the skit words right here!

The Poor Soul is a part that can be done by one or two people. I am usually the Poor Soul with Sham-Wow. I do most of it as he is still a little young. I do, however, give him certain parts to do all by himself.
Preparing Your Hell Room

A Hell room is a part of an All Hallows Eve party because it reminds the children that there is a place of punishment for those who die in mortal sin.
This room is not to scare people, just to make them remember to be good in little things while they are children so that they will be able to be good in important things when they are adults.
Preparing your Hell room is easy. All you need is:
Butcher paper
String
A small out of the way room


Red

,

yellow

, and

orange

markers or crayons

A few thumbtacks

An ugly cut out of a head to represent the devil and

A shop light
Some thundery and scary music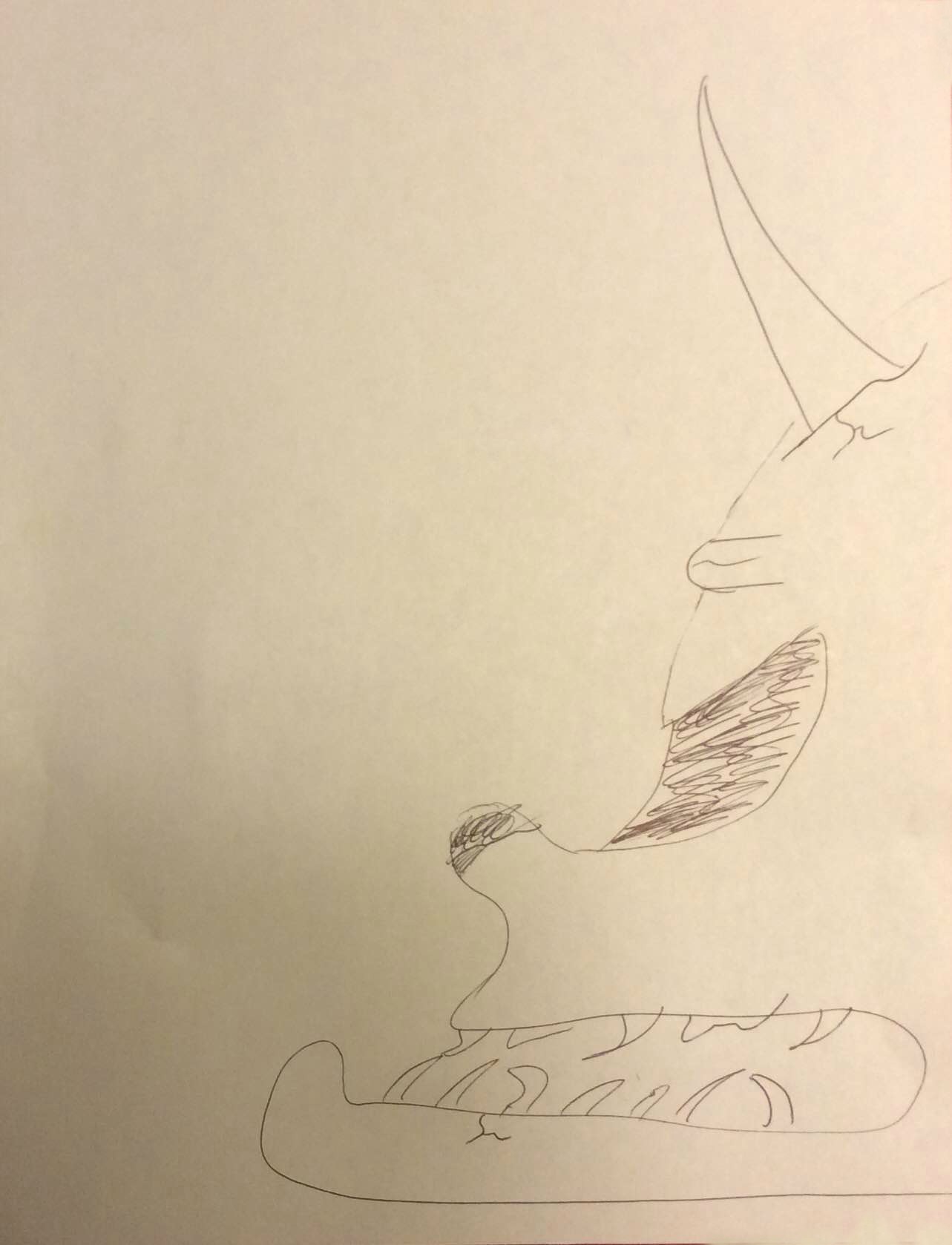 Using the crayons or markers, color the paper side of the butcher paper with flames. Tie the string to the head cut out. (Mr. B is our expert devil head artist.)
Hang your cut out in the room that you are going to use as the Hell room. Using a few thumbtacks, hang the colored butcher paper in the doorway to your Hell room. Inside the room put a shop light in a position that the shadow of the head will show clearly silhouetted against the butcher paper.

Turn on the scary music and let it repeat playing throughout the party. We play "Tocatta and Fugue in D Minor" which we bought from iTunes from the soundtrack "Film Classic Orchestra Oscars Studio".
All Hallows Eve Party Fun:
Encourage your guests to dress in the garb of their favorite saint. (Or their own patron saints!) This fun need not be reserved for the kids only. Moms and dads should join in the fun!
Begin the festivities with recitation of the Rosary.
The Sorrowful Mysteries are prayed for the souls in Purgatory, through the intercession of the Blessed Virgin Mary and the Saints.
Then have a candlelight procession to your "graveyard" chanting or playing an audio of the Litany of the Saints.
Upon arriving at the "graveyard", say a Hail Mary for each of the intentions: for family, friends, clergy, and the forgotten dead. Berries and evergreens should be left at each grave to symbolize that it is Christ's Passion and Death which brings Eternal Life.
Next? Dinner and refreshments! Then a few games can be played. Some favorites include:
Guess which saint I am. Here each guest can tell either the life story of the saint they are dressed as or their favorite miracle of the saint
Cakewalk
Pumpkin carving contest (have guests bring an already carved pumpkin to enter)

A saint trivia
A sing-along
Best costume contest
Guess how many goodies are in this jar
Then a distribution of bagged goodies are given to the children before their departure. Have the parents bring bags for their own children. This year, our goodies contained:
Home-baked pumpkin seeds

Chocolate chips
Each family should be responsible for their own children's goodies. Have the child's name written on the bag with a list of souls to pray for during the month of November.

This All Hallows Eve party provides a good time for the children, but as Catholics we should reserve the big celebration for the holy day, All Saints Day, November 1st. So remember to maintain a little of the fast-before-the-feast character for All Hallows' Eve.
---
Our annual All Hallows Eve party is my favorite party of the entire year! I hope it becomes a yearly tradition and that the guest at your party enjoy themselves!
-Teen-A

---
---
---
Leave a reply
Sign Up By Email
Enter your email address to subscribe to this website and receive notifications of new articles by email. Join 23 other subscribers

We Respect Your Privacy.