This Party Is Fun With Lots To Do And Just A Touch Of Scary
Preparing Your Graveyard And Assembling Your Gravestones
When constructing your own graveyard, you will need a few things to make it look real. The things necessary are:
Some gravestones
Some leaves
Set the gravestones out and put a pile of leaves at the end of each gravestone. Make each pile the length of an adult. This will give the effect that the buried have not been dead long.
You can easily make your own gravestones with:
At least four cardboard boxes which are about the same size,
Some large rocks, the same amount as there are boxes,
Four grave labels. One that says, "Departed Clergy". One that says, "Departed Family". One that says, "Departed Friends". And a fourth that says, "Forgotten Dead". You can print them here.
Butcher paper

Put a rock in each of the cardboard boxes, arranging it so that it stands up straight. Then wrap the boxes completely in butcher paper. Tape your label on the front of the box.
Now you have a "gravestone" to place in your graveyard ahead of each pile of leaves. It really turns out great! If you have time, make more graves.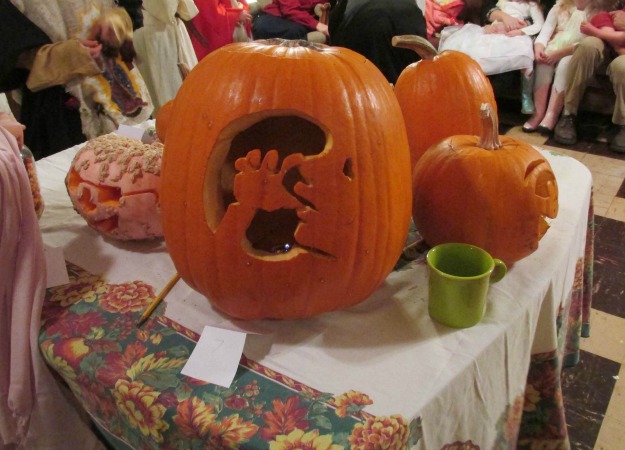 Preparing Your Hell Room
A Hell room is a part of an All Hallows Eve party because it reminds the children that there is a place of punishment for those who die in mortal sin.
Preparing your Hell room is easy with:
Butcher paper
String
A small out of the way room

Red, yellow, and orange markers or crayons

A few thumbtacks

An ugly cardboard cut-out of a head to represent the devil

A shop light
Some thundery and scary music
Using the crayons or markers, color the paper side of the butcher paper with flames. Tie the string to the head cut-out. Hang your cut-out in the room that you are going to use as the Hell room. Using a few thumbtacks, hang the colored butcher paper in the doorway to your Hell room. Inside the room put a shop light in a position that the shadow of the head will show clearly silhouetted against the butcher paper.
Turn on the scary music and let it repeat playing throughout the party. We play "Tocatta and Fugue in D Minor".
Finally create a sign and place over the door that reads: Abandon Hope All Ye Who Enter Here!
Free All Saints Day Coloring Page
On this page you will find King St. Louis IX holding the real crown of thorns, next to him is St Helen with the true cross, St. Joan of Arc is next in her military regalia, next is St. Peter receiving the keys from the Infant Lord Who is on the Queen of All Saints lap, St. Joseph is to the right of her and St. Mary Magdalene is at Our Lord's feet.
To the right of St. Mary Magdalene is St. Philomena with an anchor, then St. Therese the Little Flower, next is St. Isaac Jogues and finally St. John the Baptist with his banner, which reads "Behold the Lamb of God."
"Thou wast slain, and hast redeemed us to God, in thy blood, out of every tribe, and tongue, and people, and nation." -Apocalypse 5:9
Activities To Round Out Your Party And Make It An Evening To Remember
Don't forget to encourage your guests to dress in the garb of their favorite saint. This fun need not be reserved for the kids only. Moms and dads should join in the fun!
There are some activities that work great for larger crowds like at parish or homeschool group parties. Depending on time and effort you can include the following:
A Cakewalk that is actually a cupcake walk. Cut out clouds numbering them. Play music and when the music stops draw a number. Call out the number and the child standing on the cloud with that number gets a cupcake.
Pumpkin Carving Contest. Have guests bring an already carved pumpkin to enter. Assign judges to vote on anonymous Jack O' Lanterns displayed on a table. The one with the most votes wins a prize.
A Saint Trivia Game is fun for a small more mature crowd. This will take more planning than other activities but you can put together a trivia game highlighting well known saints and some interested trivia questions gleaned from their lives.
Everyone loves a Best Costume Contest. Judges can vote on their favorite costume as the parade of saint takes place. Depending on the size of the gathering, categories can be added. A prize goes to the winners.
Guess How Many Goodies Are In The Jar is another game that children love. Theme appropriate mason jars should be prepared and the person who guesses the closes to the correct number wins the jar.
Goodie Bags With Prayers For Departed Family And Friends Wraps Up An Evening Of Fun That Sets The Stage For All Of November
Wrap up the party by distributing the goodie bags that the parents brought for their own children. After the Rosary and before your guests leave. As a part of an All Hallows Eve Party, it is easy to incorporate the meaning of All Souls' Day.
In each goodie bag include a for each child a prayer and a list of souls to pray for during the month of November. This way the children will begin the habit of praying for poor souls as they partake in their treats. 
Compile your poor souls list by brainstorming departed family members, friends and clergy. Divide this list of names among your children. A short prayer that works well for little ones is: 

Divine Heart of Jesus, convert sinners, save the dying, deliver the holy Souls in Purgatory. Amen. (300 day indulgence)
A longer prayer can be found for bigger children.