A Scottish party is something that our family looks forward to every year. It is fun as an adult birthday party or for just an evening of fun and celebrating. The success of this type of party really depends on the guests. Choose your guest list carefully as their enthusiasm, preparation, and participation is key to how much fun is had.

Like a Highland games party, you can't go wrong with preparing a haggis. You can buy haggis in a can and serve with crackers.
But if you are looking for something a little more simple but an equally cultural dish, skip the haggis all together and serve roasted lamb. This is a great option if you are short on time. This second meal option should consist of roasted lamb topped with a milk based gravy. Turnips and potatoes (or neeps and taddies) are a perfect side.
Vanilla ice-cream with Walkers Shortbread is an easy dessert yo serve at this Scottish occasion.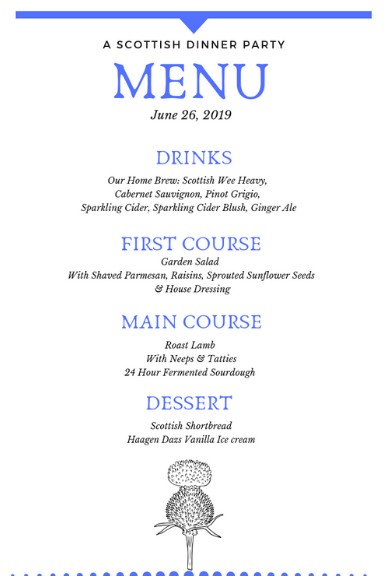 Set the oven to 400°, rub the lamb roast with butter, salt and pepper and other spices. Put the roast in the oven and immediately turn the oven down to 300°. Let the roast cook for about two and a half to three hours.

When done, use drippings to make a gravy. Make a traditional gravy or use coconut flour and salt to make a gluten-free gravy. Use milk instead of water with your gravy because of the gamey flavor of lamb. We made a 7 lb. lamb roast to serve our 18 guests and it served out well.