Outlaws of Ravenhurst book summary tells of an action packed and inspiring novel young readers will love! First published in 1923, Sister M. Imelda Wallace blends adventure with Faith to make a novel which will delight readers of all ages.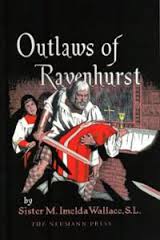 This story explores not only the Gordon's faithful Catholic character, but also Sir Roger's and Godfrey's evil and conniving characters.
Find yourself in the vivid setting of Scotland in the years following the Protestant Revolt, mid-seventeenth century. George Abell, actually the Gordon, never thought of a life different from the one he led as a farmer's son in Maryland.
When a stranger arrives telling him that he is actually a Scottish laird and brings him to Scotland, the Gordon realizes that there are "worse fates than a farmer's toil."
The Gordon is accustomed to freedom of religion from his life in America. Raised by strong Catholic Maryland farmers, the Gordon knows his Faith well.
Author Sister M. Imelda Wallace
When he is suddenly taken from those he knew as his family, the Gordon must hold on to the advice of his American foster-father:
"No man can lead you into sin if you don't follow him. You will have to stand on your own two feet and be a man. But remember one thing: there is nothing worth buying, not fast horses nor fine houses. Not even a place in the King's court, if the price you pay is the fires of Hell forevermore."
The Gordon finds sticking to his Faith is hard when surrounded by only those who mock it.
"One thing stands in the way," Uncle Roger tells him. "This one thing will ruin all if you have not the sense to give it up. You cannot be Catholic and win back to Ravenhurst her rightful place in Scotland."
But even the wise Godfrey is mistaken, "In later years, when it is a choice between lands, castles and the king's favor, or the Catholic Faith and poverty, there may be a struggle, but trust me, Faith will go to the wall."
The Gordon is too hard-set in his Catholic faith to give it up for anything, even life itself. In this Outlaws of Ravenhurst book summary, we can safely reveal that Sir Roger and Godfrey are about to discover the true strength of the well-reputed Gordon will.