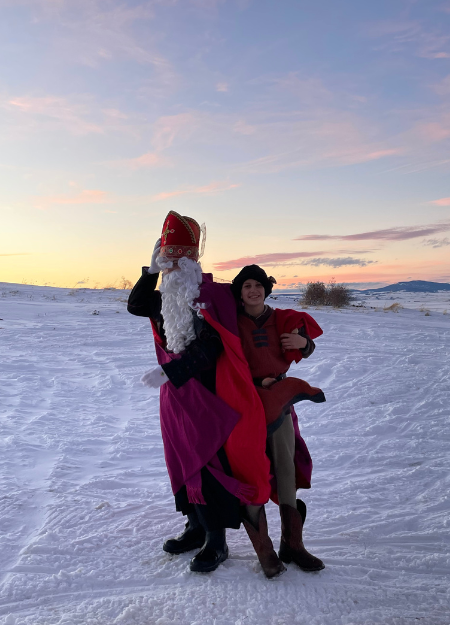 A small and intimate way of keeping the tradition of a St. Nicholas visit is to have St. Nicholas come after dinner. Have a costume left over from All Saints Day on hand for the holy bishop.
A darling novel by Hilda Van Stockum paints a lovely picture of what visits from St. Nicholas looked like in Holland nearly a century ago. In one of the most endearing chapters in The Winged Watchman Pieterbass and St. Nicholas make an appearance in the Van Hagen home. The magic of the scene is very inspiring.
The holy patron of children always tells children that he has come from heaven, and that he is their special patron who's praying for them. He questions each child about what they are doing to prepare their hearts for Christmas. He gives them some chocolate and departs leaving the children with holy thoughts and encouragement to keep up their good works. 
St. Nicholas always points to the Crib, to Jesus like all real friends of Our Lord and holy shepherds of souls. Remind children that St. Nicholas was a real person, and he is a holy saint interceding for them in heaven. He is as real as their guardian angels. Perhaps it is best not to make any parallels between our holy patron and "Santa Claus" for, upon closer look, they have very few similarities. Santa Claus is not bad but St. Nicholas is much better!