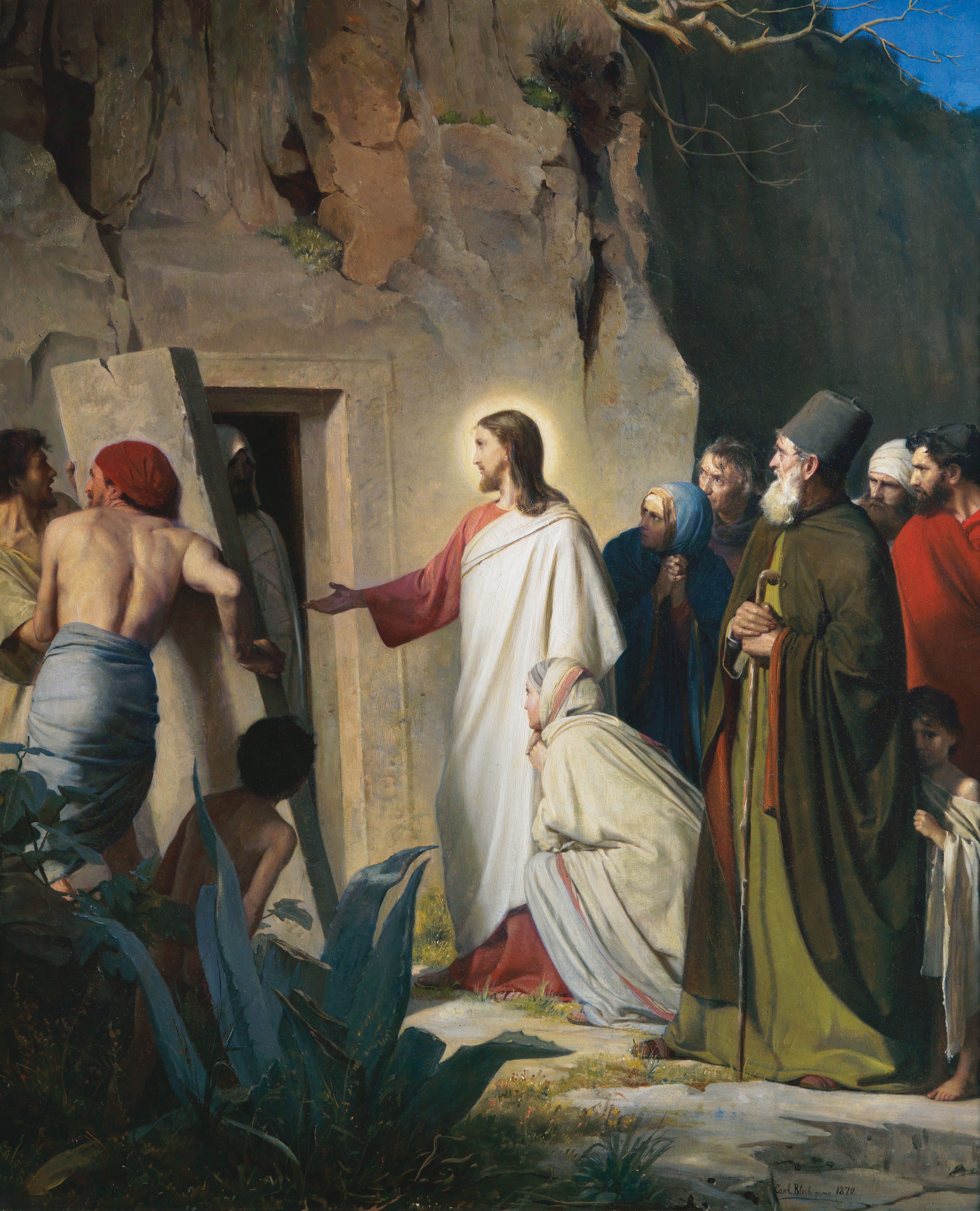 Saint Mary Magdalene appears in the Bible again when her brother Lazarus dies. This story should be familiar. Lazarus got very sick and Mary and Martha sent word to Our Lord to come see him saying, "Lord, behold, he whom thou lovest is sick."
Upon hearing this, Jesus told His Apostles that this sickness was not unto death, but for the glory of God. After two days, Our Lord then said that Lazarus was asleep and He would go awaken him. When the Apostles were confused by this statement, Our Lord said plainly that Lazarus was dead.
Martha saw Jesus coming and went out to meet Him. When she reached Our Lord, Martha said to Him, "Lord, if thou hadst been here, my brother had not died. But now also I know that whatsoever thou wilt ask of God, God will give it thee."
Jesus replied that Lazarus would rise again. Martha said that she knew that he would rise again on the last day. Here is where Our Lord said: "I am the resurrection and the life: he that believeth in me, although he be dead, shall live." Martha then professed her faith then went to get Saint Mary Magdalene, who also met Him on the road.
When Mary reached Him, she fell at His feet and also said, "Lord, if thou hadst been here, my brother had not died." At the sight of Saint Mary Magdalene crying, Our Lord also began to weep. He then asked where they had laid Lazarus.
When they reached the sepulchre, Our Lord asked that the stone be moved. Martha panicked and said that Lazarus had been dead for four days and surely reeked. Jesus reminded her that if she believed, she would see the glory of God.
The large stone was removed and Our Lord lifted His eyes and said, "Father, I give thee thanks that thou hast heard me. And I knew that thou hearest me always; but because of the people who stand about have I said it, that they may believe that thou hast sent me." Then He cried in a loud voice, "Lazarus, come forth!" And Lazarus, who had been dead for four days, walked out of his own tomb.