Our Sixth Board Game Suggestion: Monopoly And Its Versions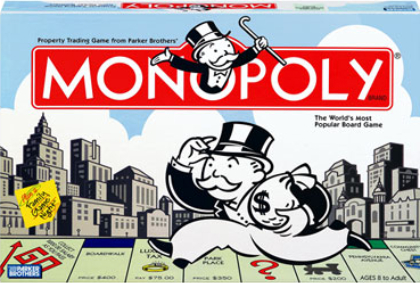 beforeitsnews.com
Monopoly, although very long, is very fun. We play this one every once in a while for a really enjoyable afternoon (and sometimes the entire evening, too!).
This one is so fun because its fun to look across the board and say, "I own this one, this one, and this one."
Sometimes its not quite as enjoyable when you land on a piece of property that isn't yours and it has 3 hotels on it!
Ouch! there goes a lot of your pretend money!
Another positive in this game is that there areso many different versions.
We have a regular Monopoly and a Farmopoly! They are both the same amount of fun.
When we get bored of the same, old Monopoly, we just switch to Farmopoly next time we play! I do believe that we play Farmopoly more though!

A Version Of Monopoly: Farmopoly

Farmopoly is the farmers version of Monopoly. It is very like Monopoly in many ways except that there are barns and acres instead of hotels and houses and other things that give it a farm-like feel.