Rainy Day Activities

Craft Time!
"With These Rainy Days Activities, There Won't Ever Be Another Dreary, Rainy Day!"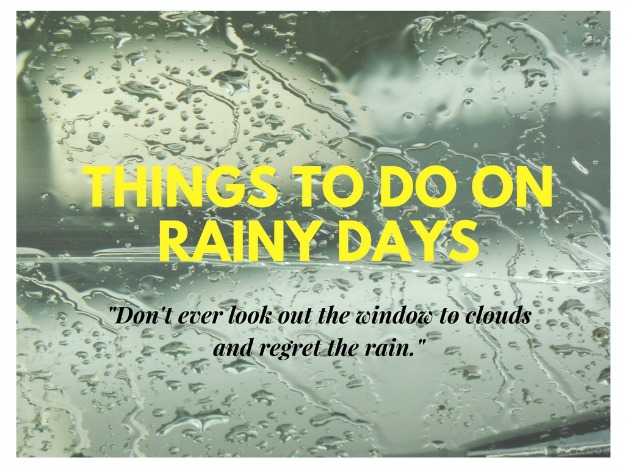 Here at the Industrious Family's, we enjoy many rainy days in our nice, warm, cozy living room with all kinds of rainy day activities.
The boys and Lolli play in the playroom while DaMamma, Mr B, Bee Jay, and Teen A enjoy a peaceful afternoon in the living room.  Sometimes we enjoy reading books of adventure during these long, rainy days.
Other drizzly times, Teen-A spends the wet day crocheting. She loves making crocheted things for people who enjoy receiving them. This is a great way to keep busy during these soppy days. 

Usually, we mix both these activities together and DaMamma will read to us while Teen-A crochets. It's fun to imagine what is going on in the story and keep ones hands busy making gifts for people. Sometimes the little kids will play with play dough during the story.

Book Reading Fun
Reading is a great time-consumer for boring, rainy days. There are many books recommended by the Industrious Family.
You can visit our book summaries page to find the book that is right for you. If you don't own the book you find interesting and would like to read, go out and buy yourself a copy of the book.

We find the more adventurous stories far more entertaining. Reading books out loud is entertaining even to the smallest of children. There are many choices to choose from, so look at our book summary page now and find your book!

Crocheting-A Great Thing To Do On Rainy Days
For many decades, young girls, teen-aged girls, and women have found crocheting a wonderful pastime; to some a favorite. (Such as Teen A's case.)
From hats to baby booties, scarves to headbands, baskets to pin cushions, blankets to sweaters, bookmarks to coasters, crocheted items come in a wide variety. Most delicate, lacy items are made of crochet.

Many wish they knew how to crochet, but never learned. If you are in such a position, today is your lucky day!! With the easy-to-follow videos of hopeful honey's style, you find yourself crocheting in no time!
This is a great enhancement to rainy day activities. Don't worry if the first few projects don't turn out nice or you are a little lost. When she first started, Teen A couldn't even figure out the slip knot!! All that matters is if you are having fun!

A Little Children Rainy Day Activity: Play Dough
Play dough is a fun toy for young children. It keeps them entertained for hours!
Many parents go out and buy play dough. What a waste of time and money!
You can make your own play dough with the recipe in the right column. It is easy to make and takes little time. Want to hear something even better?
It's made out of all household items!!! No funky ingredients you don't have around or can't pronounce!! No more being afraid of the kids eating weird things!! Yeah!

Indoor Fun For Everyone
With all these indoor activities, the dreary, rainy days will be over in a twinkle of an eye. Maybe your family will even look forward to these rainy days! With play dough for the little kids, books for the big kids, all will be entertained. Don't ever look out the window to clouds and regret the rain.

Some images on this page are free stock images from Dreamstime.com

---
Home
› Rainy Day Activities
---
---
Subscribe To The Industrious Family Gleaner!

We Respect Your Privacy.