All members of the family are sure to benefit. Physical benefits include:
A good dose of vitamin D
Fresh air
Exercise
Spiritual benefits include:
A boost in morale
An appreciation for God's gift of creation
An opportunity to get unplugged and connect with those you love
St. Paul said: "May the God of peace Himself sanctify you in all things; And your whole spirit, soul and body, may be kept preserved blameless in the coming of Our Lord Jesus Christ"
-1Thess 5:23

Outdoor family fun can take on a variety of activity types. They take on different demands of time, budget and organization. Our topics are organized in activities that take a long term commitment, destination activities, and quick, inexpensive activities.
---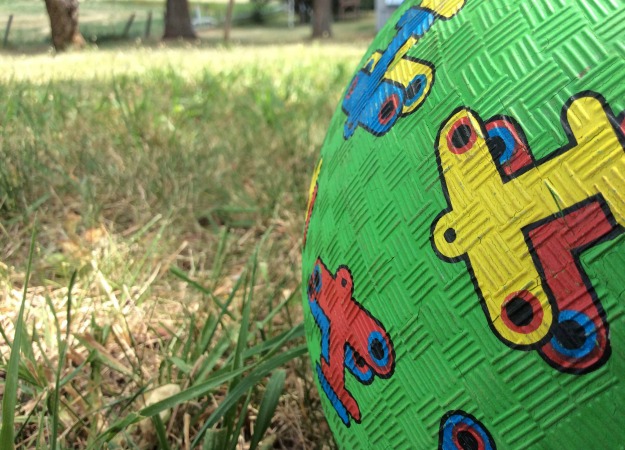 "Let's play kickball!"
Quick And Cheap Outdoor Family Fun

Having fun outdoors doesn't have to be overwhelming or costly. Having several activities to draw from will help you be ever prepared to have a good time with your family.
Family Fitness Fun

Organized games are easy to do at home. All you need are some playground balls and some willing participants. We like to play:
These team sports are really fun to play on a sunny afternoon. Be sure you have some lemonade or sweet tea for the players when they are done.
Team sports are great because you can get all the different ages in on the fun by dividing the teams evenly.

Backyard Outdoor Family Fun In The Sun

Every body enjoys a water war from time to time. There are several variations to this sort of game. The minimum equippedment  you need are squirt guns and containers for refilling water.

When the sun goes down, it's time to light the campfire and have some smores. Ooey-gooey fun!

---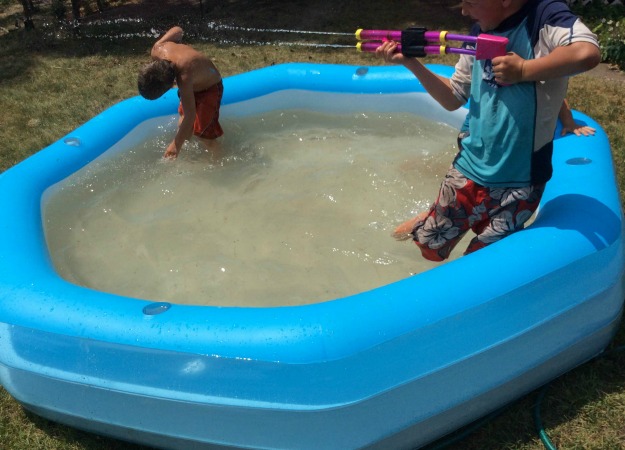 Backyard pools come in different sizes. They are all fun!
Cooler Weather Outdoor Family Fun

A very low key activity on warm days is going for a walk or bike ride. No matter where you live, walks are enjoyable for all. It is a good time to talk and exercise your body.
Breathe in the fresh air and enjoy the company of one another.
We love walking. There are a lot of us and we have children of all ages. Keeping babies in carriers and toddlers in strollers makes the walk more enjoyable for all.
For older kids, insist they walk on their own two feet. Pack some water and slow down the pace if the complaining starts. Involve them in the conversation pointing out the surroundings.
Maybe a snack would be a good motivation. Have one ready when you get home or eat one when you are nearly done.
Parades & Fireworks!

Parades are fun for the whole family! Whether you live in a small town or in a city, there are sure to be parades during the warm months. The best of all days to go to a parade is on the 4th of July!
Parades are a time of celebration and camaraderie.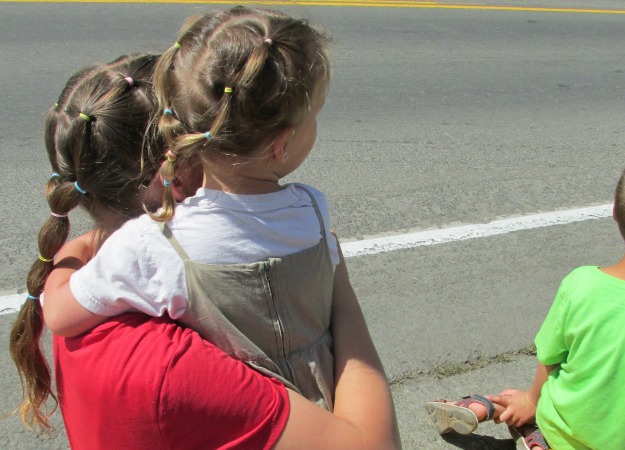 The colors before us fly; But more than the flag is passing by.
---
I love when the parade comes up the road. As the flag appears one of our favorite poems always comes to mind.

Fireworks are another fun family activity. We usually wait until kids are about ten before they can light fireworks. With a big family, this way things don't get out of hand.
Our favorite fireworks are tanks and firecrackers. Tank wars are awesome. Put two tanks facing one another and lit at the same time. Kids think this is great.
Chickens are fun. Chicken vs. tank is another fun type of "war". All this is done in the drive way on a piece of plywood with a hose near by.
---
"Don't forget the smoke balls, sparklers and pop-its!"
Destination Outdoor Fun
Not all family fun takes place in the backyard or your neighborhood. Petting zoos are fun for kids of all ages. County fairs are the best place to find a petting zoo.
Sometimes farms will have petting zoos set up during their harvest season. Think: pumpkins, berries, Christmas trees.
Visiting a farm can be a fun family adventure. Call the farm first to see what activities they have for children and request a tour.
It is very important for children to visit farms to see where our food comes from and the amount of work that goes into getting that food to the table.
---
Other family adventures can take the form of:
Guided walks
Pilgrimages
Historical sites
Picnics
Fun In The Water

Do you have a favorite beach or pool? Well you need to find one. We live near rivers. We have our favorite beach and our satisfactory beaches.
Everyone loves trips to the river or lake for swimming and fishing.
---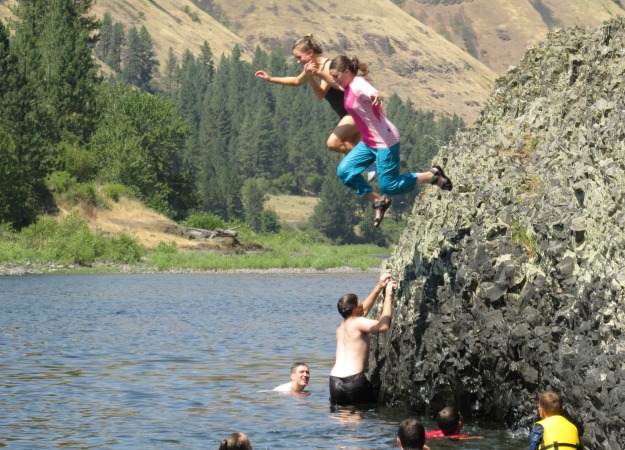 "On the count of three. One, two, three..."
More Involved And Ongoing Family Fun

For outdoor family fun that is going to take a little more time investment consider gardening with your children, bird watching with them, or setting up a back yard swimming pool.
Bird watching is very entertaining as is taking care of animals. Some animals we have here at the Industrious Family Farm include: 
Jersey milk cow - There's a lot more to owning a family milk cow than having fresh milk. That's not all your moo can do. Learn about the numerous fresh dairy products plus the joys and how tos of owning a cow.
Angora rabbits - Fluffy, irresistibly soft, and great pets...we love angoras. They have personality plus and give us skeins of luxurious yarn to make gorgeous gifts. Read more about welcoming these fluff balls into your household.
Chickens
Backyard bees - Besides being interesting specimens, other benefits of backyard beekeeping include delicious honey, wax, and having pollinators fly about your flower and vegetable gardens.
Occasionally, it is nice to plan a memorable family outing. Some that come to mind are:

Go carts
Bumper boats

Theme parks
Outdoor shows
Water Parks
Sending your children to summer camps is a beneficial and memorable experience as well. Even though most summer camps aren't for the entire family, your children will greatly benefit from the experience.

With these activities, you will have to shell out some cash, but if this is done sparingly as your children and grandchildren are growing up, the memories made will be priceless.
Click on the links above to learn more about the different outdoor family fun activities that are suggested.
Happy family fun and God bless you!