Now, here is a fantastic outdoor family fun activity! I have been to parties where something like 30 kids play this game! When there's a big group of children, dodgeball is the ideal game to play. We spent many afternoons playing this game but it was better when there were closer to 10-15 kids playing. With very few team members, the game does not last very long but you could always re-chose teams and play again.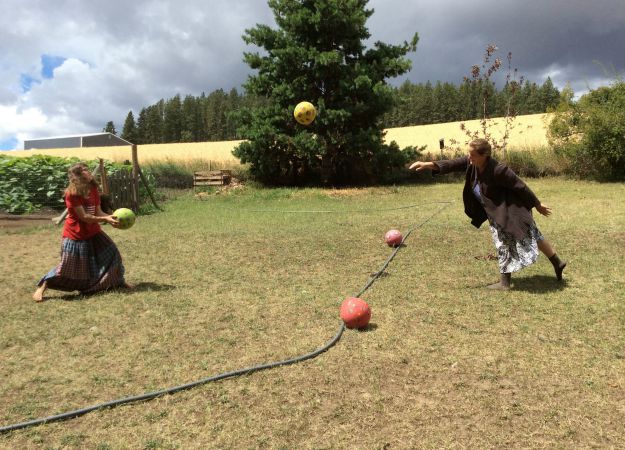 Dodgeball is a team game consisting of two teams. Each team should have 8-12 players. Use about 25 feet of rope to set boundaries. (we used a watering hose.) Make sure that the teams are aware of that the edge of the court is also.
Two team captains take turns picking teams. We liked to play with a weasel. Each team captain chooses a "weasel" for the team. This is usually a small, quick player. This persons' skill is the deciding factor of winning the game. The Weasels meet each other at the line and shake hands. The goal of each team is to get the other team's Weasel out.
The teams line up at the back of the court then out down. Our Ditty was "1-2-3-4 Dodgeball War!!" All players race to the center line then balls start flying! Anyone who gets hit with a ball must sit down on the floor. The weasel's job is to tag his fellow teammate and not get hit. If the waste succeeds in getting another player back in the game, that person stands up and continues to play. If a weasel gets hit, that team is practically doomed.
We have incorporated that if a player catches a ball, the opponent who threw it must sit down. This adds an interesting twist as some players are not good at catching and practically sacrifice themselves to the throws of the enemy.
Some rules that we follow are: 
Balls cannot be thrown at the face. If the face is hit, the player throwing the ball must sit as a penalty. 

Each team can go out of bounds on their own side to retrieve balls, but they can never cross into the other team's court. 

The balls must always be in action. No holding or hoarding balls.
The team to have the last player standing wins. The game ends when an entire team is sitting, so protect your "weasel."
Another way to play this game is with the two color ball method. When playing this way there is no "weasel". Here's the twist. When someone catches the single colored ball, their whole team gets to stand up and get back in the play.
A dodgeball game is always action packed! At the end of a dodgeball game it is always expected that someone will be shouting, "Let's play that again!"