---
Detail A Car With Children
---
Updated by Mary Bowen on March 5, 2020
1. Gather Up The Materials Needed To Detail A Car:
Vacuum
Trash can
Bucket of hot water
Bristle or scrub brush
Wash cloths
All Purpose Interior Car Cleaner (de-greaser, or natural solution of vinegar/water)
Carpet cleaning solution
Window cleaner and paper towels
Small tools to get into hard to reach areas
2. Vacuum
Vacuum the floor mats, and place them outside, then vacuum residual dirt and crumbs that are still left.  If you drive a minivan, flip the seats forward and back, vacuuming underneath the seats, and between the seats (what we like to call the black hole!).
3. Break Free Stuck Food
Use your hand and small tools to break free any food that is stuck in hard to reach areas such as the pocket around the seat belt buckle, or the area between the seat and the wall.
Continue to vacuum, moving seats forward and back, and place loose items in the trash can. 
4. Clean Under The Car Seats
Remove car seats and clean under and around their position in the car.  While they are out of the car, vacuum them and wash with fabric/carpet cleaner and allow to dry.

5. Scrub, Organize, and Scrub Again!
Set the kids to work scrubbing seats, carpet mats, washing the windows, and wiping the walls of the car.  The adults can sort glove compartments, inspect work, and demonstrate to the kids how to use elbow grease and do a thorough job.

6.  For Extra Fun:
To make it extra fun, do it on a sunny day, play music and be sure to wash the exterior when you are finished.
7.  You're Done!

Sit back and enjoy your new, clean car!
---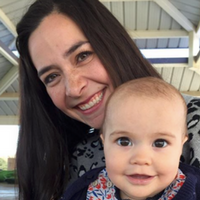 Lauren is a wife and mother from Northern California, where she homeschools her five children. She is industriousfamily.com's first contributing author. Besides possessing excellent organization skills and a Bachelor of Science in marketing, Lauren is a good mother, mentor, and friend. She is a devout Catholic and shares her gifts generously.
---
Leave a reply
Sign Up By Email
Enter your email address to subscribe to this website and receive notifications of new articles by email. Join 240 other subscribers.

We Respect Your Privacy.
Leave a reply