---
Catholic Stories For Boys And Girls

---
Catholic Stories updated by Mary Bowen on March 13, 2020
I read a book called Catholic Stories for Boys and Girls. These 6 selected short stories were compiled by Catholic nuns living in America over one hundred years ago. It was published in 1987 by The Neumann Press. It is well written and easy to comprehend.
One thing I like about these saint and hero stories is that they are true to life.
You will come away with a strong memory that will make you think of your religion and country. The stories go so far back into the youth of our nation with Christopher Columbus. They also remind us of the Catholic Spanish and Catholic French influence on the New World.
The main theme that travels throughout these six stories is that the Church gives life to the soul through grace. 

Catholic Stories For Boys And Girls American Stories
One story, "The Best Deed" takes place in North America in the middle of the 20th century. In this story, Catherine wins a statue and saves a soul. 

The next story, "Black Robe" takes place North America in 1640s. St. Isaac Jogues is "brave and good" (p.188) as he suffers martyrdom to save souls.
Our Lady's Miraculous Medal
The next two stories, "The Little Dove of Our Lady" and "The Great Gift of Our Lady", take place in France. They are about St. Catherine Laboure.
One tells about when she was a little girl and the other is when she is a nun. These two stories teach us to be grateful for priests, nuns and graces as the story of the Miraculous Medal unfolds in the 1800s.

Catholic Stories For Boys And Girls Stories From Spain
The next two stories take place in Spain. The year is 1646. Brother Angelo's devotion to the Rosary saves souls in "The Wreath of Flowers".
In "Pedro of the Water Jars", young Pedro receives many graces but especially the gift of his home. "Our Lady has given me my home and my mother again." (p.66) This story is a story about Christopher Columbus and takes place in 1492. 
Catholic Stories For Boys And Girls Bottom Line
I liked the Catholic Stories for Boys and Girls. It is one of the best books I have ever read.  I am going to give this book a five star rating because I Love This Book!
I am going to read the second book next. For my birthday I got the next two volumes. I cannot wait to read them too! I highly recomend this book.
The short poetry at the end of each chapter inspired me to write my own dedicated to Our Lady: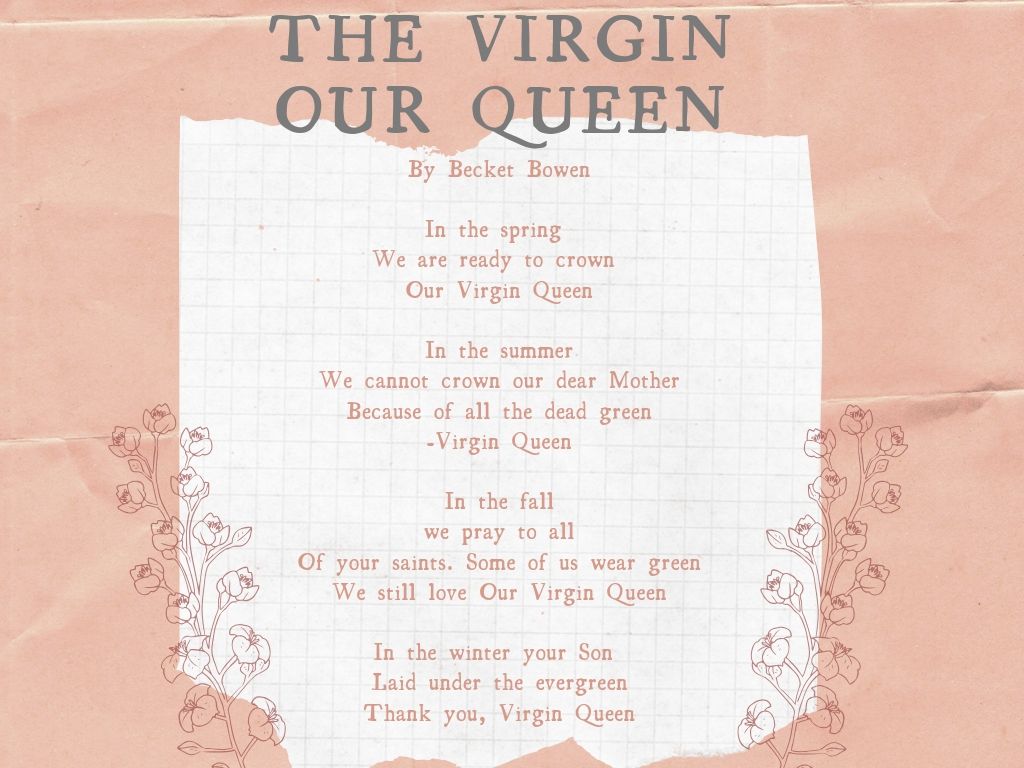 I learned to trust Our Lord, Our Lady and all the saints. If you are praying to Our Lady, do not give up. She always answers prayers. Not right away, but she will. I hope you learn something new from this book.
-Iggy
---
Becket Bowen starred in his first major motion picture, Outlaws of Ravenhurst as the Gordon. This eighth grader likes to help clear the Industrious Family landscape whether it is out in the woods or gathering the garden harvest.
He enjoys poetry, serving mass, camping and gold panning. He spends all summer in the swimming pool and is currently learning how to play the violin and cello. In his second appearance to the screen Becket is testing his acting flexibility playing the role the villain in Max & Carlota.

---
Leave a reply
Sign Up By Email
Enter your email address to subscribe to this website and receive notifications of new articles by email. Join 240 other subscribers.

We Respect Your Privacy.