If you are wondering what sort of characters will appear in the projects, you're in luck! Descriptions of all the characters are available. The characters from the pilot are also in the miniseries. Descriptions of these characters are below.
Fabiola - A pagan woman who is starting to see that Christianity truly makes one a better person. Upon hearing that her cousin has been arrested, she rushes to see if it is true and talk to Agnes. 
Fabiola has gone on a long journey from despising and holding the Christians in contempt to where she is now, wondering if Christianity is truly the right path to life.
To her, Fulvius is a representation of paganism while Agnes is a representation of Christianity, and now she must choose which she will be.
At the beginning of the story, Fabiola is "Proud, haughty, imperious, and irritable, she ruled like an empress all that surrounded her and exacted humble homage from all that approached her...She had never known what it was to deny herself a desire."
She has learned to curb these tendencies even though they are still strong within her. She is now attempting to live a meek life, even coming to Agnes, who is much younger than she, for advice. 
Agnes - Fabiola's cousin whose example Fabiola values. A Christian since birth, Agnes has used her very short life to cultivate every virtue.
She is now in prison for confessing to be a Christian after being turned in by Fulvius. She calmly and joyfully awaits her death, but is happy to get one more conversation in with Fabiola, urging her to embrace Christianity.
Agnes is described in this scene as, "Dressed in pure and spotless white, without a single ornament about her person. In her countenance might be seen united the simplicity of childhood with the intelligence of a maturer age...She wore a white and spotless bridal robe. She looked radiant and almost dazzling."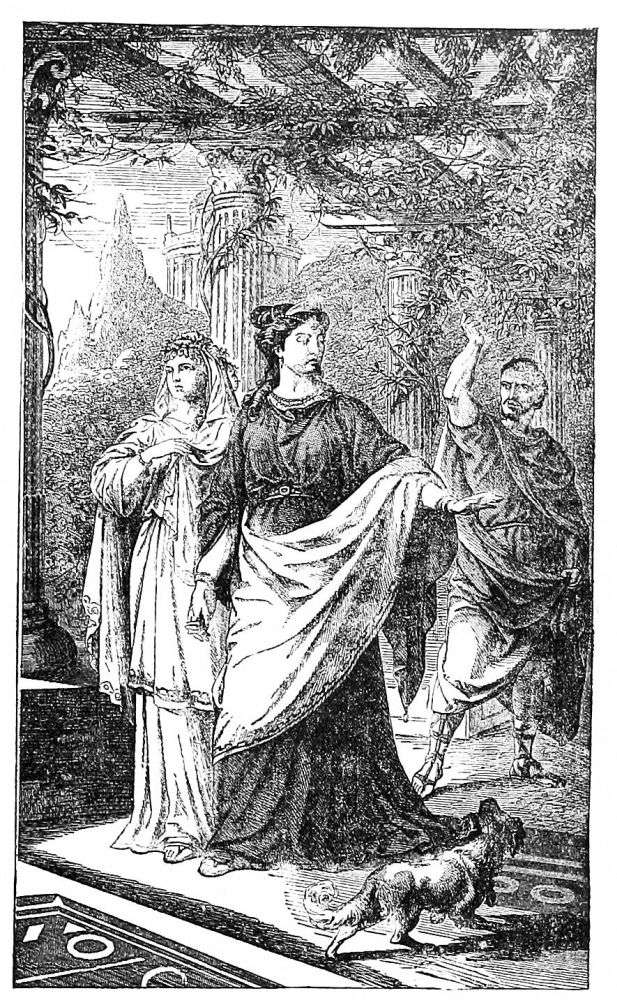 Fulvius - The new star of pagan Roman society. From Syria, this young man has come to Rome for the express purpose of hunting the Christians down and turning them in for the raw joy of gold in his pockets.
He is described as, "Young, almost effeminate in look, dressed with most elaborate elegance, with brilliant rings on every finger, and jewels in his dress, affected in his speech, which had a slightly foreign accent, overstrained in his courtesy of manners, but apparently good-natured and obliging."
At this point of the story, Fulvius has repeatedly proposed to Lady Agnes and she has firmly refused him in honor of her vow of virginity. He has returned one last time to try his luck and skill at convincing her to go with him in secret before her execution.