The Lessons Of This World And The Next Handed Down To Us By The Great Mystic St. Teresa of Avila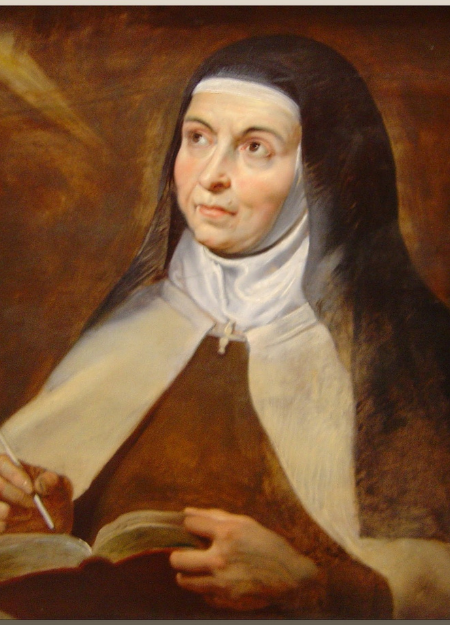 St. Teresa of Avila, though she was a mystic, proved that there are many natural virtues that go hand in hand with the supernatural ones. These virtues must only be refined by divine love to make them completely pleasing to God. Fire Within tells us foremost that St. Teresa had a great sense of humor, a virtue much needed to carry out God's Will cheerfully. 
St. Teresa is also said to have had a strong will, as is depicted in the movie above, and a way of getting exactly what she needed without offending or cheating those she dealt with.
Thomas Dubay says that she, "was a born leader who had no problem in disagreeing with men, in giving spiritual direction (when sought of her) to a bishop, in negotiating with officialism, secular and religious. Even though she considered women as given to an excess of emotion and imagination,...she assumes that they are often superior to men in judgement."

These were not thoughts that were circulated in the 16th century and are obviously derived from St. Teresa's original way of seeing things without fearing what others might think. 
Another great virtue that St. Teresa possessed, made even greater in respect to her naturally strong will, was her perfect practice of obedience, even to those under her care in the convent. She is said to have even obeyed the seemingly silly requests given to her. It is said when those who requested such things recognized how insensible their requests were and asked her why she still obeyed, Teresa is said to have answered, "It is less important to make a mistake of that sort than to fail to obey for love of God so long as it is not against His will."
So great was her love of obedience, that she would submit even what Christ Himself had commanded to her confessor. If he told her to wait, she would obey. This method was approved by Christ Himself.
Her great confidence of character surely comes from St. Teresa's deep knowledge and interaction with God in her mystical experiences. When a person reads her writings, it is as though the love she felt for God, written so long ago, comes forth and enkindles the same fire of love that St. Teresa felt for her Lord. How fading our love for Christ may feel compared to Teresa's intense desire to possess Him alone!

St. Teresa of Avila was also called by Christ to reform the Carmelite Order and spent much of her time at various convents. Through all that kept her busy, she still found time to write at the order of her superiors so that we could learn what we can about her deep life of prayer in her book The Interior Castle. St. Teresa of Avila's feast is celebrated on October 15th.
"After all I die a child of the Church." These were the Saint's last words. They teach us the lessons of her life - to trust in humble, childlike obedience to our spiritual guides as the surest means of salvation.
-The Little Pictorial Lives of the Saints on St. Teresa of Avila