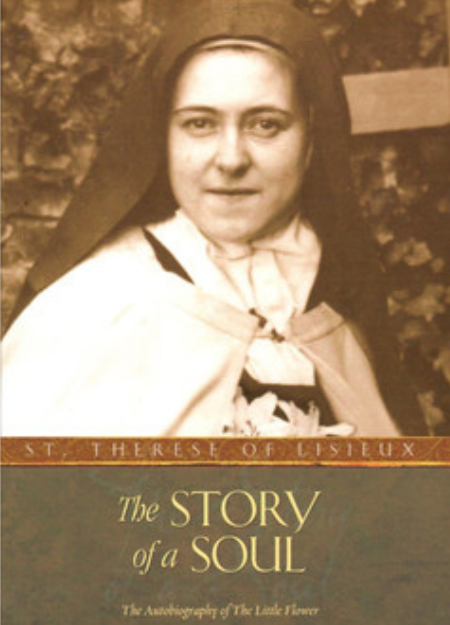 Buy St. Therese's Autobiography Here!
Although she did not invent sacrifice beads, Saint Therese is usually associated with them because there is a story that one of her older sisters gave her a set when she was very young and, from that day on, she was always on the lookout for little sacrifices she could offer to Jesus.
You can learn to make your own string of sacrifice beads here. 
This simple way of giving even the smallest sacrifices and disappointments up to Our Lord is a great thing to tell children about as they color her picture.
Very like St. Therese, they may not be able to do great things for Christ, but offering up even the smallest sacrifice with love and devotion is a great way of comforting Our Lord for the many ingratitudes and insults He receives everyday.
Another great intention to offer sacrifices for is the release of the Poor Souls in Purgatory. Anyone who, by prayers and sacrifice, assists a Poor Soul on their path to Heaven may rest assured of this saint's prayers for eternity. Nothing like having friends in Heaven!
Sacrifices that even the smallest children can offer include:
Right away obedience (especially when they are really interested in what they are doing at the moment)
Little inconveniences and discomforts
Giving in in an argument 
Faithfully doing one's duties (especially when they feel like being lazy)
Not complaining 
Not commenting on other's faults (something I really struggle with myself)
Practicing good manners
For more inspiration on leading a good Catholic life, visit our page on imitating the Holy Family.
The Little Flower always kept in mind that Christ was a Child, too, and He was to be her model of obedience and sacrifice as such. This little saint is sometimes also called St. Therese of the Child Jesus. She is often depicted, as she is seen in our St Therese coloring page, surrounded by roses remembering her words, "When I die, I will let fall a shower of roses."