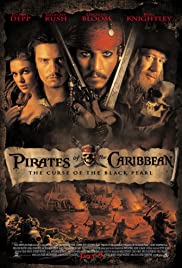 "She's safe, just like I promised. She's all set to marry Norrington, just like she promised. And you get to die for her, just like you promised. So we're all men of our word really... except for, of course, Elizabeth, who is in fact, a woman."
The Pirates of the Caribbean is a highly entertaining and funny movie. Anyone who enjoys pirate lore will enjoy the references to common pirate language and lifestyle in this movie. The music in this movie is fantastic, and Johnny Depp is hilarious!
Elizabeth Swan (Kiera Knightley) met Will Turner (Orlando Bloom) when they were both very young.
Around his neck he wore a gold pirate medallion which she takes and hides from him. Years later, Elizabeth takes out the medallion to look at it and remember their first meeting. The gold calls in some pirates and Elizabeth finds herself in a real-life pirate nightmare.
Captain Barbossa (Geoffrey Rush) and the pirates of The Black Pearl are adamant about breaking the curse bestowed upon them when they squandered the hidden treasure of Cortez. Their only way of breaking the curse is to return every gold coin and pay a blood price from each person who stole the gold. 
When Elizabeth is found to have the medallion and gives her name as Turner, the pirates believe that they have the only child of their companion, Bootstrap Bill Turner, who was bound in the curse with them but left behind long ago.
They bring Elizabeth with them to the hidden cave which "can only be found if you already know where it is". Will Turner goes to "Captain" Jack Sparrow (Johnny Depp) as the only person who might be able to help him find the pirates and save Elizabeth.
Jack Sparrow has his own reasons for going: a revenge on Barbossa and a reclaiming of his ship, The Black Pearl.
Points to Consider: This movie is not very morally structured. There are some jokes that are rather impure including teasing one of the characters about being a eunuch.
Piracy is not portrayed as being particularly wrong as there are "good pirates" and "bad pirates". In the end the "bad pirates" all die or go to prison and the "good pirates" get away to continue their pirating career.
On another note, this movie is quite scary for younger children. Part of the pirates' curse is that they are truly dead, but unable to die. In the moonlight, they appear as rotting corpses and go about spreading terror and trying to kill everybody. But it's really meant to be a comedy.

---
Automatically Skip Unacceptable Scenes That You Don't Want To See Or Mute What You Don't Want To Hear With VidAngel
Why not try VidAngel where you can stream thousands of movies and shows? You pick what you want to see and hear with this month to month service.
VidAngel is an Industrious Family Films Affiliate
---