1. Family Fun Movie: The Personal History of David Copperfield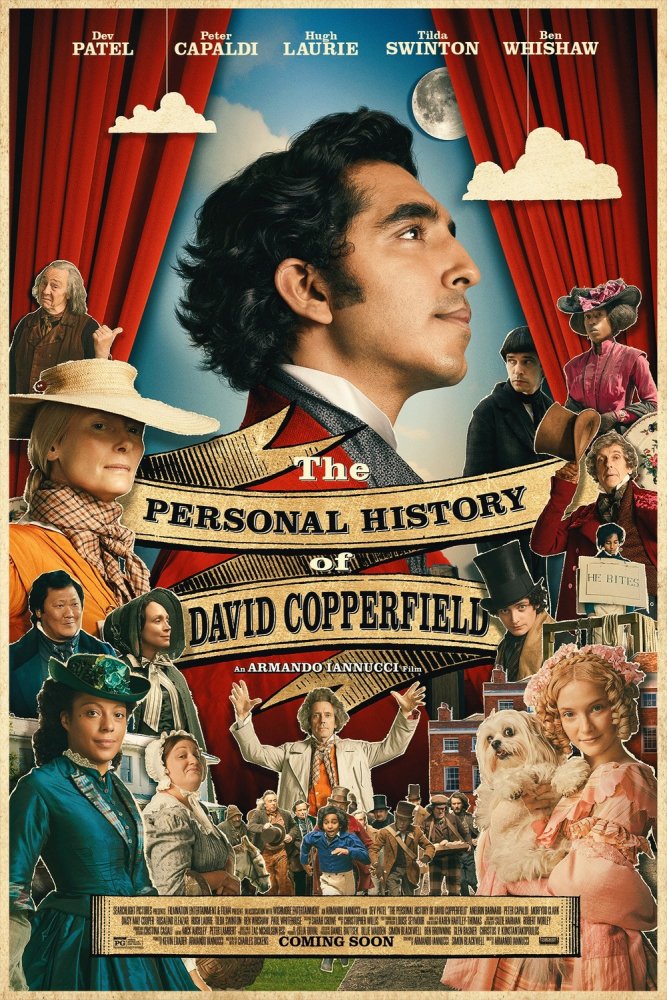 The Personal History of David Copperfield is a movie that interprets the classical novel by Charles Dickens in a very tasteful and humorous way.
It follows David Copperfield as he journeys from his life as a first indulged and then abused child to his adult life as a young man who has nothing to lose and everything to gain.
Starring Hugh Laurie, Dev Patel, and Tilda Swinton, the film pays homage to old British humor with the tongue in cheek British jokes and combining actors from all the British colonies. Although it does not carry the sad weight of the novel, it is entwined with just the right amount of humor to make it a very entertaining film!
Another aspect that the movie emphasizes a little more than the book is that David, instead of writing his story for his personal benefit, is asked to write the story of his life and does so with the intention of highlighting the strongest characteristics of the people in his life, good and bad. In so doing, he is able to sort his thoughts and thereby choose the right people to keep in his life. 
This aspect of the film makes it so that the lesson of the story shines through more:
Only you have charge of your own destiny, and, despite anything you may have gone through, you always have a chance to better yourself. There is no obstacle too great to overcome to reach this great end.
2. Family Fun Movie: The Greatest Showman "Where It's Covered In All The Colored Lights"

The Greatest Showman was one of those movies that when you first watch it 3 years after it was released you wonder why you had never seen it before. "Once you see it, oh! you'll never, never be the same!" Uh--I meant you will never get the catchy music out of your head! It is a must-watch for everyone who enjoys good entertainment. 
In The Greatest Showman, Hugh Jackman, supported by a cast of "freaks", stars in this movie with his amazing singing and dancing. Jackman, who played the main role of P.T Barnum, spent 10 weeks learning the songs and he clearly displays his talent that we did not know he had!

Barnum is the metamorphosis character as he is always searching for more and better when he finally realizes that he has always had what he needed. P. T. Barnum learns the more you gain, the more you will want.
He also learns that he cannot disregard those who really matter in pursuit of fame and it doesn't matter how much you have, ambition will always feel empty and dissatisfied as long as you are searching for more.
Some points to consider about the movie:
One of the ladies has serious cleavage in one of the scenes. 
Be prepared to talk to your children about the sixth commandment as there is a temptation presented to the main character which he responds to very heroically. 
There is another scene that is a little too sensual for my taste with the trapeze artist. 
One of the main aspects of the movie, and all of the best parts, is the dancing and the singing. The songs and their accompaniments are well written. The choreography is even better! The actors did a very good job of acting and performing this musical. We listen to the soundtrack all the time, while we are cleaning and while we are in the car.
I really enjoyed watching this movie. I promise you will not be disappointed! 
3. The New Disney Aladdin Is Full Of Pleasant Surprises For A Change Including The Will Smith Genie!

Photo Credit: imdb.com
I first wanted to watch this movie for nostalgic reasons but it has since become a new family favorite. This movie was filled with pleasant surprises!
The first pleasant surprise was none other than Will Smith. He played the role of the Genie in a way that did not compete with the original and yet brought fresh "pizzazz" to the role. His singing, dancing, humor and overall stage presence clearly demonstrates why he has gained super star status.
The other performances are great as well with everyone being excellent singers and dancers. I read a comment on YouTube that went along the lines that finally Disney found some singers that can act, and I couldn't agree more!
The choreography is out of this world, especially in my favorite scene, the one with Prince Ali and all his entourage. Wow! This is simply an amazing scene.
The other surprise  was the overall message and moral conveyed in the movie. It a more clear and concrete moral than the original.
The message: There will never be enough money or power to make you happy.
A final surprise was Princess Jasmine. If you want to look at it from a Western cultural perspective it is easy to see characteristics in Jasmine that are admirable in strong matriarchs like Queen Isabella of Spain and Mary Queen of Scots. That's the impression I was left with at least. 
The new Aladdin has become a new family favorite in the Industrious Family home. We clean the house to the music, we dance to it and we karaoke to it. And of course we all enjoy watching it from time to time.
If you would like to incorporate this movie with a birthday party, check out our Arabian Nights Party Theme!