2. Robert Duvall And Michael Caine In Good Coming of Age Movies Secondhand Lions (2003) Teaches That Believing Is More Important Than Never Being Fooled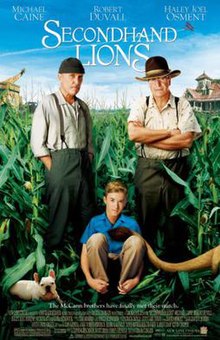 "Sometimes the things that may or may not be true are the things a man needs to believe in the most. People are basically good. Honor, courage and virtue mean everything. Money and power, power and money mean nothing. The good always triumphs over evil. And I want you to remember this: that love--true love never dies."
For Walter, being stuck with his two backward bachelor uncles is the last thing he wants to do for the summer. Walter's mom has been a widow for a while and is having a hard time going steady with one man. Walter himself has had very little masculine influence in his life. 
When his mom goes to "find a new job", Walter is left with his two uncles. Uncle Hub (Robert Duvall) and Uncle Garth (Michael Caine) are just back in Texas for the first time after disappearing for forty years. They are said to have millions stored somewhere on the farm and no one knows where or how they got it.
These two men are the exact opposite of what Walter is used to. Their lives revolve around outdoor activities; their favorite pastime is to shoot their shotguns at traveling salesmen...
...Even worse, they don't have a TV or a telephone. Walter is trying to find the money and begins to gather the story behind it. Only is it merely a story, or is it true history?
He is not the only one after the money, however. Not only are his cousins trying to curry favor with the two bachelors but his mom's new boyfriend is ready to use any means to get his hands on it as well. Walter learns that he has to choose something to believe in and do what is right, even when it gets hard. This is one of our all time favorite good coming of age movies because it is humorous as well as moral and good. 
Points to Consider: In an effort to show how rough the two uncles are compared to Walter, coarse language is frequently resorted to.
---
Automatically Skip Unacceptable Scenes That You Don't Want To See Or Mute What You Don't Want To Hear With VidAngel
Why not try VidAngel where you can stream thousands of movies and shows? You pick what you want to see and hear with this month to month service.
VidAngel is an Industrious Family Films Affiliate
---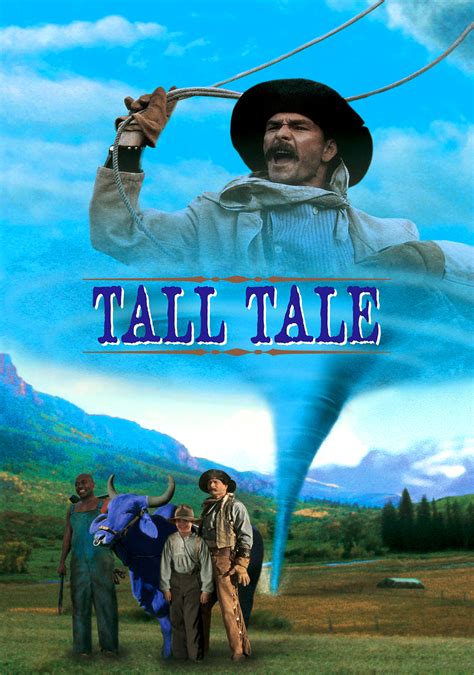 "I'm a ring tailed roarer. I can draw faster, shoot straighter, ride harder and drink longer than any man alive, I'm the rip-snortingest cowboy that ever rode north, south, east or west of the Rio Grande. I'm Pecos Bill!"
Daniel is a young farm boy with ideas bigger than his farmer life. He can't help but be interested in all the progress he sees around him with automobiles and electricity.

His pa (Stephen Lang) sees the world differently. The land and traditional values are everything and deserve protection.
Daniel thinks that his pa is just a little old fashioned and needs to learn to get along with the times. His pa tells the stories of tall tales and seems to believe them, too.
The farm runs into trouble when someone offers to buy the farm and will stop at nothing to get the deed. When Daniel's pa is shot down, Daniel has to decide whether he will choose the easy way out and give in, or hold to his father's standards and defend the land from the greedy land-grabber.
"Dan'l" is joined by the heroes from tall tales that come to life from his father's stories. Pecos Bill (Patrick Swayne), John Henry, and Paul Bunyan all join Dan'l and encourage him to defend the rights of the little man, doing their best to get along with each other in the meantime.
Daniel learns about all the effort that went into making the United States as he is surrounded with the persona of the cowboy spirit in Pecos Bill, the railman spirit in John Henry, and the great men who cleared miles of forests in Paul Bunyan.
These three men are full of themselves and think that their work for our nation is the most important. It takes some time and many arguments for them to agree that each gave what he had to America and that each are as important as the others.
They even come to understand that their work is done and they can rest content knowing that they will always be remembered as long as there is a United States to tell their "tall tales". This movie had to be on our good coming of age movies list.
"That's not fair, you have more weapons than me!"
"Brains, Davy, brains."
Based on Robert Louis Stevenson's classic novel, Kidnapped, this is our favorite film adaption of this wonderfully exciting story. The film is not only entertaining as it is filled with sword fights and daring escapes, but also teaches viewers to never judge a book by its cover which is why it is such a good coming of age movie.
After the death of both his parents, David Balfour, an upstanding young man in the Scottish lowlands, learns that he has an uncle with a large estate not far away. With a sealed letter from his father, he goes to find his uncle and see what he can do for him. Far from any friendly welcome, David's uncle, Ebenezer, is jealous of him and fears that the younger man has come to claim his estate.
In order to assure that David will never usurp his position, Uncle Ebenezer has David kidnapped by a rough group of merchants and taken to be sold as a slave in the tabbaco farms in "the Carolinas". 
While on the ship that is carrying him away from all he knew, she runs up on a wild Highland rogue and the crew takes him on board. Alan Breck Stuart is conveying civilly illegal taxes to "Bonnie Prince Charlie" in France. The ruffians aboard the ship can think of nothing better than having their hands in that purse.
These men employ David to get to the weapons, but he sides with the Highlander, having no wish to be brought to the Carolinas. After he and Alan escape through a ship wreck, they are both on the run having been accused of a murder. David learns how unjust the British and the Lowlanders are to the Highland people of Scotland. He goes from a "Betwixt-and-between" to a Highland sympathizer, even finding love in the wild highlands.
Points to Consider: In the beginning of the movie, Alan tries to test the loyalty of one of his clansmen by hiding behind him and asking where Alan Breck Stuart is. His friend responds by swearing to God that he doesn't know who he is. Alan does reprove him, however.
---
Automatically Skip Unacceptable Scenes That You Don't Want To See Or Mute What You Don't Want To Hear With VidAngel
Why not try VidAngel where you can stream thousands of movies and shows? You pick what you want to see and hear with this month to month service.
VidAngel is an Industrious Family Films Affiliate
---