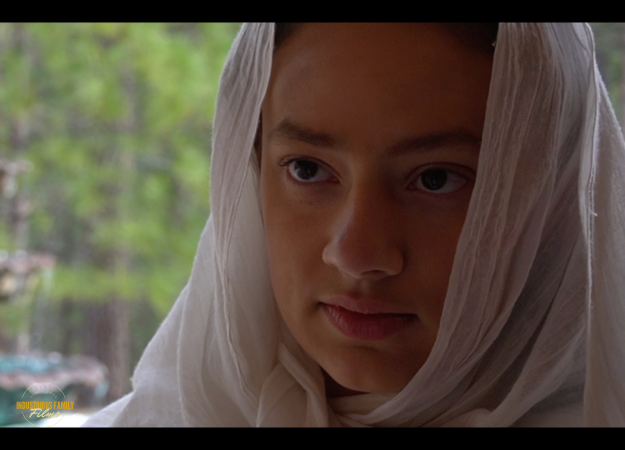 Grisell must leave the Convent.
In the beginning, Grisell Dacre is a young girl of ten. Her family is fighting on the side of the White Rose during the English civil war.
She is being raised in the Manor of Amesbury with the kind Count and Countess of Salisbury. Grisell's life is a very happy one until, by a cruel joke, her face gets badly burned by Leonard Copeland: the boy she is intended to marry.
After this catastrophe, she is sent to a convent to mend. The burn does heal, but leaves her face grisly and scarred. Later in A Tale of the Wars of the Roses, Sir Leonard tells Grisell whom he no longer recognizes, "They say she has a face like a cankered oak gall or a rotten apple lying cracked among the wasps. "
For this tragic scarring Grisell is shunned by all that see her. Her patience is both tried and nourished throughout her unhappy childhood. She is even sent away from the convent for the lack of a dowry and is sent to her parents' tower.
They are very disappointed that their daughter's beauty has been so badly marred. They later capture Leonard and only free him if he agrees to marry Grisell.
Later, when Leonard is nearly killed, Grisell devotes herself to the work of patiently nursing him back to health. During this time she sails over to Flanders to avoid arrest for a false accusation of witchcraft.
The rest of the story focuses on Grisell as she tries to win her unwilling husband's love. Will it ever happen?
Sir Leonard must choose whether he wants a beautiful wife or a virtuous one.
Sir Leonard Copeland is fifteen when he finds himself also living at Amesbury. His family supports the Red Rose.
While living at Amesbury, little Grisell drives him crazy by haunting his footsteps. Once, as they are standing by a barrel of gunpowder, Leonard seizes his chance to teach that Dacre girl not to follow so closely.
Grabbing a hot iron, he drops it into a barrel of gun powder. KAWOOF!! Maybe that was a little too harsh! Instead of frightening poor Grisell, it burns her face!
Leonard pays dearly for that blow, but, with his childish way of thinking, he still thinks that she got what she deserved. After Grisell goes to the convent, the reader loses sight of Leonard for a time.
The next time he appears is when he is captured by Grisell's father. By this time, Leonard has fallen in love with a girl from the Red Rose party. However, when offered an ultimatum: execution or marriage to Grisell, Leonard chooses the wedding. As soon as he is married, he again disappears and spends his energy getting the forced marriage annulled.
The third time he reappears in the story is when he is nearly killed, and Grisell undertakes the task to save her estranged husband's life. When Leonard awakes from weeks of fever, he has no idea who is taking care of him. He finds himself in a strange land where none speak English save his young nurse.
Leonard is still deeply in love with the other girl and even tells Grisell this, as he says, "Oh! She was fair, fairer than yonder star in the sunset…"
Will he ever be able to see past his blindness and understand who this loving, mysterious young English maiden may be?