2. Little Flower Party Food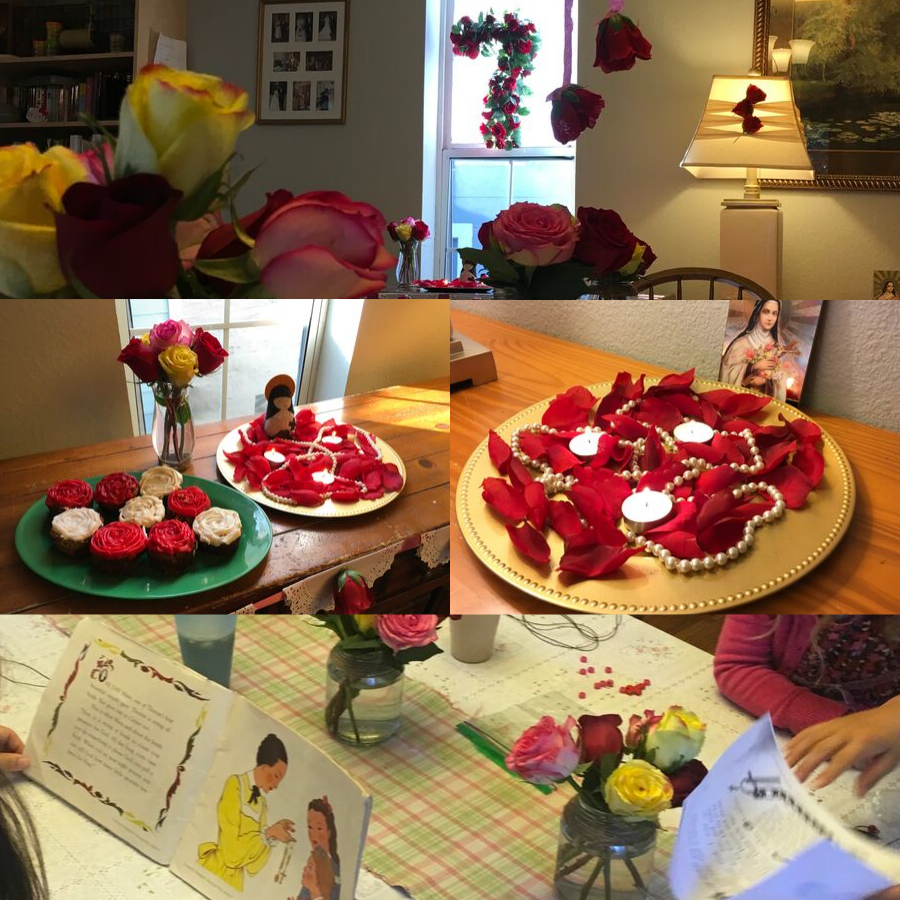 Menu
GAPS quiche (oh, so French!)
Fruit platter
Rose cupcakes (sorry, you will have to buy store frosting)
Chocolate
As St. Thérèse is a French saint and quiche is a French dish as well as a perfect brunch item, we recommend serving quiche! The quiche recipe to the right is GAPS friendly and includes many different options for variety's sake.
There is a plain one, one with bacon bits, a cheese one,  and a spinach one. A fruit platter is a great compliment as a side dish. If this is a bridal shower, definitely serve mimosas. 
A great dessert item for a little flower party is rose cupcakes. There are many video tutorials on how to make them look fabulous. Chocolate is also a very French food to serve as a dessert.
3. Little Flower Party Feeling
Shopping List
1-1/2 inch Wide Satin Ribbon (Pink)
Artificial Roses
Variety of Pink Paper
Mini Clothespins
Faux pearl beads
1/4 Inch Ribbon
Paper doilies
Wood shavings
Gold Plastic Plates
Tea lights
Red beads
Pink beads
White twine
Crucifixes
Miraculous Medals

Fruit

Cupcake ingredients

Quiche ingredients

Pink and red frosting

Chocolate
The colors rose and red should dominate your party, along with many faux roses. Use light pink streamers to dangle roses from the ceiling or the light in the room you are partying in.
Small bouquets of real roses look very nice on the dining table, especially if you tie a 1/4" ribbon around your vases. We bought fresh flowers from Costco for $17. They were gorgeous, and they lasted for a very long time.
If this is a birthday, make a birthday banner with pink ribbon and pink letters. Write the letters on white paper and then glue the papers to various pink construction paper cut into pennons. Bee Jay drew three very nice roses to put in between the words as well as at either end.
If you have some mini clothes pins and fake pearls, hot glue the pearls on the pins and use them to attach the letters to the ribbon.
To make a simple table skirt, all you need is:
Some paper doilies
Faux rose heads
1 1/2" pink ribbon
Fold the paper doilies in half. Glue (hot glue works best) the ribbon to the inside of the folded doily. Glue a rose to the outside of the doily. Continue this process until you have enough decorated to wrap around the table.
It is a little hard to attach, but enough tape with keep anything in place. 
For a birthday party, a number of the age the birthday girl is turning made out of faux roses is very special. A how-to is provided below for making one. 
To particularly celebrate St. Thérèse's feast, making little shrines with pictures of St. Thérèse works really great. Using gold plastic plates, sprinkle them with rose petals and place tea lights and pearls on them. 

Making A Rose Number
For making a rose number, you will need:
A wire hanger
A knee-high
Wood shavings
Pink ribbon
Faux roses
Untwist the wire hanger so that you have one long piece of wire. Bend the wire into the shape of your number.
Thread the wire into the knee-high and fill around the wire with wood shavings. Stuff it until it is pretty rounded and full. Tie the knee-high off.
Wrap the ribbon around the number, hot gluing it down frequently. You will have to glue it to itself because it will not stick well to the knee-high.
Hot glue the roses onto the ribbon and you will have a rose number.
4. Little Flower Party Fun 
Making sacrifice beads is the highlight of your Little Flower party. To make them, you will need:
Red or pink beads
White string
Miraculous medal for each person
A crucifix for each person
The directions are taken from the Treasure Box book 5: 
Tie the medal in the middle of the string. Put one bead on the string and push it up to the medal. Pass the other half of the string through the same bead in the opposite direction.
Add another bead in the same way until you have ten beads on the string. The crucifix is tied on after the last bead. Allow about an inch of string between the last bead and the crucifix. You can pull the beads up or down and they will stay.
Now you can pull a bead every time you make a present for God.
 If this is a party for little girls, they may enjoy hearing a short story about St. Thérèse while they make their sacrifice beads.
Some of the Treasure Box books have some very good stories about her early life. Older girls would probably prefer a chapter from A Story of a Soul.
5. A Coloring Page And One More Game Idea
If time allows or if the girls' ages make it more appropriate than a craft, Bee-Jay made a very nice coloring page of the Little Flower for you to enjoy. Print it here.
A saint memory game after the beads are made adds a little more to the party before gifts are unwrapped and the party concludes with dessert.
Every little girl loves flowers and, especially, roses. That is what makes a Little Flower party a perfect theme for a little girl birthday.
This theme is also perfect for bridal showers and baby showers because of the gentle femininity of the party. I hope you have a wonderful party!
-TeenA