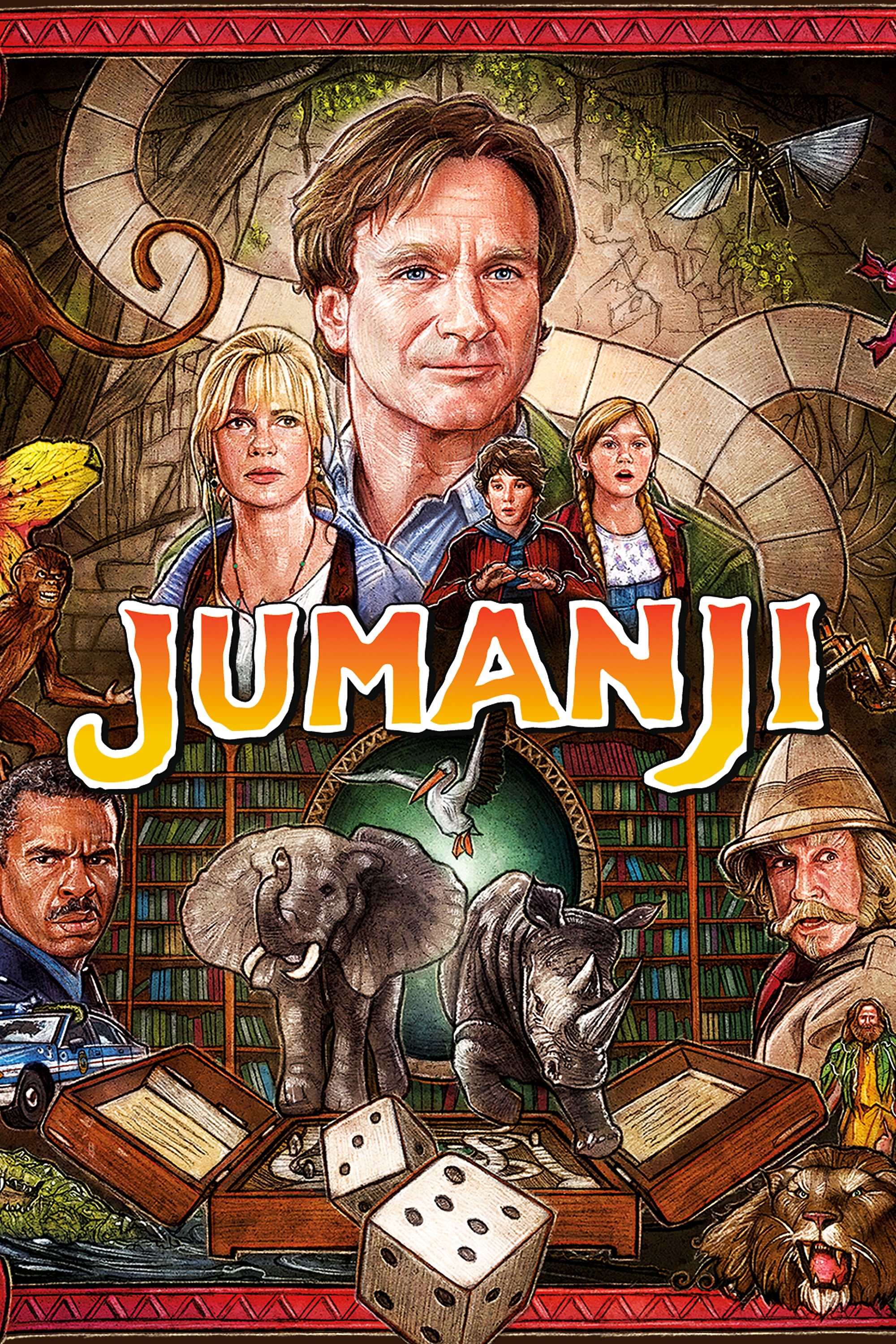 "My father couldn't bring me close enough to hug me, let alone cut me up into tiny pieces and hide me throughout the house."
Is it just a board game found deep underground, or is it…more? The answer to this question is discovered by Alan Parish (Robin Williams) and his friend, Sarah, (Bonney Hunt) when they start playing the boardgame as kids. After the first round, they are separated and neither are able or willing to continue playing.
26 years later, Judy (Kirsten Dunst) and her little brother Peter find the game board in the house their aunt just bought. When they begin to play, they bring Alan back and then realize that the game must be finished if they want to escape the terrors brought into their world by it. The game brings floods, giant mosquitoes, obnoxious monkeys, a man hunter after Alan, and all kinds of jungle mischief.
They need to finish the game before it destroys them and the world around them. Will it ever be finished, and, if it is, will things ever return to normal? One of those funny and good movies from the 90s that will bring a smile to your face. Robin Williams is hard to beat for funny.
"Thank me only on behalf of yourself. Surely you must know: it was all for you."
The 1995 BBC version is surely the most beloved film adaptation of Jane Austen's Pride and Prejudice! This definitely had to be on our list of good movies from the 90s, although it is actually a full TV mini-series with 6 episodes.
Mr. Darcy (Colin Firth) has been hurt by people in his innermost circle. Accordingly, he is skeptical of everyone around him, especially those who have not yet, through a tough trial, won his confidence. Pride is his greatest flaw.
The Bennet family, although still belonging to the gentility, are one of the least well off in their set. With only five daughters, there is nothing Mrs. Bennet thinks about more than the marriages of all her daughters to the wealthiest men possible. She puts her family through great embarrassments in her eagerness to put her girls forward as good matches to every man who is well off.
Elizabeth Bennett (Jennifer Ehle) has decided and unbending judgements about people. When Mr. Darcy slights her at a ball, she immediately makes up her mind never to forgive him. Further gossip about him completely prejudices her against possibly the wealthiest man in her acquaintance.
He is too proud to admit being wrong, she is too prejudiced to fathom the possibility of his behavior ever being justified. And yet, they are unwillingly and undeniably attracted to each other. Will they be able to get over themselves enough to learn the sweetness of true love? Find out in one of my favorite good movies from the 90s, Pride and Prejudice!
Points to Consider: All the ladies in this film wear low-cut blouses. Some scenes are better than others, but it is sprinkled all throughout the movie.
On another note, the Anglican clergyman is actively seeking a wife. I would suggest just taking the time to explain to your children that Anglicans do not believe in clerical celibacy the same way that Catholics do.
---
Automatically Skip Unacceptable Scenes That You Don't Want To See Or Mute What You Don't Want To Hear With VidAngel
Why not try VidAngel where you can stream thousands of movies and shows? You pick what you want to see and hear with this month to month service.
VidAngel is an Industrious Family Films Affiliate
---