At "Time's Burst Of Dawn" Christopher Columbus Gained Land For Spain While The World Held His Confidence In Awe

On September 6th, 1492, the three ships weighted anchor in the Old World for the last time. Columbus had great confidence in his judgement, but he knew that the men would lose confidence, especially the further from familiar lands they sailed. By October, the crew was grumbling and upset. On October 9th, Columbus promised Alonso Pinzon, his second in command, that they would turn back if they did not sight land in three days.
One of my favorite poems, Columbus, deserves to be shared here. It recounts the distressed companions of Columbus, their despair of ever seeing land again and the "Brave Admiral's" ever ready response: "Sail on and on."
Columbus

By Joaquin Miller 
Behind him lay the gray Azores,
Behind the Gates of Hercules;
Before him not the ghost of shores,
Before him only shoreless seas.
The good mate said: "Now must we pray,
For lo! the very stars are gone.
Brave Admiral, speak, what shall I say?"
"Why, say? Sail on! sail on! and on!'"

"My men grow mutinous day by day;
My men grow ghastly wan and weak."
The stout mate thought of home; a spray
Of salt wave washed his swarthy cheek.
"What shall I say, brave Admiral, say,
If we sight naught but seas at dawn?"
"Why, you shall say at break of day,
Sail on! sail on! sail on! and on!'"

They sailed and sailed, as winds might blow,
Until at last the blanched mate said:
"Why, now not even God would know
Should I and all my men fall dead.
These very winds forget their way,
For God from these dread seas is gone.
Now speak, brave Admiral, speak and say"-
He said: "Sail on! sail on! and on!"

They sailed. They sailed. Then spake the mate:
"This mad sea shows his teeth to-night.
He curls his lip, he lies in wait,
With lifted teeth, as if to bite!
Brave Admiral, say but one good word:
What shall we do when hope is gone?"
The words leapt like a leaping sword:
"Sail on! sail on! sail on! and on!"

Then, pale and worn, he kept his deck,
And peered through darkness. Ah, that night
Of all dark nights! And then a speck-
A light! A light! A light! A light!
It grew, a starlit flag unfurled!
It grew to be Time's burst of dawn.
He gained a world; he gave that world
Its grandest lesson: "On! sail on!"
At 2:00 a.m. on October 12th, the lookout on the Pinta cried out that land had been sighted. When they landed on what was supposed to be the Spice Islands, Columbus and his crew thanked God for a safe arrival and then he claimed the land for Spain, calling it San Salvador.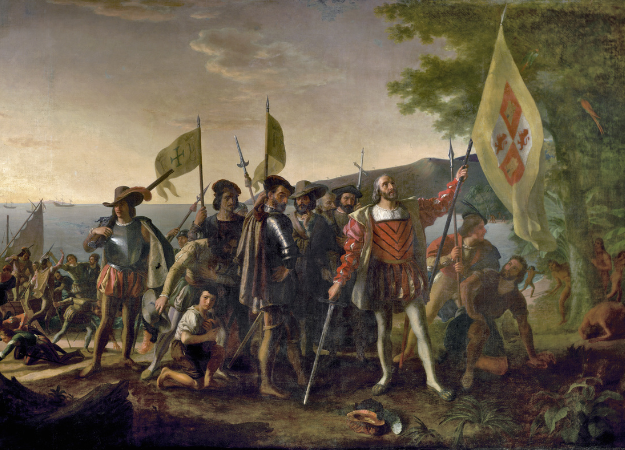 For the next three months, the explorers would sail around islands believing that in any minute they would behold the flourishing and wealthy Eastern civilization.
But Columbus did meet Indians. He wrote in his journal:
"I want the natives to develop a friendly attitude towards us because I know they are a people who can be made free and converted to our Holy Catholic Faith more by love than by force."
This is proof that Columbus intended to preach the Gospel to the people of India.

As Christmas day arrived, India was yet to be found. The crew held the usual festival celebrations, and around midnight, the Santa Maria's stern was left unattended and she ran aground. The expedition had to abandon the flagship. Because of its substantial size, the Santa Maria's crew could not all fit on the Nina and the Pinta. Some of the men were left on an island to start a colony. On January 4, 1493, Columbus set sail for home. On this return journey, the Nina and the Pinta lost sight of each other and did not see each other until the Pinta weighed anchor in Spain a few hours behind the Nina.
Isabella was delighted with the news. She and Columbus both believed that he had reached India. At this point in his discoveries, Columbus could have retired a wealthy man but that was not his way. He wanted to ensure that the Faith was now easily carried to the Indies. He felt that God had called him to bring Christianity to the lands where Christ was not known. By finding an easier route, he now could bring glory to God. Isabella also shared his vision and the same year, outfitted Columbus for a second voyage.
Columbus would return again to the New World, but it was not until the 4th voyage that he was certain that he had not found the Indies. He realized that he had found an unknown continent. He continued to pursue a way through Central America so he could find the East Indies. But he did not find the way…because it did not exist.