Making Mosaics With Children A Step By Step Guide

Making mosaics is a fun rainy day activity. It is easy enough for children as young as four. It is low on the messy scale. Plus it will entertain little ones and big people for hours. This is truly an activity for all age levels.

Sham-wow and I attended a mosaics class recently. He really had a great time. He worked on his project as I worked on mine. Better yet, we were both happy with the results.

I loved how I was able to create something lovely while he worked independently on his own.

With mosaics, it is easy for people of all ages and skill levels to be satisfied with their creations.


What You Will Need When Making Mosaics

At least one pound of cut mosaic tiles
Frameless glass picture frame

Clear bathtub caulk and gun
Glass gem marbles
Stencils and butcher paper
Permanent marker, pencils and tape
Paper towels
How To Make Mosaics

Start by choosing your design. If you are not good at freehand drawing of things such as sailboats, hummingbirds or dragonflies, try a Google search for beginner mosaic patterns or beginner stained glass patterns.
Using butcher paper trace the pattern on to a new sheet (if desired)

Tape your pattern to the back of your frame.
Using the glass gem marbles glue using the caulk to the glass with your pattern as a guide.
Fill in the rest of your design gluing down the tile mosaics.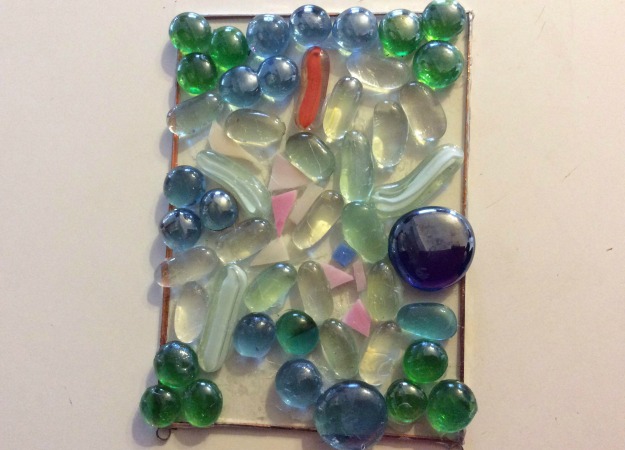 Some tips for success:
Use the glass gems sparingly.

Use a paper plate to hold a puddle of the glue.

Use your finger to spread the glue.

The glue dries clear, so a little on the front of the gems and tiles is okay.

Don't allow any pieces to go beyond the outer edges of the glass or they will pop off easily after your project is dry.
Help little ones separate colors of tiles to make their project is more aesthetically appealing.
Work from the center outward with the small tiles.

This was a fun and easy project. You will be very pleased with the results. I have been looking for a hobby for my boys for a while now, and I am hoping this will fit the bill.
The best news is that it is entertaining, children can work independently, and the mess is minimal. Tell me about your successes, I can't wait to hear about them.
Soon we are going to try a curved surface. I can't wait.
Leave a reply
Sign Up By Email
Enter your email address to subscribe to this website and receive notifications of new articles by email. Join 240 other subscribers.

We Respect Your Privacy.