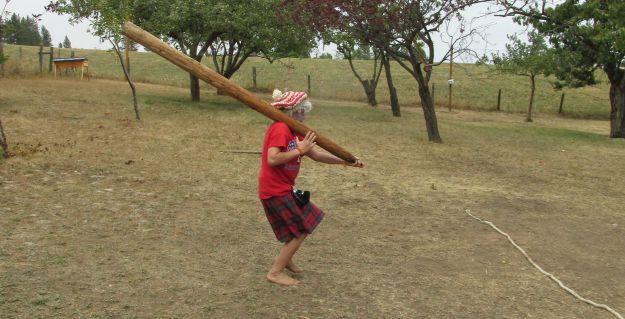 There are a lot of activities for this party so they are separated into three groups: athletics, arts, and activities
The athletics provide the action while the arts are included for entertainment. The activities follow dinner as a way for the party to wind down and end as you see fit.
The Caber Toss is a favorite competition. In the original caber toss you take a 19 foot pole and try to throw it end over end, landing in a 12 o'clock position. This is obviously very difficult for a person who is 4 foot tall. Only very strong Scots can do this. To make this activity work for average competitors, substitute a 5 foot pole. This makes it much easier for children.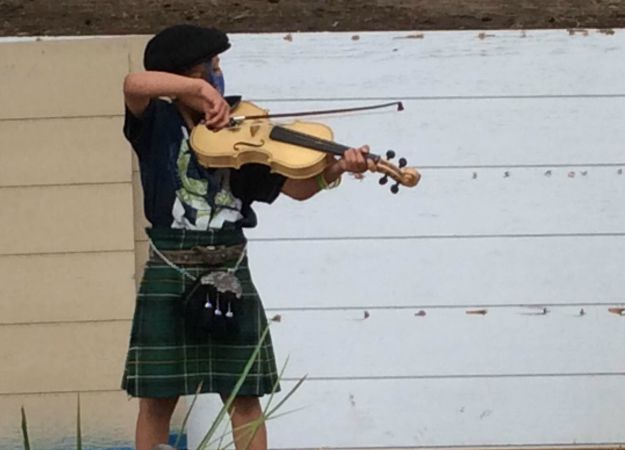 Whenever possible, promote a love and appreciation for the arts. A competition for the visual, performing and language arts is a perfect fit for this party. The arts make up a culture and this party is a celebration of the Celtic culture.
The Visual Arts - Craft Competition
A craft competition is fun. Warn your guests ahead of time so they can bring a handcrafted item. Set up a table to display these items.
Any craft or work of art can be entered but some Celtic crafts that may be more likely to win. With the items laid out for display, a voting box can be provided and the item with the most votes wins.
The Performing Arts - Music, Singing And Dancing 
Music, singing and dancing all fall in the performing arts category and provide plenty of entertainment for your guest whether they are watching or performing. Some particularly Celtic instrumental talent include drumming, piping and fiddling.
This brings us to the last two performing arts categories: singing and dancing. Usually Celtic songs are sung. Danny Boy is popular and difficult enough to win a prize. Some other songs you could sing include: You Raise Me Up, Auld Lang Syne, Go Lassie Go, Scots Wha Hae, When Irish Eyes are Smiling, A Man's a Man, and I'll Tell My Ma. If you dance, awesome! If not invite someone who does. Clogging, Irish Step Dance and simple jigs are fun to watch as well as attempt.
The Language Arts - Poetry 
Any Robert Burns poem is a perfect fit. My Hoggie is easy to memorize and a cute poem to recite. As with all these competitions, let the experts as well as the novices perform. Lots of people and children especially will enjoy trying a new instrument. Give thirty seconds or a minute to each novice person. Enough time to let them try and yet not bore the audience.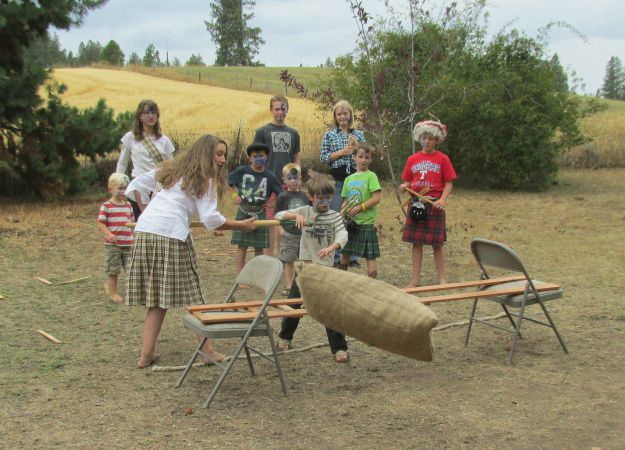 Save these activities for after dinner and after the awards ceremony.

Tug of war - to separate the teams, make an even number of plaid sashes for the teams to wear. Like red for one team, green for the other.

The farm walk is when the participants are all heavily weighed down with weights, whoever walks the farthest before falling wins.

Shoot the English Knight
Shoot the English Knight is an archery contest and a fun way to end your highland games party.  The equipment for this activity are bows and arrows and a shooting target which resembles an English knight.
Your target is the head of your English Knight that has been affixed to a straw bale. If, like us, you use real archery equipment, treat this like a shooting range and remind the participants of "gun" safety.
These activities are intended as a way of winding down after a long afternoon of sports and performances. Your party can end after these events or you may want to continue visiting into the evening in the living room or around a campfire.