Catholic Family Films Are What We're About

Catholic family films carry forward the tradition of excellence in artistic expression.

The world has never known anything like our community of nations.
We write symphonies. We pursue innovation. We celebrate our ancient heroes, embrace our timeless traditions and customs, and always seek to explore and discover brand-new frontiers.
We reward brilliance. We strive for excellence, and cherish inspiring works of art that honor God. We treasure the rule of law and protect the right to free speech and free expression.
...We put faith and family...at the center of our lives. And we debate everything. We challenge everything. We seek to know everything so that we can better know ourselves.
...That is who we are. Those are the priceless ties that bind us together as nations, as allies, and as a civilization.
What we have, what we inherited from our...ancestors has never existed to this extent before. And if we fail to preserve it, it will never, ever exist again. So we cannot fail.
~President Donald J. Trump
Warsaw, July, 2017












 

Industrious Family Films' motto is: 
"Reclaiming the art of filmmaking one wholesome movie at a time"
As Catholics, we who have the greatest masterpiece in the world, the Holy Sacrifice of the Mass, in a way, own, or have rights to the word "art".  Christian civilization has made music, dramas, plays and paintings. Sadly, in recent years, this art has gotten out of our control, especially in the movies that pour out of Hollywood.  
Many people do not know it, so I would like to tell you about a little known thing that I learned about from my mentor, Jim Morlino, which had a great impact on the world although we did not feel its importance or its influence until it was gone.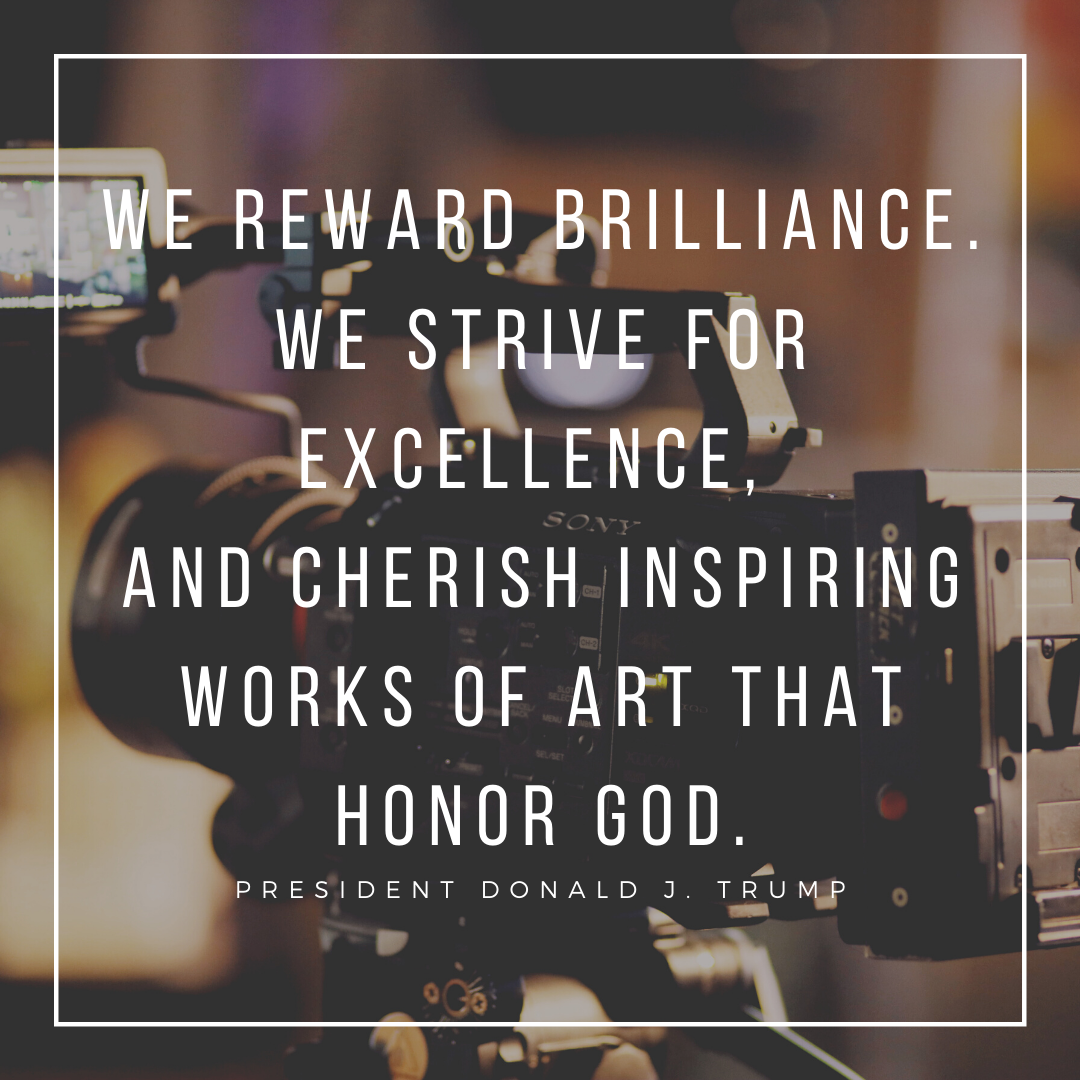 In 1929, Catholic bishops got together with Jewish moviemakers and together created a code of standards to be used in studios. This code was a list of movie guidelines of what inappropriate conduct should never have their appearance in our movies. This code was followed by the Jewish filmmakers who made wholesome movies that were viewed by largely Protestant audiences. The Code was a set of rules that governed American filmmaking and shaped and enriched American cinema. All movies were family films.
I would like to provide an example of one of the lines of the Hays Code just so you can hear how these rules were presented. An easy one for me to say without getting uncomfortable is: 

Pointed profanity – by either title or lip – this includes the words "God", "Lord", "Jesus", "Christ" (unless they be used reverently in connection with proper religious ceremonies). 
Crime and immorality could never be portrayed in a positive light. If someone performed an immoral act, they have to be punished on screen.
But how often do we see immoral scenes in movies that come out of the same Hollywood that followed these rules? We have invented gadgets like VidAngel to cut such scenes out of movies so we can watch them.
What Happened?
What happened??? I'll tell you what happened. 
In the late 1960s, the pagans that now run the movie industry threw this rule book out. "We don't need this." Morality rules, just thrown out of one of the world's largest entertainment source. From that lamentable day to this, filmmaking was doomed to open the chance of inviting evil and sin to our very faces on our own screens in our deepest recesses of our holy homes. 
How long ago was it when we lost our trust in Disney? The little we had left after witnessing the occult in the Princess and the Frog was shattered in 2017 with their remaking of Beauty and the Beast.
Children's movies, not fit for adults to watch. 

Comfortably anyway. 
It is interesting to note that moviemakers know that we want good Christian movies. Gibson's The Passion of the Christ was the most watched movie in the whole world in the whole history of moviemaking. The most watched, the most successful, and in my opinion, the greatest movie ever made. 
Did you know that Hollywood would not back the movie and Icon Productions was its sole supporter? But directors and producers keep feeding us mud. They don't want us to love wholesomeness, but we do. We can't help it. 
So what will we do when the last of the Christian directors, producers and actors in the movie industry are gone? We will turn to Catholic movies that are being produced by groups like Industrious Family Films, who specialize in children's cinema. 

Children's cinema is a genre all of its own.  "Unless you be converted, and become as little children, you shall not enter into the kingdom of heaven." (Matt 18:3) We can change the movie making industry because of children who we surround ourselves with. These children who still have a sense of good because they still have their baptismal innocence. They have not yet seen all that the world has to offer because their parents have guarded and protected them. 
Because of this innocence they inherit the tools that it takes to present the Faith to a post-Christian society.  We must be converted, become like children, and enjoy wholesome, Catholic movies and entertainment. We must inspire and be inspired by the innocence and wholesomeness of Catholic children's cinema. 
We should motivate young filmmakers to hold the Hays Code as movie making laws. We need to spur on this innocence in children as a Christian victory over the corruptness of Hollywood. In this way we are encouraging our youth to rebuild the culture of art, drama, film and entertainment for the greater glory of God. 
Many Catholics all over America have seen the need this country is in reforming better movies. This is the mission of Industrious Family Films. These moviemakers encourage each other and inspire each other and together they will make a new Hollywood.
Let's call it "Holywood". 
Make Holywood A Reality! Donate To Catholic Family Films Today!
Most major motion pictures have multi million dollar budgets. As my sister and I wrote our first proposal we realized how quickly a budget can get into the thousands of dollars.
Costumes, props, and distributing- not to mention feeding and housing a cast, all cost money.
In the industry, an ultra low budget film is any film under $300,000. All this said, we need a little help. You can help us make Catholic family films by donating. Click here to learn how to donate online...

Read more about us on our About Us page!
Movies That Are Ready To Ship Today!
Outlaws Of Ravenhurst
Outlaws Of Ravenhurst, is a movie about persecuted Catholics during the 17th century. It reminds us of our past and encourages us fro hope in the future, come what may. Read more about Outlaws of Ravenhurst...

Max and Carlota
Max & Carlota is based on the true story and is torn between loyalty and betrayal, brotherly love and hate, Catholic monarchy and Liberal democracy. Read more about Max & Carlota...

Want To Chat About Catholic Family Films? Contact Us Today!
We need you! Not only to help us finance our films but also for input, tips and encouragement as we produce our movies. This is a very exciting time for us all and we are eager to chat with you. We want to talk about:
What we are up to

What our dreams are
How we plan on executing our goals
You name it, we want to tell you what we are all about. So drop us a line by using our contact us page today!
Keep In Touch
We feel that creating Catholic family films is a team effort. We need your prayers and your support. To keep you in the loop we promise to keep you up to date as we work on our family films. Read our Industrious Family Films blog to hear about our current movie project.

About Us | Contact Us | Privacy | Terms Of Use
Copyright 2020 - Industrious Family Films - industriousfamily.com - All Rights Reserved