Have fun thinking of all the handmade gifts you can make.
This resource is complete with the best sites for learning crochet, buying crochet supplies, and finding fun patterns.
Online Crochet Tutorials
Highlight: Wonderful closeup video tutorials of stitches

Hopeful Honey is a crochet blog written by a sweet young lady from Australia. She provides many free stitch tutorials and patterns that she has written. Some of her patterns are available in her Etsy store and are well worth the few dollars she asks for them. All her patterns are easy to follow and her taste in yarn is affordable and lovely. 
Hopeful Honey helped us move well beyond the basics with her easy to follow tutorials.
Highlight: Well organized but not more traditional with a big business feel compared to Hopeful Honey.
This crochet stitches guide provides basics as well as basic stitches. Their step by step tutorials are sure to help you master the following stitches:
Slip stitch
Single crochet
Half double crochet
Double crochet
Hump stitch
Dragonfly stitch
Triple/treble crochet
Front post double crochet
Double triple/treble crochet
Double crochet decrease
Back post double
Chain stitch
An indispensable book for learning to crochet is DK Crochet: The Complete Step by Step Guide. It both teaches you how to crochet and has loads of fun patterns.
Buying Crochet Supplies Online
Joann.com
Pros: Easy to shop and dependable shipping

Cons: Overwhelming search results and limited natural fibers
JoAnn is our go to crochet supplies shop. 
Amazon.com
Pros: With Prime, you can get keep project rolling if you run out of crochet supplies. 

Cons: You need to know exactly what you want as the items come and go.
Because of free shipping with Prime, this is the first place we look for my favorite yarn brands and other supplies.
Etsy.com
Pros: A place for cottage industries to sell their raw or spun fiber. That is awesome!
Cons: Etsy can be a little nerve racking. It is a somewhat unorganized and  not all items are listed in dollars but in another currency. There doesn't seem to be a uniform way of selling fiber either so it's hard to tell if you are getting a good deal or not.
Craftsy.com
Pros: Craftsy is more specialized in selling crafting and crochet supplies. It is well organized and feels very secure. Besides selling supplies, Craftsy's classes are great! Craftsy.com is the perfect place to shop if you want to take your fiber art hobby to the next level.
Cons: Craftsy doesn't carry as big of a variety of unusual fibers as Ravelry.com, but everything on Craftsy.com is for sale and even better they have sales! Who doesn't love sales?
Ravelry.com
Pros: You can find any type of yarn imaginable on Ravelry. So much so that it is almost overwhelming...Then sometimes the yarn is on there but it isn't for sale. This online community is for the seriously obsessed. Here is a short list of the most exotic yarn categories:
Angora
Bison
Camel
Hemp
Linen
Llama
Mohair
Plant fiber
Qiviut
Soy
Tencel
Yak
Cons: Ravelry can be a pain because you must be a member (free) and log in. If you're like me and don't like usernames and passwords, this is annoying because this site doesn't remember you as well as Amazon or Craftsy or even Etsy. It is also set up like a forum and that makes it difficult to navigate. 
Bottomline: Ravelry.com is for serious crocheters and those who want to spend time browsing, sharing, and chatting about their favorite hobby. 
Fun Crochet Pattern Links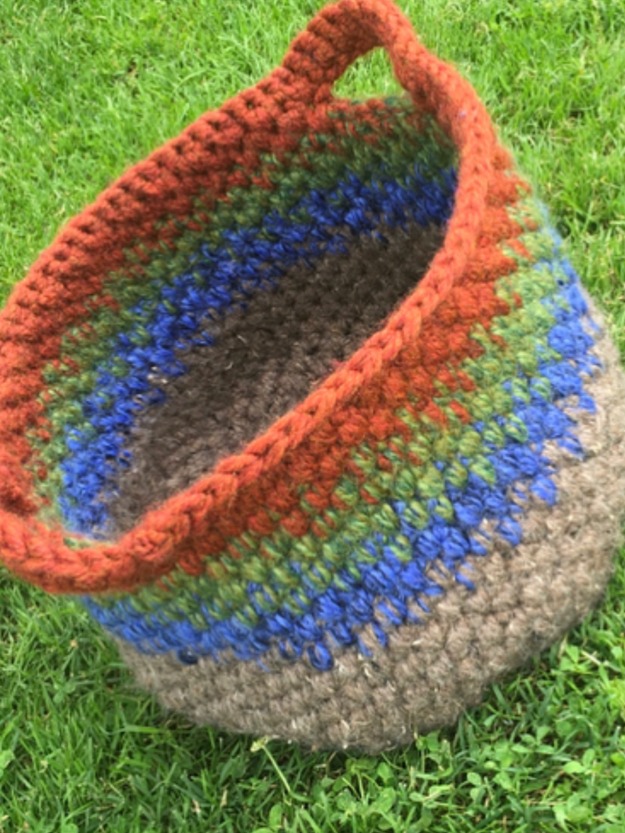 Crocheted Baskets
We found this color block crochet basket at www.1dogwoof.com.

We only made a few alterations. Instead of 4-5 balls of yarn we used 10 to make a fuller basket. We changed into fuller color sooner than the directions said to. We also added handles for easy carrying!
By the time all the alterations were made the pattern had been changed quite a bit.
Be sure when making this basket to work double yarn. We used thick wool yarn. Visit the link to 1dogwoof.com follow her pattern, then come back here and finish with our handles instructions.

To make the handles on your basket you need to follow these three easy steps.
Chain ten. 

Single crochet in seventh single crochet from hook. Continue crocheting in the way described in row 11.

In next round just single crochet over the chain. 

The basket is done when it reaches the desired height. Fasten off. Weave in ends.
Women's Patterns
We made several of these hats and they look great on everyone.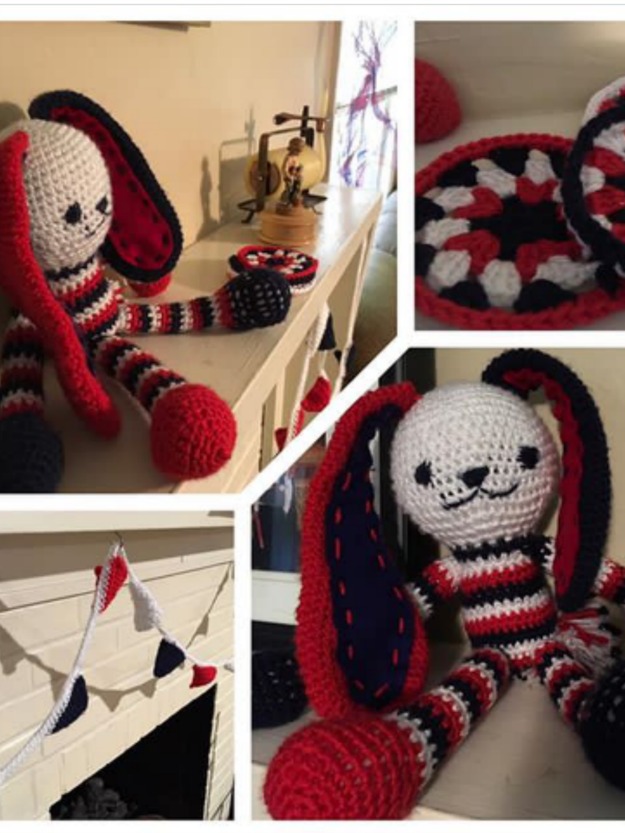 Baby Patterns
Two free crochet hat patterns we've made and loved for babies are:
The baby toys in DK Crochet
Although not free, Hopeful Honey's toddler sweater is adorable and was well worth the couple bucks it cost to buy from her Easy shop.