Candy Party Theme Itinerary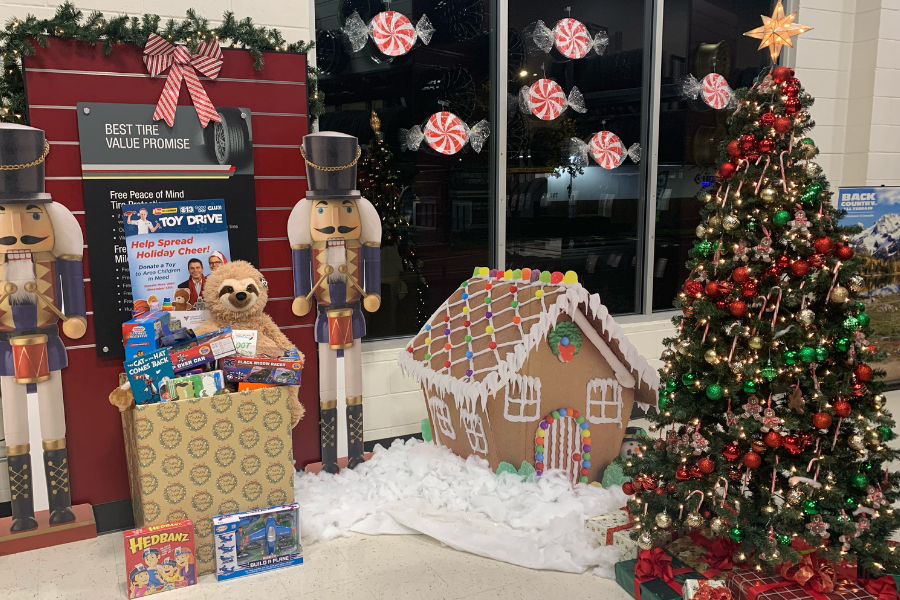 Not only does this theme work perfectly for a Christmas party, but also for any December birthdays or feasts you're going to be celebrating. 
It doesn't matter what you're celebrating, the following itinerary is here for your convenience.
Adjust to fit your party:
3:00-Guests arrive
3:30-Activities
5:00-Pizza
6:00-Guests depart
Candy Party Theme Food
Party Budget: $400
Having a pizza delivery scheduled makes a great lunch at a party where there will be plenty of excitement and candy feasting going on before it gets there.
Pizzas are (comparatively) inexpensive when ordering for a large group, and need little attention when they arrive. 
Clean-up is super easy with paper plates and no forks needed. Plus, pizza doesn't require a sit-down meal.
Let the children decorate cookies and eat them if they want. If it is a birthday party, don't forget a candy-decorated cake and ice cream!
Candy Party Theme Feeling
Decorate your party with red and white. Use gingerbread men and peppermint decorations to decorate the party room. Decorate a tree, even!
Menu
Pizza
Christmas cookies
You can make a very traditional-looking tree if you use only red, gold, and green ornaments. Tie in the candy feel by making ginger bread men for the tree.
These ornaments are very adorable on a tree. 
They also hold Christian symbolism as the spices represent the "odor of sweetness" a typology of the Blessed Virgin Mary in scripture.
A cardboard cutout from Oriental Trading Company worked really great in the decorations we used. Some of the peppermint swirl hanging decorations look really great set in faux snow.
Wreaths with candy accents look very nice on the walls. These are Chirstmassy, but also incorporate your candy theme!
Making The Gingerbread Man Ornaments
Besides the ingredients for the dough, you will need:
1/2 inch gingam ribbon
White dimensional fabric paint
In a large mixing bowl, mix:
1 cup salt
2 cups flour
1 cup water
1/4 cup cocoa powder (for coloring)
Roll out the dough with a rolling pin and use a gingerbread man cookie cutter to cut out the cookies. Use a straw to make a hole in the head of each gingerbread man to hang it from later. Bake at 250*F for 2 hours.
When the gingerbread men are cooled, start painting faces, sleeves, and buttons on them with the dimensional paint.
Make two dots for eyes and draw a smile. A pair of squiggly lines painted where the arms and legs come out from the body make your gingerbread men have a very nice suit of clothes.
Put two very low buttons on the body. Make sure you leave enough room for his little gingham bow tie. Now to make the bow ties, try to make very consistent looking bow from gingham ribbon. Glue these on right above the buttons.
Use the ribbon to make small loops through the hole in the gingerbread men's heads. You can now attach an ornament hook to these loops so you can hang them from the tree.
Salt dough recipe from allrecipes.com.
Candy Party Theme Fun
Shopping List
White dimensional fabric paint
1/4 inch gingham ribbon
Little mailbox for the Santa letters
Peppermint decorations
Wreath decorations
Wreaths
Sugar cookies
Graham crackers
Gumdrops
Peppermints
Little marshmallows
Icing
Pizza
Three tables with all the activities on them works very well for having the party flow smoothly.
This way there will be a table for cookie decorating, a table for gingerbread house making, and a table for writing Santa letters.

Table #1: Cookie Decorating. You can either make all the cookies yourself (and have a day full of baking the day before), or have each mom bring two dozen for everyone to decorate.
Having the moms bring them makes for a lot less pressure on your time and budget, but baking them all yourself is fun, too.
So if you like to bake, by all means.
Be sure to provide plenty of frosting, toppings, and sprinkles for the decorating. My favorite decorating toppings are marshmallows!
Table #2: Gingerbread Houses. You don't actually need gingerbread; you can use graham crackers.
Be sure to have frosting for putting them together on this table as well so that children don't feel like they need to pack it over from the cookie decorating table.

Have all the other ordinary necessaries for gingerbread houses on this table as well.
Table #3: Santa Letters. All you will need for this is papers headed with "Dear Santa," some pencils, and a small cardboard mailbox. The children can now write their letters and put them in the mailbox for Santa.
This set-up allows for the children to go from table to table doing the activities at their leisure and not feel pressed for time to finish what they are doing so that everyone can move on to the next activity.