Harvesting The Honey
by Bee-Jay
(U.S.A.)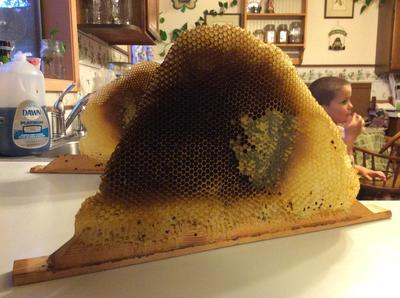 Honey Comb
Here at the Industrious family's hive we have harvested the honey! First we cut the brood wax off the cone. Then we placed the honey-filled wax in cheesecloth. We placed the cheesecloth in a double-boiler, smashed the comb-cells and let gravity do the rest! Because Nacho (the dog) likes sticky stuff we placed the double-boiler in the oven over-night.

We all enjoyed tasting the honey and getting everything sticky!
Join in and write your own page! It's easy to do. How? Simply click here to return to Beekeeping.
Leave a reply
Sign Up By Email
Enter your email address to subscribe to this website and receive notifications of new articles by email. Join 240 other subscribers.

We Respect Your Privacy.